Tooltester is supported by readers like yourself. We may earn an affiliate commission when you purchase through our links, which enables us to offer our research for free. Learn more about our methodology here.
Quick Breakdown: Best Website Builders
| Use Case | Site Builder | Free plan | Paid plans |
| --- | --- | --- | --- |
| Best website builder for freelance & small business | Wix | Yes | From $16/month |
| Cheapest website builder (with use of own domain) | Webnode | Yes | From $3.90/month |
| Best free website builder | Wix | Yes | From $3.90/month |
| Best website builder for absolute beginners | Jimdo | Yes | From $9/month |
| Best for small online stores | Wix | Yes | From $27/month |
| Best for medium to large online stores | Shopify | No | From $26/month |
| Best website builder for blogging and podcasting | Squarespace | No | From $14/month |
| Best for photographers, artists and bands | Wix | Yes | From $16/month |
| Best website builder for SEO | Wix / WordPress.org | Yes | From $16 (Wix) or $6.99 (Dreamhost)/month |
| Best website builder for designers | Webflow | Yes | From $16/month |
Who wrote this guide? Learn more about the Tooltesters

Hi, I am Robert Brandl and have been testing website builders for more than a decade. Back in 2009 I wanted to create a simple website, mainly to share photos and post articles. But back then, this was very hard if you didn't know how to code.

Eventually, this need for an easy-to-use website tool led me to find my first no-code website builder, which was Weebly. This discovery made me start Tooltester, to help beginners just like you create your own website.

For a very long time, we even used the Webnode website builder to run this site and publish our content. But when it grew to more than 200,000 monthly visitors and 7 different languages – bigger than any website builder could support – we made the switch to WordPress.

Our team of researchers has since grown to a team of 5 digital experts, who are happy to help you along the way. Learn more about our methodology or leave a comment if you have any questions!
New to website building? Here are the terms you need to know

CMS: short for Content Management System. A software that you can use to create, upload and publish your website. For example: WordPress.org and Drupal. This is generally a solution for advanced users who want to create larger websites with more flexibility. Some coding knowledge is usually required.

Website Builder: a simplified version of a CMS, usually for smaller websites. It allows easy website editing and offers predefined designs for you to choose from. It also serves as your web hosting provider. Examples: Wix and Squarespace.

Theme or Template: Website builders always come with a range of pre-configured designs that you can adapt using the website editor. They are usually optimized for specific use-cases: e.g. portfolio websites, blogs, online stores.

The best website builders also feature templates for specific industries, e.g. restaurants, consultants, musicians and many more. Some even add industry-specific functionality to their themes, such as a reservation system for restaurants or a booking system for yoga studios.

Mobile responsive: when you visit a website on your smartphone, you will notice that it typically looks a bit different from the desktop version on your computer: it's much narrower and things like a sidebar often disappear entirely. This happens because the website dynamically adapts to the screen size to deliver the best reading experience possible. Almost all website builders offer mobile-responsive designs today.

Apps, extensions, widgets and plugins: you probably know the terms 'app' from your smartphone, which can be slightly confusing. When you read about apps here, we typically mean extra features you can add to your website. Wix, for example, has the App Market, where you can find the aforementioned online appointment booking system, for example.

Installing such an app is almost as simple as adding a mobile app to your smartphone. It only requires a few clicks. Other providers use different terminology: Squarespace calls them Extensions and WordPress refers to them as Plugins.

SEO: short for Search Engine Optimization. It's the art of ranking websites at the top of search results (especially Google's). While the ranking mostly depends on the quality of your content, there are certain technical factors your website creator needs to accommodate.

For example you need to be able to edit the "meta title" and "meta description" of your web pages. Headlines need to be marked up as headlines in the website's code. It's quite a science, really. The important thing for you is that if your goal is to get visitors through Google, you should pick a site builder that offers good SEO (at least 4 stars in our rating).

Drag and drop editor: such an editor allows you to easily move content blocks (text, images, videos) around on your webpages. You just click on the element you want to move, hold the mouse button, and drop it at the new location. Generally the term refers to a visual website editor that is very easy to use because, rather than working on an abstract interface, you edit your website directly in a 'what you see is what you get'-way (WYSIWYG).

HTML and CSS: all websites use HTML (and typically also CSS) code. It's nothing you need to worry about too much, as all the products on this page are 'no-code website builders'. Some of them allow modifications of the code, which caters to a higher level of flexibility. This can be handy since it enables you, or someone else you hire, to edit the design on a more granular level.

Free plans: you may be wondering why many of the companies offer permanently free websites. This comes down to the concept of Freemium. They let you use a limited version of their product for free but in return, they show an ad for their company on your website.

Another typical limitation is that you can't use a custom domain name but a subdomain instead that includes the name of the website builder (e.g. yoursite.weebly.com). This is fine for personal projects, but usually not the best idea for a business. The great thing about it is that you have all the time in the world to try out the product.

SSL and HTTPS: this refers to an encryption technology. Basically it means that anything you submit through a website (passwords, contact forms) will be encrypted and not be viewable by the owner of the website. Again, you don't need to worry about it because all website builders have adopted this technology by now. Some still charge extra for it, which is pretty much a red flag.

Hosting and webspace: this is needed because your website needs to be stored on a server physically. However, the products you find in this article have web hosting and webspace included, so it's all taken care of.
Tip #1: Have you already checked out our Smart Finder Tool? Simply answer 5 questions and we'll show you which site builder best fits for your project! Give it a try.
What kinds of sites can be created with a website builder?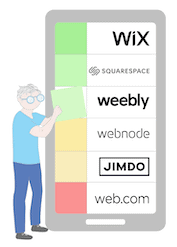 The great thing about website builders is that they offer templates for a range of different industries (check out these templates by Wix, for example). You pick the one you like and just add your own text and images. You don't have to start from a blank slate, which makes it super easy to achieve impressive results in no time.
Website builders are perfect for small businesses, portfolios, photographers, online stores, restaurants, and hotels, as well as clubs and associations.
In contrast, sites that require a database (real-estate listings, job boards) aren't so easy to create. They require a different tool and more time. Your best bet in this case: WordPress or Webflow.
And since we get this question frequently: No, hypercomplex sites like Airbnb, eBay, or Facebook are completely out of reach. You'll need to hire a development team to build a website like that.
Tip #2: The ranking table on this page shows the best website builders. Please visit our dedicated research if you're looking for the best ecommerce website builder (Shopify, WooCommerce etc.) or for detailed information on WordPress.
So which are the best website builders, and which ones should you avoid?
Find your favorite in our website builder ranking table
To help you navigate the table more easily, I added a color code for you:
Green: Excellent product
Yellow: Good product with some flaws
Red: It's a 'no' from us
#
Website Builder
Pricing
Comments
1

Wix

Our Top Pick

Free: $0
Combo: $16
Unlimited: $22
Business & eCommerce: from $27
Pricing details
> Try for free

+

Excellent templates


+

It's extremely flexible


+

Powerful add-on marketing tools


+

Extensive App Market


+

Wix ADI


–

Pricey


–

Templates can't be changed easily


–

Media-heavy sites can be slower to load on mobile
Learn more
2

Excellent for Blogging

Personal: $14
Business: $23
Online Store (Basic): $27
Online Store (Advanced): $49
Pricing details
> Try for free

+

Templates and Designs


+

Blogging feature


+

Customer support


+

Mobile Apps


–

Usability of the editor


–

Only one sub-navigation


–

Page Speed
Learn more
3

Getting Better All The Time

Free: $0
Basic: $11.99
Standard: $21.99
Premium: $24.99
Ecommerce: $44.99
> Try for free

+

Responsive layouts


+

Easy to use


+

Free marketing tools


–

Limited SEO


–

No app store
Learn more
4

The Polyglot Website Tool

Free: $0
Limited: $3.90
Mini: $7.50
Standard: $12.90
Profi: $22.90
Pricing details
> Try for free

+

Suited to multilingual websites


+

Great for SEO


+

Free email address included


–

Limited ecommerce features


–

Basic blog


–

Missing some key features
Learn more
5

Unmatched ease of use

Free: $0
Personal: $6
Professional: $12
Performance: $26
Pricing details
> Try for free

+

Ease of use


+

Responsive Themes


+

App Center


+

Team Management


–

Limited Design Flexibility


–

Multilingual Websites


–

Slow development
Learn more
6

Create a Website in No Time

PLAY: $0
START: $11
GROW: $22
UNLIMITED: $39
Pricing details
> Try for free

+

Ease of use


+

Attractive designs


+

Mobile version


+

Loading speed


–

Limited features


–

Few SEO options


–

Design flexibility
Learn more
7

Websites for businesses

Starter: $5
Plus: $10
Shop Starter: $12
Shop Plus: $20
> Try for free

+

Good for multilingual sites


+

Phone, live chat and personal support included


+

Option to create backups


+

Loading speed


–

No free trial


–

Issues with content suggestions
Learn more
8

Ideal for Freelance Designers

Starter: $0
Core: $16
Growth: $35
Pricing details
> Try for free

+

Powerful fusion of visual editor and CMS


+

Customization options


+

Perfect for client-work


+

Great support material


–

Not beginner-friendly


–

No app store


–

Few built-in extensions
Learn more
9

WordPress for Starters

Free: $0
Pro: $15
> Try for free

+

Free plan


+

No installation or maintenance


+

Support included


–

Not the most intuitive


–

Not the most cost-effective option for a WordPress site
Learn more
10

Great for One-pagers

Free: $0
Limited: $8
Pro: $16
> Try for free

+

Best in-class support


+

Cheap for multiple websites


+

Ease of Use


–

SEO


–

Limited Free Version
Learn more
11

The Language Genius

Basic: $14
Team: $22
Agency: $44

+

Great for multilingual websites


+

Website Personalization Tools


+

Easy drag-and-drop editor


+

Backup and Restore feature


–

Relatively expensive


–

Limited app store
Learn more
12

The Budget Site Builder

Standard: $2.49
Premium: $7.48
Online Shop: $16.99
> Try it out

+

Very inexpensive


+

Responsive templates


–

No integrated blog


–

Poor support quality


–

Pricing not straightforward
Learn more
13

Good for Languages

Free: $0
Basic: $10.80
Advanced: $16.80
Professional: $22.80
Gold: $28.80
> Try for free

+

Multilingual features


+

Free plan with support


+

Ease of use


–

Ads


–

Layout restrictions


–

Limited access
Learn more
14

Wix's Little Brother

Free: $0
Pro Plus: $7.16
Business: $19.99
> Try for free

+

Decent free plan


+

Flexibility


–

SSL costs extra


–

Backend could use revamp
Learn more
15

Web.com

The Deceiving One

Starter: $10
Marketing: $15
Ecommerce: $20
(Discounted rates for the first month available)

+

Website builder and templates


–

Billing terms (renewal every 4-weeks instead of 30 days, renewal prices hidden in fine-print)


–

Exaggerated domain renewal rate ($38/year) + Whois Protection fees on top


–

Cancellations by phone only


–

No money-back guarantee


–

Navigation only has one sub-level
Learn more
16

Webs.com

Has Had its Best Days

Free: $0
Starter: $5.99
Enhanced: $12.99
Pro: $22.99

+

Website editor


–

Negative customer feedback


–

Hardly any development


–

Template designs
Learn more
A quick note about the prices you see here: they are usually charged yearly.
Tip #3: You can also compare all website builders conveniently side-by-side! Go to our comparison tool.
A brief guide to finding the best website builder
Now that you've seen our ranking table, you might still be left wondering how to actually choose the best website builder for your specific project.
Check out our website to find all of our reviews: ...
How to Find the Best Website Builder (2019)?
2018-08-13T08:25:46.000Z
https://i.ytimg.com/vi/q-_KLEPF5go/default.jpg
Video: How to find the best website builder (3:58 min)
Here's the good news: choosing a website builder is relatively risk-free nowadays. However, there are a couple of things that you should be looking into before deciding:
Here's what you need to check before signing up

Free Trial: Make sure you can try the site builder for free. Most providers offer free plans (with some limitations) or at least a money-back guarantee policy. Personally, I'd avoid site builders that require your credit card details for a trial as this is not very common in the industry.
Support: Check which kind of support the website builder offers (e.g. phone, chat, forums, etc.). It's worth testing the support before you commit to a paid plan.
Price: This can be tricky to figure out as offers are sometimes confusing. However, in all our website builder reviews, you'll find clear details of the pricing plans and extra costs (e.g. domain name) for each provider.
Features: Obviously each project will have different needs. But here are some of the common things you may be looking for: a decent blogging system, customizable SEO options, mobile-friendly designs, a shopping cart, decent image galleries, possibility to password-protect pages or having registered users.
Domain name: You should be able to connect domain names purchased elsewhere, even if you can register a new domain with the web builder directly. More information.
Email accounts: if you're using your website for business you will want an email address with your domain name instead of [email protected]. Further down we lay out some handy tips regarding email addresses.
Cancellation policy: usually there is a free plan to try the site builder, a 14-days money-back guarantee, or even both. If that's not the case, you should be slightly suspicious. Cancellations by phone only are another no-go we will call out.
Tip #4: Interested in video tutorials to create your website? You're in luck! Currently, we have a Squarespace tutorial and another one for Wix.
The top website builders – our detailed study
Let's now take a more detailed look at our research. These are the best (and worst) website builders:

1. Wix
Our Top Pick
To try Wix for free, click here: http://www.websitetooltester.com/out/wix-youtube Find a more detailed Wix review here: ...
Wix Review: A good choice for creating a website in 2019?
2018-08-21T13:47:34.000Z
https://i.ytimg.com/vi/wDHJWTc5LIA/default.jpg
With 200m users, Wix is certainly the biggest website builder out there. They've come quite a long way from being a niche product to almost becoming a household brand.
The thing we like most about Wix is the flexibility and choice of themes. Combining these two features gives you virtual (and visual!) superpowers. Wix enables even novices to create very presentable websites – more than any other website builder we have reviewed.
That, combined with its SEO-friendliness (meaning you have all the tools at your hand to get Google traffic), makes Wix the best website builder on Tooltester.
Compared to other website builders, it does have its price but we think it can be worth it if you take advantage of its large range of features.
What our readers think of Wix
See what our readers think

The great majority of our readers enjoy using Wix and rave about the great choice of designs and features. But some are very vocal about the issues they have with the platform. Often it's related to the editor, which features a broad range of options and settings. This feels overwhelming to some of our readers.

Others state they are not receiving good customer support as it sometimes requires several emails to get to the core of the issue.
Who should use Wix?
Wix is extremely versatile. We found that typical users are freelancers and small businesses – anyone who wants to build an impressive website or portfolio with little effort. Wix offers hundreds of professional themes for you to customize. It's very likely you will find the style you are looking for in their enormous template selection.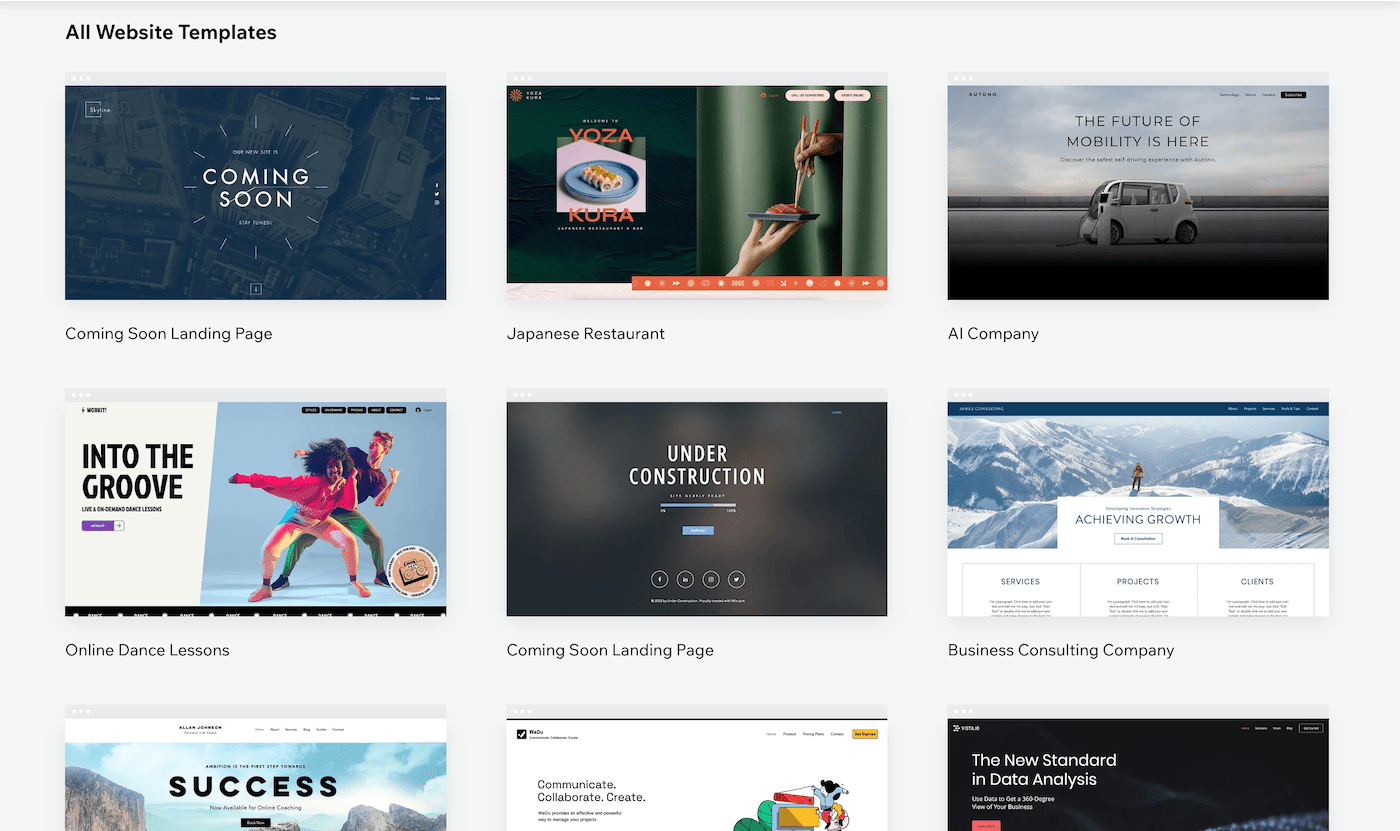 It's also a good choice if you want to receive online payments, e.g. selling products via their online store, selling appointments via Wix Bookings, or even creating a members area where you charge for premium content. These features really set Wix apart from its competitors.
Who shouldn't use Wix?
Wix is not the cheapest website builder, so if you have a limited budget and only need a simple website, you should probably look at Webnode, One.com or Weebly. Our research shows that these are good Wix alternatives for price-conscious users.
Wix features a blogging tool, which is quite good (in fact, we use it ourselves on Tooltester.net). But if your main goal is to become a blogger we'd recommend checking out Squarespace or WordPress.
Wix Pricing
See pricing details

The big advantage of Wix is that there is a free plan that lets you build a working website. You can try out most features and build your website without any pressure. Once you are happy with the result you can upgrade to a premium plan.

If you are looking for an ad-free website with a custom domain, Wix Combo ($16/month) is typically the best plan for you. Be aware that Wix heavily promotes the higher, more expensive plans, which are usually not necessary (this is based on the user feedback and requirements we receive).

These are all of Wix's pricing options:

Free: $0
Combo: $16/month
Unlimited: $22/month
Business Basic: $27/month
Business Unlimited: $32/month
Business VIP: $59/month
Noteworthy Features
Learn more about Wix's Features

Hardly a month passes without Wix announcing a major new feature. Among them: the aforementioned Wix Bookings, a convenient self-service appointment booking system for your clients; and Wix Restaurants, a (commission-free) add-on that lets your customers book tables, order food from you, and check out your menus. All these can be added with just a few clicks.

They even offer their very own suite of marketing and business tools, Ascend by Wix, which includes a CRM, email marketing, automations, invoice generator and video maker (amongst other handy features).

What's more is that Wix offers the full array of SEO features for your site to rank well on search engines, including an assistant helping you to target the best search terms.
Wix Pros and Cons
What we like:
Their hundreds of well-designed templates that are very flexible
Range of features: the App Market lets you add new features with just a few mouse clicks: newsletter subscription form, event calendar, live chat, music player etc.
Accept payments and sell merchandise through the online store and ecommerce features (commission-free)
Wix comes with an automatic backup and restore feature, which is extremely helpful for beginners and advanced users alike.
Wix ADI is a separate editor specifically for beginners. Using a question and answer creation workflow, this makes creating a website extremely easy.
What they should improve:
Not ideal for larger websites: we wouldn't recommend Wix if you're building a large site (30+ pages). The navigation doesn't allow for very complex structures.
Loading speed can be on the slow side: although Wix is actively working on improving their speed, it's still not perfect.
Mobile version of website sometimes needs additional tweaking, as the desktop version is not always perfectly converted into a mobile-friendly layout.
More information on Wix:
Our detailed Wix Review provides an even more in-depth look into the ins and outs of this website builder.
We have a detailed Wix Tutorial if you want to learn how to create a site.
And finally, to start a free trial, head over to Wix.com
2. Squarespace
Great for Blogging
Squarespace has been around since 2003 and speaks of "millions" of websites created on their platform. With a market share similar to Wix's, it's one of the biggest players in the website builder market.
They mostly cater to a creative crowd. It's hard not to like the clean design of their website and the powerful aesthetics.
While Wix often gets criticized for not being a truly professional tool (which we find a bit unfair), Squarespace doesn't seem to suffer from this reputation. Even among web designers it's a perfectly acceptable way to create a website. So their branding seems on point – the question is, though, whether their product is just as good as their self-marketing?
What our readers think of Squarespace
See what our readers think

Squarespace generally achieves high user satisfaction rates. People we've talked to like their support documents and videos, template designs and the SEO features. Not everybody finds it very easy to use, and users who have used other website builders like Wix or Weebly generally found Squarespace's learning curve a bit steeper.
Who should use Squarespace?
Squarespace is really focused on creative folks, or makers as they like to call themselves. So if you are part of this group it's very likely you've seen many of their ads already. Their users identify very much with the Squarespace brand.
Based on our conversations with their users, Squarespace serves their target audience extremely well. These include people who like to post images and post blog articles. But also freelancers who sell services (e.g. consulting, yoga classes), or even products via the online store.
Who shouldn't use Squarespace?
If you want to spend the least amount of time possible on creating your website, there are probably better choices than Squarespace. You'll need to invest a bit of time and love to get a great result.
We also don't recommend Squarespace for larger websites (30+ individual pages) due to the limited depth of the navigation (only one-sub level). Our research also concluded that it's nearly impossible to create a multilingual website with Squarespace. So if you are targeting readers in multiple languages, Wix or Webnode would be better options.
Squarespace Pricing
See pricing details

The big difference to other many other website builders is that Squarespace doesn't offer a free plan but a 14-day free trial instead. If you are after a custom domain name and an ad-free site anyway, this won't make too much of a difference.

There's one thing not everyone is aware of: for non-ecommerce websites Squarespace Personal is usually sufficient, even if you are using it in a business context.

You do miss out on a few useful marketing features (pop-up banners, announcement bar) that you only get on the Business plan. It's worth giving those features a try while you are on the free trial to see whether you need them or not.

Here are all of Squarespace's pricing plans:

Personal: $16/month
Business: $22/month
Basic Commerce: $27/month
Advanced Commerce: $32/month
Noteworthy Features
Learn more about Squarespace's Features

Squarespace's claim to fame is to offer one of the best blog functions of all website builders, second only to WordPress. And as of recently, they are increasingly pushing their online store. So what else do you get?

A big draw card is the ability to choose from their numerous, and admittedly, beautiful themes. They are all tablet and smartphone-compatible and feature different types of photo galleries. When we tested them on our smartphones, they always looked great and adapted perfectly to the smaller screen.

Notable add-on features include Member Areas, a scheduling tool for managing bookings (Squarespace Scheduling), and email marketing. With regard to SEO, Squarespace improved their features not too long ago so that you can now customize all relevant areas (page titles, descriptions, etc.).

And since they cater to a creative audience they have special features such as the podcast player (to host your podcast), the Unfold social media creator app, and the video studio app (a TikTok-style video maker that allows quick and easy production).
Squarespace Pros and Cons
What we like:
Their brilliant designs that are pretty flexible and offer numerous prebuilt sections for easy use.
Customer support: next to the great documentation you have access to live chat agents who are available on weekdays, and 24/7 email support.
The blogging platform: No other site builder offers such sophisticated blogging capabilities, with features including commenting, multiple authors, and even the ability to host podcasts.
Their mobile app for iOS and Android lets you edit your website and blog on the go.
What they should improve:
There is no backup and restore feature, which is a bit disappointing.
It's not the easiest drag and drop website builder to use; other alternatives are better suited to beginners.
When we tested their page speed (also an important SEO factor), it wasn't exactly impressive.
A larger selection for external applications would be desirable as well (something comparable to Wix App Market).
More information on Squarespace:
Our detailed Squarespace Review gives you an even more complete picture of the website builder.
We have a detailed Squarespace Tutorial if you want to learn how to create a site.
And finally, to start a free trial, head over to Squarespace.com
3. GoDaddy Website Builder
One-stop shop for marketing
We all know GoDaddy, the web hosting and domain name giant. Turns out, they have their very own website builder – and it's not half bad. In fact, the GoDaddy website builder is one of the most highly scored on our list, nabbing the #3 spot from our previous bronze medalist, Weebly.
In our experience, it's tricky to find a website builder that combines ease of use, modern designs, premium features, and affordability. But amazingly, GoDaddy ticks all these boxes – and more.
There's a reason the website builder is also called 'GoDaddy Websites + Marketing', and that's because it integrates an impressive range of additional marketing tools. A marketing planner, email marketing tool, Canva-like content creator, and social media dashboard are all included. Based on our research we know a handful of website builders that offer something similar (e.g. Wix, Squarespace). However, we think GoDaddy does a much better job of incorporating these tools within its software, and making them easy to use.
What our readers think of GoDaddy
See what our readers think

While the user reviews on our website are less than glowing, you might be relieved to know that they actually relate to previous versions of GoDaddy's website builder. The current version, introduced in 2019, is a completely revamped website builder that is far more intuitive (and powerful) than its predecessors.

We sincerely hope this version sticks around for longer, and so do our readers, it seems – many said that they appreciated its ease of use, helpful support, and handy integration with GoDaddy's domain service. But, they also lamented the small selection of templates available, and the limited customization options compared to website builders like Wix.
Who should use GoDaddy?
Given its business-focused features (such as a live chat widget, appointment booker, online store, popups, and marketing tools), we think GoDaddy is best suited to small businesses and freelancers who need to set up an online presence, quickly.
Its pared-back editor also makes it ideal for beginners who want to create a modern-looking website without too much work. Finally, the affordable plans make GoDaddy a good option for anyone after a basic and budget-friendly website.
Who shouldn't use GoDaddy?
If you're after a website builder that gives you full drag-and-drop flexibility and complete design control, you'll be disappointed with GoDaddy's simplified editor – it doesn't give you the kind of free rein that you'd get with website builders like Wix or Webflow.
In our research, we also found the SEO options to be lacking, so it's not ideal if you need to attract organic traffic to your site.
Similarly, it's not ideal for those who will be using their website as a blog. The blog editor is basic and offers limited customization options. For serious bloggers, we'd recommend Squarespace or WordPress.
GoDaddy Pricing
See pricing details

Although they don't widely publicize it, it's actually possible to create and publish a GoDaddy site for free on their Starter plan. However, features will be restricted, and it won't be possible to use your own custom domain (or remove the GoDaddy banner ad from your site).

If you'd like to upgrade to one of the paid plans, the good news is that you'll get a significant discount in the first year. After that, prices are still very affordable on the Basic plan, which costs $11.99 per month if you pay annually.

However, our recommendation would be the Premium plan, which costs $21.99/month and unlocks SEO and appointment booking features.

The GoDaddy website builder plans are:

Free: $0
Basic: $11.99/month
Premium: $21.99/month
Commerce: $24.99/month
Commerce Plus: $44.99/month
Noteworthy Features
Learn more about GoDaddy's Features

GoDaddy's website builder is built for business. Aside from the aforementioned marketing tools, we were also impressed by their online appointment booker, which lets small businesses take appointments for services, classes and events. Incredibly, you can even take appointments on GoDaddy's free plan, which is something we haven't really seen with other website builders.

There are also some interesting options for those looking their dip their toes into the world of ecommerce. Their simple-to-use store builder lets you sell physical and digital products; offer real time shipping rates (within the US); send abandoned cart recovery campaigns; and sync with Amazon, Etsy, eBay, Instagram, Facebook, and more. This is available on the higher-tier ecommerce plans.

You can even take advantage of GoDaddy Payments, their own payment processing system. While it may not be as powerful as the fully-featured Shopify, we think it's a decent store builder for anyone looking to start up a small online store.
GoDaddy Pros and Cons
What we like:
Their easy-to-use editor and modern, mobile-friendly templates, which can help you get online quickly
Excellent marketing features: email marketing, social media dashboard, popups, graphic design tool
Appointment booking tool, which lets you offer services, classes and events
GoDaddy Insights, an AI-powered metrics tool that ties key performance stats together, and gives you personalized Action Plans to increase your website's visibility
What they should improve:
SEO options are basic, and severely restricted on lower plans. GoDaddy doesn't allow for the deep level of optimization offered by other website builders
The blog editor comes with just a handful of features, and doesn't give you much control over design or layout
The lack of an app store means that options to enhance your site's functionality with third-party tools are limited
More information on GoDaddy:
Our detailed GoDaddy Review takes a closer look at the pros and cons of this website builder.
If you'd like to try it out for free, head over to GoDaddy.com
4. Webnode
The Polyglot Website Tool
Although not as popular as other tools like Weebly or Wix, it is still one of the most globally used website builders – especially among European users. Webnode is a hit and miss: some features are really advanced and almost unique in the industry, but it also lacks some basic functionality that can be a no-go for some.
A free domain name for most of their plans is included for the first year. On top of that, some tiers also come with custom email accounts (e.g. [email protected]) for free. They are also a very popular free website builder.
Webnode Pros and Cons
What we like
They offer an easy way to create multilingual sites; very few website builders have a feature like that
We also like their designs, which are modern and responsive – so they automatically look good on all devices.
Their SEO features are also solid and have everything that most sites will need.
Being able to add 2 sub-levels of navigation to your menu is a useful feature that not even better-known website builders offer. This is useful as your website grows.
What they should improve
Their blogging system is missing some key features like tags or a native commenting system
If you are looking to create an online store, look elsewhere – their solution is pretty basic
Unlike Wix or Weebly they don't have an app store; these can be really convenient as they let you install extensions that enhance your site's capabilities.
More information on Webnode:
Check out our detailed Webnode review for more information
Compare Webnode's prices in this detailed pricing guide.
To start a free trial, go to Webnode.com
5. Weebly
Unmatched Ease-of-Use
Check out our Weebly review and compare it with other website builders: https://www.websitetooltester.com/en/reviews/weebly-review/ Try Weebly for free: ...
Weebly Review: Pros and Cons of the Website Builder (Version 4)
2016-09-29T10:54:27.000Z
https://i.ytimg.com/vi/JyM6-ZgHikM/default.jpg
Weebly used to be one of our favorite website builders. The ease of use of their website editor was (and still is) unmatched. So, it wasn't surprising to learn that 40m websites have been created through their platform already.
But, things for Weebly have stagnated since being acquired by Square. All the focus seems to be going toward their ecommerce platform, Square Online, meaning that not too many features have been added to the Weebly website builder in recent years.
That being said, the features we used to love are still there – their membership area and the blog being two good examples. Their content management system is laid out to support large websites (we know of Weebly websites that easily have more than 150 pages). Best of all, you're not constrained by any storage or bandwidth limits in their paid plans.
The Weebly Professional plan at $12 per month includes a site search feature as well as video and audio players, allowing you to stream media directly from your site. All in all, Weebly is a good choice if you want a simple and affordable site, but it may not support your requirements if you need to scale in the future.
Weebly Pros and Cons
What we like: their themes are not only stylish but also responsive, adapting perfectly to mobile devices such as tablets and smartphones. They have a clever page template system, allowing you to further customize it to your needs. Through the App Center you can add a wide range of extra functionality made by Weebly and third parties.
What they should improve: the lack of new features and templates makes the platform look and feel outdated compared to other website builders. While the App Center is great, you won't find as many apps as in Wix's App Market. Also, Weebly is not a great choice for a multilingual website. Finally, we also found their support a little slow to respond, with responses not being overly helpful.
Free trial: www.weebly.com
6. Jimdo
Solid All-Round Package for Beginners
Jimdo is a German website creator with more than 20m websites to its name. Ease of use is also their credo. That's why they introduced Jimdo Dolphin ("no coding required"), a new system that promises a working website in only 3 minutes. Surprisingly, it's true! It's ideal for small local businesses that already have some information online on Google Maps and Instagram, for example. Jimdo will then just pull the information and create the website for you.
All you need to do is to adjust your layout, colors, and add some more copy to it. From all the website builders we have tested, Jimdo will definitely get your website created the fasted.
It's a solid website creation suite accompanied by a basic online store. All their templates are fully responsive and display well on desktop and mobile devices. They also have the Jimdo Creator, which is their classic editor that includes some basic coding features.
Jimdo Pros and Cons
What we like: Jimdo is really the fastest way to create a small, good-looking business site. Since they are offering a free plan you can easily try it out and won't have wasted much time even if you don't like the end result. Adding a basic online store is just as easy albeit it's very limited.
What they should improve: they lack many features compared to website builders like Wix and Squarespace. Most importantly, there is no blogging feature or way to password-protect any of your pages. Their templates could be more flexible, the online store should boast more features and a marketplace for apps (external add-ons) would be really desirable.
Free trial: www.jimdo.com
7. IONOS – MyWebsite
Websites for businesses
IONOS is another domain and hosting giant that has ventured into the world of DIY website building. But unlike GoDaddy, 1&1 IONOS's business-focused website builder offers several options, to cater to different levels of technical experience.
For complete beginners, there's IONOS MyWebsite Now, which offers a variety of templates and a simplified editor. Most businesses, however, opt for MyWebsite Creator, which offers hundreds of industry-specific templates that can be edited via an intuitive drag-and-drop builder. (This is actually powered by Duda's site creator – a bonus for those who are already familiar with that tool.) There's also MyWebsite Creator Pro, for those who want to take customization even further.
So, what sets the IONOS website builder apart? Unique marketing features such as personalization, which lets you tailor content to specific visitors, definitely give it a one-up over competitors. In our experience, it also handles multilingual sites and translations more smoothly than most website builders (many of which don't offer this feature at all).
All of this is offered at a very attractive price, with MyWebsite Creator plans starting at $10/month.
What our readers think of IONOS
See what our readers think

Users give IONOS MyWebsite a thumbs up for user-friendliness, appreciating the speed and ease with which they can get a website up and running. They also liked the selection of templates on offer, and the support, which is available through various channels.

A standout point is the pricing – many noted that it was one of the biggest draws of the IONOS website builder.

However, the support can be a bit commercial sometimes, trying to sell you extra features or tools for your website (it seems to be dependent on the support agent) which could be annoying for some users. Many also said they would have liked more flexibility with editing the website designs – something more along the lines of what Wix offers.
Who should use IONOS?
While most website builders offer features tailored to small business, IONOS stands out for offering personalization and multilingual features. With the ability to add an online store (via Ecwid), blog, integrated newsletter tool, booking forms, and a calendar, IONOS caters to a wide range of online business needs.
IONOS's prices are also a lot lower than the competition's, something that price-conscious users will undoubtedly find interesting.
Who shouldn't use IONOS?
We've found that options to enhance IONOS websites with third-party apps are limited, with just a handful of direct integrations available with tools like Livechat, Disqus, Yelp, and Google Translate. Those looking to easily add a greater range of functionality to their site will find better options with Wix.
Unfortunately, it's not possible to use a domain name purchased with another provider, unless you transfer it to IONOS. So if you already have a domain name and aren't keen on moving it over, IONOS isn't a very practical option.
IONOS Pricing
See pricing details

While IONOS's My Website packages are very attractive, one issue is the lack of a free plan – or, even trial. This makes testing out the platform difficult, although there is a 30-day money-back guarantee available if you want to cancel during this period.

If you decide to stick to it, the good news is that you'll be nicely rewarded with generous discounts in the first 6-12 months.

A free domain in the first year, plus a professional email address, are also included in all plans.

The IONOS MyWebsite plans are:

Starter (MyWebsite Now): $5/month
Starter (MyWebsite Now + store): $12/month
Plus (MyWebsite Creator): $10/month
Plus (MyWebsite Creator Pro + store): $20/month
Pro (MyWebsite Creator Pro): $15/month
Pro (MyWebsite Creator Pro + store): $35/month
Noteworthy Features
Learn more about IONOS MyWebsite's Features

IONOS MyWebsite offers some interesting business features that we haven't really seen in any other tool. Its business card feature lets you display your business's contact details, as well as a map and contact form, while you're working on your 'real' site in the background.

There's also the personalization feature, which lets you display custom content to specific users, for example, a notification bar offering discounts to returning visitors.

Multilingual sites are also a strength of IONOS MyWebsite. With over 60 languages available, which can be added and deactivated at any time, you can easily add your own translations and reach a wider international audience. There's also the option of using automatic translations from Google Translate.
IONOS Pros and Cons
What we like:
Excellent business features, such as appointment booking tools, email newsletters, personalized content, and SEO tools, to help small businesses gain customers online.
Advanced multilingual capabilities, letting you add both manual and automatic translations.
Affordable pricing, with significant discounts offered in the first year.
Email, live chat and phone support is offered, as well as a single point of contact.
Backups of your site are made every time you publish, and it takes just one click to restore a previous version of your site.
What they should improve:
The lack of a free plan/trial is a huge inconvenience. It's not possible to try the platform out without handing over any payment details.
A more extensive app store/widget library would help make integration with third-party tools easier.
More information on IONOS:
You can learn more about IONOS MyWebsite in our full review.
If you'd like to try it out, visit IONOS.com.
8. Webflow
Creating Websites for Clients Easily
Webflow is not your typical drag and drop website builder. Headquartered in San Francisco and backed up by some big-name funding, Webflow combines powerful CMS capabilities with an intuitive visual editor. It's fast becoming the platform of choice for designers, freelancers and agencies.
With Webflow, designers have complete control to build responsive websites, without the need for any coding. They can also take advantage of Webflow's dynamic content to build and re-use elements such as templates, helping to ensure design consistency (while also saving a lot of time and effort).
Because of this, Webflow is often compared to WordPress – with the added benefit of being a lot easier to use. Prices start at $12/month, and there are different available plans for individual sites, and for those who need multiple websites.
Webflow Pros and Cons
What we like: Webflow really puts you in the driver's seat, giving you control of every aspect of your website's design – responsiveness, styling, interactions; you name it. SEO options are solid, and its guaranteed uptime of 99.99% is impressive. Accessibility seems to be a big focus for them, with features such as smooth-scrolling, visual impairment simulations, and an Audit panel all baked into the builder. You also get plenty of support through their Webflow University, which is packed with courses, videos and other great resources.
What they should improve: Although you do get access to plenty of support materials along the way, we really wouldn't recommend Webflow if you're an absolute beginner. It requires a lot of hands-on work, especially for extra features such as a blog or online store. Webflow doesn't come with many widgets or even an app store, which would be handy. The pricing is a little complicated, with different plans for individual sites and for those who need multiple sites. And the more features you need (e.g. site search, code export), the pricier it gets (see more about Webflow pricing in our guide).
Free trial: www.webflow.com
9. WordPress.com
WordPress for starters
The software WordPress, which was first designed to create blogs, now powers 43% of all websites on the Internet. It is extremely powerful, customizable, and flexible. You can create any kind of website with it, from ecommerce to real estate site or a full online newspaper.
While the software itself is free and open-source, there is a version that is more like other website builders on this page. It's found through WordPress.com, and it comes with web hosting, pre-installed plugins, a selection of themes, and dedicated support.
This is all great because it's things you usually have to do and find yourself. So WordPress.com does make it easier than ever for anyone to create a WordPress site.
The free plan gives you enough to try it out. However, for an ad-free website (plus access to plugins, premium themes and advanced SEO settings), you'll need the Pro plan, which costs $15.
WordPress.com Pros and Cons
What we like: It's very easy to get started. There is no maintenance or complex installation process, and you can get a decent looking blog for free (hosted on their preselected domain). The support is good, fast, and even there to help with third-party plugins you install on your site.
What they should improve: It's not the easiest backend to get used to for beginners. While the fact there are only two plans (Free and Pro) makes pricing simple to understand, it may not suit users who need a budget solution – especially as there are cheaper WordPress hosting providers. The 50GB storage limit on the Pro plan means it's not ideal for users who want to upload a lot of big files (e.g. videos).
Free trial: www.wordpress.com
10. Strikingly
Great for Onepagers
To try Strikingly for free, click here: https://www.websitetooltester.com/out/strikingly Find a more detailed Strikingly review here: ...
Strikingly Review: How good is this website builder?
2018-07-06T08:27:57.000Z
https://i.ytimg.com/vi/JSsK9z4cLD0/default.jpg
Strikingly has its focus on one-page layouts. This can be especially interesting if you want to create a landing page, say for event registrations. Their responsive designs are indeed striking (no pun intended) and look great on mobile devices. You can either start with their ad-sponsored free plan or upgrade to the Limited ($8), Pro ($16) or VIP plan ($49 per month). Limited also includes a 5-product online store, whereas VIP increases this limit to 500 products.
Strikingly Pros and Cons
What we like: if you are planning to build multiple sites, the PRO plan can be interesting as it includes up to 3 sites. We found their support to be top-notch and it's pretty easy to get your head around Strikingly.
What they should improve: single-page websites are not Google's favorite so it might not be too easy to rank well. Something simple like adding an external code snippet requires you to upgrade to the PRO plan, which is comparatively expensive (unless you will actually create the full three websites that are included).
Free trial: www.strikingly.com
11. Duda
The Language Genius
Test Duda here for free: https://www.websitetooltester.com/out/duda-youtube Check out our detailed DudaOne review here: ...
Duda Website Builder Review: We tested their responsive website builder.
2016-11-29T16:02:19.000Z
https://i.ytimg.com/vi/R808sujQQmg/default.jpg
Duda's website builder started out in 2008 and is special in many ways. For once, they get all the basics right: the templates look great, you get all the SEO settings you need, the blog is decent and there is an online store.
On top of that, there are two areas where they manage to outshine their competitors: for once, you can create multilingual websites with it (an area that barely any site builders masters). Plus, they also offer what they call "website personalization tools". Using them you can show fully customized content to your visitors, for example, based on their location or the time of the day. A very powerful feature!
All this comes at a price: Duda is not exactly cheap. The lowest plan (Basic starts at $14 per month and doesn't include a domain name or email accounts. An interesting thing to note is that Duda sells their website builder to other web hosting companies, such as IONOS (where it's called MyWebsite Creator). There, you can get pretty much the same product at a much lower price.
Duda Pros and Cons
What we like: ease of use, their stylish templates, and their unique site personalization tools. Also, in our eyes, Duda is second to none for multilingual websites.
What they should improve: although there is an app store with third-party applications, the available apps are relatively limited. Prices are quite steep compared to the competition.
Free trial: duda.com
12. One.com
The Budget Site Builder
Find our complete One.com Web Editor review here: http://www.websitetooltester.com/en/reviews/one-com/ Try One.com here: ...
One.com Review: Pros and Cons of the Web Editor
2015-06-10T10:25:32.000Z
https://i.ytimg.com/vi/iyU7h4Gh8VU/default.jpg
One.com is one thing: cheap. This Danish provider stormed into the website builder (and hosting) market a few years ago offering the lowest prices we've seen. They also provide hosting, which is really convenient if you need to use both a website builder and a CMS like WordPress.
But One.com can get expensive. If you are going to need more than 5 pages, you'll need to get the Explorer plan ($7.48/month). Then it is almost as expensive as Weebly and Webnode (both ranked higher than One.com), and rather limited in features if compared to these.
One.com Pros and Cons
What we like: They have templates that look modern and are responsive. These will make your site look great on any device. They also offer solid support that you can reach by email or live chat. Another positive aspect is that they are extremely generous with the storage they offer.
What they should improve: Sadly it has some important limitations. For example, if you need a blog it needs to be added separately using another editor. You won't be able to password-protect your site either as this feature is not included. Another flaw is that their ecommerce system is very basic and only suitable for the smallest online stores.
Free trial: www.one.com
13. Site123
Good with Languages
Languages seem to be Site123's thing. Not only is the editor available in more than 20 of them (including languages such as Turkish, Arabic, Romanian), they also feature multilingual websites. The editor is relatively restrictive, a bit like GoDaddy Websites. If you just want to get the website job done, without becoming too creative this might suffice. But you have to be aware that their template system can be a bit on the restrictive side.
The cheapest plan that allows you to use your own custom domain name starts at $10.80 per month. Compared to other website builders it's a bit pricey as they will still show a small footer ad in this plan.
Site123 Pros and Cons
What we like: their focus on languages and the fact that they have a decent free plan. Their editor is also very easy to use and support is usually fast to answer.
What they should improve: more design flexibility would be nice. Also, for a price of $10.80 per month, there should be no ad on the website.
Free trial: www.site123.com
14. Webstarts
Wix's Little Brother
This All-American website creator claims to host almost 4m websites, of which quite a few are probably free ones. The Webstarts editor and features reminded us a bit of Wix. Their design section has a few gems in it and they also pride themselves on being super flexible. But to be honest, it doesn't quite live up to Wix's high standards.
Webstarts Pros and Cons
What we like: the free plan is relatively attractive as it offers 1GB of storage and bandwidth. Thankfully the ad isn't very visible. There is a blogging tool and the Business plan also includes a decent online store.
What they should improve: it's pretty annoying these days to pay extra for an SSL-encrypted site. Webstarts' $8 per month charge is outright abusive. The mobile-optimized view isn't included in their cheapest paid plan, which is a bit of a bummer.
Free trial: www.webstarts.com

15. Web.com
The Deceiving One
Alright, you've made it this far down the list, now brace yourself.
If you've been to other review sites like ours, you may have seen Web.com at the top of their ranking tables. I'll explain why in a minute.
It's not that Web.com is a terrible website builder. The product is actually quite okay. It's easy to use, the templates are pretty nice; under normal circumstances we'd recommend it. But if you look at their terms, you'll notice that not much is normal about Web.com.
First of all, you need magnifying glasses to figure out their pricing system. The low price of $1.95 per month quickly skyrockets to $10 after the first month. Having said that, I must note that a "month" is 4 weeks for Web.com. That's right, in Web.com's calendar, the year has 13 months. And who on this planet dares to charge $38 per year for a .com domain name? Right, Web.com. Not to forget the $1.95 per month on top for privacy protection and $2.33 for an SSL certificate. Needless to say, there is no money-back guarantee.
So back to why so many other website builder review sites love to recommend them: their commissions are some of the highest of the industry. And now you also know how they are able to pay them. At Tooltester we prefer to recommend decent products that don't try to take advantage of our readers.
Web.com Pros and Cons
What we like: the website editor is really solid. They use a grid system, which makes it easy to understand for beginners. The templates aren't bad either.
What they should improve: apart from all the aforementioned pricing shenanigans, I don't think any web company should ask their customers to call them to cancel. Obviously, they are only doing it to convince you otherwise. And if you are still interested to hear what I don't like about the product, be my guest: as organized as the grid system editor is, it's not very flexible. And you can't create very deep websites, as the navigation lets you only add one sublevel.
Free trial: web.com (no money-back guarantee)
Tip #5: The latest trend in website building is AI-powered site builders (e.g. Wix ADI and Jimdo Dolphin). Right now, it's the very beginning of this trend and the website editors are mostly still in its infancy. But if you are looking for an extremely easy way to create a site, do check out our post on the best AI Website Builders.
Let's now check out a few common questions you might be asking yourself.
Common questions from new website creators
Over the years, we've heard these questions over and over again. I hope we can answer some of yours too! If your question isn't included here, please feel free to leave a comment at the bottom of this page.

Can I really do it myself or do I need a web designer (and what will it cost)?
That's a really common question and the answer is… well, it depends on a few factors. Please keep in mind that in order to work with a developer you'll have to be prepared to have a budget of at least $1,500 and that's the low end. For any changes and further developments, you'll pay your developer's hourly rate. Then there is the ongoing hosting as well as domain costs (which will be another $100 per year more or less).
Using a website builder, you can calculate roughly $100-150 per year (all-inclusive), depending on the provider you'll be using.
In many cases, it's actually an excellent approach to familiarizing yourself with the task of creating a website. Even if, in the end, you decide to hire a web designer, you'll have a much better idea of what person you should be looking for and what your website should look like. Our free ebook "Website Creation for Absolute Beginners" will explain all the important parts of a website project.
How does this whole domain name thing work?
The domain name is the web address that your website uses. Our domain is called tooltester.com, and you can see it in your browser's address bar:
Such a domain costs right around $8-15 per year, depending on the top-level domain (for example .com, .co.uk or .net). You can purchase your custom domain name at the usual places such as Namecheap or GoDaddy.
Next to these paid domain names, there are also free subdomains: yoursite.weebly.com would be an example. Free website builders usually offer that. Obviously, they don't look as professional as a premium domain name and should not be used in a professional context.
If you are going to use a website builder you can usually purchase a premium domain name there. That makes handling it slightly easier as you'll only be dealing with one company. If you are going to use WordPress or you'll be programming the website yourself, you will also need web space, where you can upload your website's files and data. With a website builder, you don't need web space as it'll be already included.
Using your domain name you can also get your very own email address (e.g. [email protected]). That'll make a much more professional impression than an address from Gmail or Yahoo. This email address can be managed either through your website builder, domain provider, or an external service. Most website builders work with Google Workspace these days. It's a great service but it comes at a fairly high cost: $6 per email address.
Tip #6: If your website builder doesn't include free email accounts we recommend using either an affordable solution like Namecheap's Private Email Hosting (around $10 per year) or Zoho Workplace, which even has a free plan for up to 5 users!
The whole domain and email setup can be a bit confusing so please leave a comment at the bottom of this page if you still have any questions!
How can I add additional functionality to my website?
You may require additional apps for your website like an online booking engine, event planning, site search, live chat or even a chatbot. Some website builders like Wix, Shopify, WordPress, and Weebly have a dedicated app store where you can add hundreds of plugins with just a few clicks.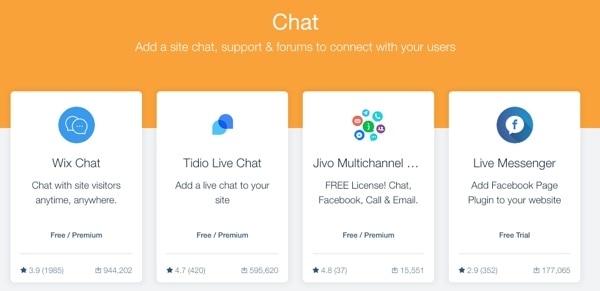 Wix's App Market
But even if there isn't an app store you can simply integrate apps using the source code they provide. Usually, that's as easy as copy & paste.
The best option for your industry
Obviously, not all projects are created equal. And it's true of course that there are easy website builders that are better suited to photographers than to bloggers. Let me now give you our favorites for each use case:
The best small business website builder
For a business website of no more than 20-30 individual pages, we would recommend considering Wix. Especially if you want the design to be something special. The big advantage is that they have a wealth of templates for all kinds of businesses.
If your website is going to be larger than 30 pages, you should check out Weebly as they have a better system in place to manage a large set of pages. Their selection of templates is not as plentiful, so you'll have to invest a bit more time into putting together a design.
Finally, if you are not scared of technical challenges and need a website that scales, WordPress.org is probably for you. Thanks to 1000's of plugins and themes, pretty much everything is possible with WordPress. You just have to invest the time to set it up and to manage its ongoing maintenance.
The best blogging system
Basically, all website builders on this page have their very own blogging tool integrated. But how good are they? Well, it depends. If you want to do this professionally, you'll probably be best served using WordPress. There's also Squarespace (which even supports podcasting) and Weebly if you prefer easier options that are less powerful. And a good intermediate is Webflow, which also has flexible blogging features that are similar to WordPress's, but whose no-code visual editor makes it a lot easier to customize the design of your blog pages.
As running a successful blog is a science in itself, I would recommend checking out our detailed blogging guide. There you can find hosting options and our template recommendations.
The best website builder for photographers
Thanks to their fantastic photo galleries, Wix takes the top spot again. Photography sites and portfolios are pretty much an existential part of Wix's DNA. Just take a look at their photography and design templates to see for yourself.
If you are a professional photographer, you might like Pixpa. There you have a proofing functionality that allows you to set up private collections for clients. What's noteworthy as well, is the specialized online store for photos.
The best ecommerce website builder
Going to start an online store? Fantastic! Ecommerce is an exciting adventure. To begin it you should be well-equipped. If your online store needs to be able to scale, integrate with multiple sales channels, and offer various real-time shipping options, you'll need a specialized tool like Shopify or BigCommerce.
If you only want to open a small-to-medium sized online store that is easy to use, it probably makes more sense to go with Wix or Squarespace. They are more affordable than the 'big guns' and have more than enough to get you started.
If you're looking to sell digital downloads, specifically, then check out this complete guide.
Website builder software: Can I install it on my computer too?
PC and Mac website software used to be very popular – maybe you can even remember Microsoft Frontpage or Macromedia Dreamweaver, as it used to be called. The advantage of such programs is that you typically pay (a larger amount) upfront and can build as many websites as you like. The downside is that you need to take care of hosting your website yourself, which incurs additional costs.
These days most people clearly prefer hosted website builders such as Wix, Weebly, and Jimdo due to their added simplicity. You can edit your site from different computers, no matter if it's a Mac or PC. If you absolutely want an installable website builder software, I would recommend you check out Mobirise. The basic version is free, you only pay if you purchase one of their premium designs or extensions.
Tip #7: We often see our readers over-analyzing their website project, spending days comparing every little feature. What usually works much better is to just sign-up for a free trial, dipping your feet into the water! This way you'll see very quickly whether this is for you or not.
Best Website Builders: Our Conclusion
As you've seen, there are a lot of different website tools out there. The most popular website builder according to our own research and the feedback of our readers is Wix. They've become a pretty dominant force in the website building business. But that doesn't mean their competitors are necessarily worse options. It really depends on your use case.
If you are still unsure about what to pick, I'd again recommend running our Smart Finder and answering 5 simple questions. Good luck with your website project!
Our Testing Methodology
Learn more about how we perform our tests

In order to evaluate and compare the best website builders, we use a meticulous, standardized testing methodology. You find all the different criteria we examine in the individual in-depth reviews, like for example this Wix review (see the Rating Details table). There are 20 different factors that we use for our research, the most important ones being Pricing, Ease of Use, Designs, Overall Features, SEO, Blogging Tools and Support.

We always build demo websites for each website builder we review, which is typically a freelance portfolio site. We look at the available templates, build a photo gallery, create a blog, add a shopping cart, customize the contact form and look at any extra features that make the product stand out. We also spend a decent amount of time in the support pages, evaluating the quality of the documentation as well as personal (live) support. We also receive feedback continuously from real users via our comments section as well as user reviews.

Then, to measure performance, we use Google PageSpeed Insights to assess the load speed for each website builder to determine any outliers, both positively and negatively. You can find our detailed website builder speed study here. Finally, we measure reliability with StatusCake which constantly monitors the uptime of our test websites, enabling us to provide an average percentage of the time each website was "up" over a 12-month period.
Latest updates to this article

11 May 2022 – Glossary added
02 May 2022 – Duda downgraded from #10 to #11
28 Apr 2022 – Wix.com pricing changes, other smaller updates
20 Apr 2022 – WordPress.com pricing changes
04 Apr 2022 – Changes in rankings: GoDaddy promoted due to new features, Weebly demoted due to lack of updates
14 Mar 2022 – IONOS MyWebsite video review added
15 Feb 2022 – Top section updated
21 Jan 2022 – IONOS MyWebsite added
21 Nov 2021 – Smaller updates
10 Aug 2021 – Web.com profile added
19 Jul 2021 – Weebly moved from #2 to #3 due to lack of new features
13 Jul 2021 – Web.com added
08 Jun 2021 – One more tip added
17 May 2021 – Updated website builder descriptions
30 Apr 2021 – Poll updated
22 Jan 2021 – A few minor updates to our study
21 Oct 2020 – Webflow added to table
05 Oct 2020 – GoDaddy updated
23 Jul 2020 – A couple of smaller updates (Jimdo)
10 Apr 2020 – Removed Ionos website builder: it wasn't an easy decision as Ionos offers an interesting product. Unfortunately, they make it extremely difficult to get access to a test version for us. As we are currently unable to update our review, we had to remove them from our ranking table
25 Nov 2019 – Added section about apps and plugins
19 Nov 2019 – Minor update for Wix
05 Sep 2019 – Squarespace SEO improvements
11 Jun 2019 – Some Squarespace updates
Congrats! You've made it to the very end of this guide. All there is left to say from my side is to leave a comment if you get stuck in the process. We'll be happy to help you!