Tooltester is supported by readers like yourself. We may earn an affiliate commission when you purchase through our links, which enables us to offer our research for free. Learn more about our methodology here.
Wix has become pretty well known over the last few years, in part due to budget-busting marketing campaigns featuring stars like Heidi Klum, Jason Statham, and Wonder Woman herself, Gal Gadot. But let's start with the basics. Today, Wix is the biggest player in the website building landscape and boasts a whopping 200 million users.
Wix Review: Summary
Wix offers an excellent drag-and-drop site builder for creating small websites. There are over 800 free templates available that can be customized as you like. Wix provides its own web hosting as well as domain names (free and paid). The App Market makes it easy to add extra functionality such as photo galleries, booking forms, members areas and online stores. However there are a few drawbacks that make it less than ideal for larger sites.
Save Time With Our Wix 1-Minute Review:
Who Should Use Wix?
Their visually impressive layouts are designed for small businesses, restaurants, online stores and artists such as musicians and photographers. They are optimized for mobile devices and can be spiced up with one of the numerous apps available from the Wix App Market.
In a way you can compare Wix to a prefabricated house: the fundamental structure already exists and can't be changed. You can, however, paint the walls to your gusto (choose a theme) and add the furniture you love (photo galleries and other apps - you can learn how in our Wix tutorial).
In fact, I used it to create our own bilingual company website called Tooltester.net. We had a particular design in mind and just needed a quick way to build it. Also, I didn't want to have to think about security updates etc. which meant WordPress wasn't an option.
In the end I considered both Weebly and Wix (our top-rated builders) and went for Wix. With Weebly there was just no perfect way to make our design look good on mobile devices. Working with the Wix editor was a breeze, offering handy tools such as photo filters and animated texts. But before getting ready to swipe your credit card, keep in mind that every website has different requirements.
Wix offers a free plan. Sign up for it here (link will open in a new window)
Wix Pricing
$0

Free

Create a free website with a Wix banner displayed. Not included: your own domain name.

$5

Connect Domain

Connect your own domain with your Wix site. Your site will still show a Wix banner. (Plan is not available in all countries).

$14

Combo

Ideal for smaller professional websites. No banner and plenty of storage.

$18

Unlimited

The right plan if you need a lot of web space (up to 10 GB included).

$23

Business & eCommerce

Best plan to create an online store or use premium apps like Wix Bookings or Wix Hotels. Higher plans (VIP & Unlimited) available too.
Monthly prices for 1-year contracts; Domain included in selected packages.
Which plan should I choose?
No Wix review would be complete without a close look at the pricing:
Wix is available for free for as long as you want. If you need professional features like your own domain name or ecommerce, you must choose from one of their premium plans ranging from "Combo" to "Business VIP". The cheapest ad-free plan with a custom domain name costs $14 per month.
In our view, Combo is by far the best plan for regular websites without ecommerce. It is ad-free, includes a domain name for 1 year and provides enough storage for most needs. Find our detailed analysis of Wix's premium plans here.
Find the best Wix plan with the Smart Finder:
Now, you are probably wondering whether or not Wix is right for you. So let's find out what's good and what's bad about this product:
Pros and Cons of Wix
Excellent templates
The most remarkable thing about Wix is its templates. The designs are exceptional and offer pre-built layouts for many different industries.
It's extremely flexible
Whereas other website builder limit the extent to which elements can be moved around, Wix allows your to finish your work off "pixel perfect".
Adding animations
Wix is one of the few site builders that let you animate text and other elements. But make sure not to overdo it!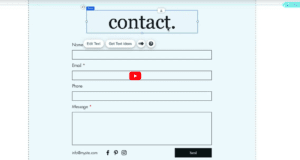 App Market
There are hundreds of website apps that you can add to your website. There is a newsletter tool, live chat software, online booking widgets, etc. All of those can be easily integrated into your Wix website. But keep in mind: many of them are third-party apps—therefore, Wix doesn't provide support for all of them.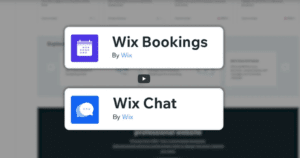 Wix Artificial Design Intelligence (ADI)
Wix offers a (relatively) smart assistant to create your website with. But this is only available for some types of projects (e.g. portfolios, yoga sites, etc). For instance, it'll automatically generate images and content, connect your social media, create a contact form for you or pick a suitable design for your audience. But don't worry, if you don't like something, you'll be able to change it. More information.
Automatic Site Backup
Wix automatically creates backup points of your website that can be restored at any time (much like Apple's time machine system). This way you will never lose any important information.
Pricing
The cheapest ad-free plan with Wix is called Combo, which starts at $14 per month (compare Wix's premium plans). The competition offers cheaper options: Weebly's cheapest plan without any advertising starts at around $8, for example.
Templates can't be changed easily
Once you have chosen your initial template, you can't switch to a completely new one. While you can certainly change the design within the template, it's not possible to pick an entirely new one.
Mobile loading speeds
Although they've made huge strides in improving loading speeds (something that hasn't gone unnoticed by Google), mobile speeds still need a bit of work. As many of their templates rely on graphics and media to look good, it's sometimes a compromise between aesthetics and performance.
Rating Details
criterion
rating
comments

Ease of use

The editor is very intuitive to understand. If you are stuck, the FAQ section will help. Short introductory videos give instructions on the different functions. Complete novices will love Wix ADI: this new system holds you by the hand while configuring your website. It's a bit less flexible but very convenient. What's best: you can switch to the regular builder whenever you like.

Choice and flexibility of design (templates)

The designs look professional and allow for pixel-perfect customizations (see examples). There's a mobile-friendly version that can be adapted individually. You can also embed videos in the background and even upload your own fonts to the Wix editor. Unfortunately, there isn't an easy way to switch templates. If you want to change to a new one, you'll have to copy your website's content to a new template.

Advertisement-free

Ad-free only from the premium plan "Combo". The free version and the Connect Domain plan show a pretty visible Wix banner.

Languages

The editor supports 19 languages. Multilingual sites are generally possible, and can automatically display a language based on a user's browser settings. Here is a guide to multilingual website creation. While it's a pretty efficient system that is easy to use, we wouldn't recommend it for larger sites as it's not ideal for SEO (you can't use unique URLs for each language).

Features

Your own domain name (e.g. .com or .net)

Free domain name for one year included in the premium "Combo" and higher plans. Wix supports domain endings including: .com, .org, .net, .co.uk and .info. Renewal prices start at $14.95 per year. Using the "Connect Domain" package (and higher) it is possible to move your existing domain to Wix or point it from another domain registrar to Wix. More information. Always included: SSL encryption (https).

Depth of navigation

A maximum of two levels is possible. A third level would be desirable as right now it's not very convenient to manage a larger site with Wix (30+ pages). Also, the more pages you add, the slower the editor tends to load. Keep in mind that Wix websites have a page limit of 100 (not counting blog posts). However you can get around this page limit by using dynamic pages, which are ideal for displaying standardized content such as portfolios, recipes, listings etc.

Widgets (small tools to add extra functionality)

The Wix App Market features a wide range of unique widgets and apps. We especially like Wix Music, to sell and promote music, and Wix Bookings that will let your customers book and pay for appointments and consultations (and even online Zoom classes). External applications can be integrated as well.

Mobile App

Wix Owner app is a breeze to use. A dashboard gives you access to all the main features, like blog post editing, analytics or inbox messages. You can manage your store directly from your phone, but it won't let you create new pages (unless you built your site with Wix ADI).

There are some interesting features, though: adding products, creating videos, adding contacts, or launching email campaigns. Unfortunately, it is not possible to edit your Wix site from touchscreen devices.

iOS

 Android

E-Commerce

An online store is included in the "Business & eCommerce" packages. You can also test the function in the other plans. At $23 per month it's fairly priced (there are no sales fees) and it allows you to sell both physical and digital goods while tracking what you have in stock. There are even advanced features like selling subscriptions, an Amazon integration and dropshipping. Learn more in our detailed Wix Ecommerce review.

Search Engine Optimization (SEO)

You may have heard bad things about Wix's SEO capabilities, which was still true a few years ago (more about this here). However, they have improved massively, letting you edit page titles, meta descriptions, and alt tags individually. There are even advanced SEO tools like 301 redirects, and 'SEO Patterns', which allows you to create rules for auto-generating titles and descriptions. Another handy thing is that you can manage your Google My Business profile from your Wix Dashboard. Beginners can use the SEO Wiz, a guided tutorial. For more information, check Wix's SEO post.

Blog

Wix's blog is a pretty good add-on, which is also SEO-friendly. It comes with most of the features that you'll need (e.g. tags, categories, RSS, etc.). It's also possible to schedule blog posts. With the Wix Owner mobile app you are able to edit and publish articles on the go. You can even sell paid subscriptions to your blog posts. A downside is the cumbersome commenting feature. Your visitors need to sign up for an account with your website to leave a comment. Another con is that you can't add tables easily.

Visitor statistics

Wix's inbuilt Analytics tool provides comprehensive and customizable reports on traffic, sales, contacts and blog engagement. We find them a little slow to load, however. It's also possible to integrate paid sites with Google Analytics.

Contact form

There is a simple contact form builder, which limits you to 5 forms and 10 fields per form. To increase these, you'll need to add on an Ascend by Wix plan, which gives you access to Wix's full range of built-in marketing tools. More sophisticated tools can be found in the App Market.

Password protection & member areas

Exemplary! Pages can be allocated an individual password. You can even create a small membership website where users sign up in order to receive personal login credentials. It's possible to create members areas within your store, and even for bookings, events, blogs, forums etc. You decide whether members get approved instantly or manually by you. Both features included in all plans.

Newsletter tool

You can use Wix's own Email Marketing newsletter service (part of the Wix Ascend product suite). It's very easy to use but not as powerful as specialized external providers. Read our full Wix Email Marketing (formerly known as ShoutOut) review here.

Add HTML code

Embed various widgets and other tools by means of an integrated app called HTML iframe. But that's not all: Velo by Wix caters to people with advanced coding skills and lets you set up custom API interactions by means of JavaScript. You can also create databases.

Storage space

500 MB+

500 MB – 35 GB web space, depending on the pricing tier. Please note that there is also a monthly bandwidth limit in most plans. This is only relevant for large websites, e.g. the 2 GB bandwidth of the Combo plan should be enough for about 3,000-5,000 visitors per month). The Unlimited and VIP plans both provide unlimited bandwidth.

Backups & Restore

Wix comes with a very convenient version control system, called Site History, that will let you restore to any previous version of your site with one click.

Support

FAQ

Chat

Email

Telephone

Support center, forum, phone and live chat (available 24/7 in English, although you'll have to get through Wix's chatbot first). The documentation is very detailed and clearly explained. If you get stuck, you can submit your question to the forum. Answers are usually prompt but in the case of email, there's often some back and forth until the issue is solved.

Fun Factor

Starting up is very playful and, initially, impressive results are achieved quickly. Wix gives you a lot of freedom in the design process.

Overall Rating

4.6/5

Wix.com is a smart website builder with optical delights. Easy to use and as flexible as it can get. It's the perfect website builder for small businesses and individuals who want to create, manage and grow their online presence.
Wix Review: Conclusion
If I am being honest I had my reservations about Wix at first as their product hasn't always been easy to recommend. Back in the days it was Flash-based and always a bit different (like your old classmate who had that weird taste in clothes). However, thanks to their neverending improvements they have become one of the cool kids, slowly climbing our ranking to now claim the top position.
Is Wix really that easy to use?
One of the things we really like about Wix is that it caters to users of all levels of technical experience. For complete beginners there's Wix ADI, Wix's AI-powered website builder. All you have to do is answer a few quick questions, and it will build you a ready-to-go site in just minutes.
Most users, however, will probably feel pretty comfortable with using the regular Wix Editor. After picking a template, you'll be able to use Wix's drag-and-drop editor to customize your site pretty much any way you like. You'll have close to full control over what's included in your webpages, where it's placed, and how it looks (you can customize fonts, colors, styles, interactions etc).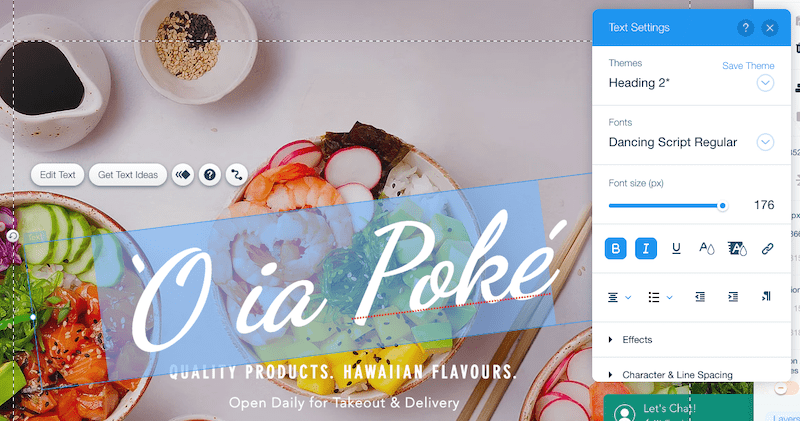 Using the Wix editor
The only real drawback with Wix's designs is that they aren't mobile responsive by default. While Wix does create a mobile-friendly view of your website, it's not always perfect. So, a little bit of tweaking to the mobile version of your site is usually needed.
Recognizing this limitation, Wix introduced Editor X in early 2020, which is a completely different product. As an advanced editor aimed at more experienced users (in particular, designers and agencies), it allows you to build responsive websites for different breakpoints. Learn more about it here.
But, if you really want to get deep into your Wix website's code, there's Wix Velo. This one's for those with serious technical know-how (read: developers). As an open development platform, it lets you build out advanced websites and applications by adding custom functionality to your website (via JavaScript and APIs), as well as the ability to develop databases. While it's not something that most Wix users will need to use, it's certainly handy to know that this functionality exists, in case you have big plans for your Wix site in the future.
Enhancing your site with Wix apps
As we briefly mentioned, you can easily add extra functionality to any Wix site with the help of an app. The Wix App Market is one of Wix's best features, as it includes around 300 apps that can be enabled with just a couple of clicks. These include not only external applications, but also Wix's own extensive range of apps.
Ascend is one of Wix's core apps – it's aimed at small business owners and includes a CRM, email marketing, automations, forms, live chat and more. It's useful as an all-in-one solution (and can be used on a limited free plan); however we think the premium packages could offer a little more. See our full review here.
The Inbox feature in Wix Ascend
Wix Bookings is handy for anyone who runs an appointment or service-based business (e.g. yoga studios, beauty salons, personal trainers, consultants). It's a scheduling app that lets users book appointments or classes directly on your website, and also takes payments. There's integration with Zoom, and the ability to manage staff, calendars and even offer memberships. While it is normally a paid app, you can access a free version, and it's also included in the price of Wix's Business and Ecommerce apps (more on that below).
But Wix offers a handful of industry-specific and niche apps, too. Among these are Wix Hotels, Wix Restaurants, Wix Events, and more.
The ones not made by Wix can be a little hit and miss: we found a few that were not of really great quality and some of them are also pretty expensive for what they are.
What about SEO?
While a lot of criticism has been levelled at Wix's SEO capabilities over the past few years, a lot of it isn't really relevant any more. Wix has invested a lot into beefing up its SEO features, with new ones constantly being added.
Aside from the SEO Wizard – a personalized optimization plan that's handy for beginners – you'll also find advanced features such as an editable robots.txt file, customizable canonical tags, bulk 301 redirects, structured data, smart caching, support for Google AMP, and a whole lot more. You can read our full analysis of Wix's SEO capabilities here.
Google's John Mueller has publicly stated that Wix's SEO capabilities are fine for their search engine. So unless you are planning on ranking for some insanely competitive keyword you should have no issues with Wix! In the end, SEO depends a lot more on your ability to create outstanding content rather than the website builder.
In short: Wix offers plenty to give you the best chance of achieving high rankings in Google. If SEO is important to you, our main advice would be to focus on creating high-quality content, and be mindful of not adding too much media – slow page speeds can sometimes hurt rankings, and Wix's page speeds (especially on mobile) haven't always been the fastest.
Final thoughts
The verdict of this Wix review is pretty clear: I would recommend it without reservations for smaller websites (not more than 30 pages) that have to look flawless. Why not also for larger projects, you ask? Unfortunately the navigation menu doesn't really accommodate complex site structures as there is only one sub-level. Weebly or WordPress usually work better for big websites. That being said, Wix's Content Manager could be a potential workaround, thanks to its use of dynamic pages – however, this certainly adds more complexity.
Wix has the widest selection of prebuilt designs for any kind of industry. As it's not possible to switch to a new theme after your initial choice, it's more difficult to revamp your site's design (you'll have to redesign it manually or start from scratch). On the positive side, this limitation facilitates Wix's greatest strength: unmatched flexibility within your chosen theme.
And even if sometime down the road you would like to get into the ecommerce game you can easily add a shopping cart at relatively little cost. Read our Wix Ecommerce review to learn more.
What Wix has created here is certainly impressive in many ways with a development speed that is almost breathtaking. Just make sure you try out the free plan before switching to a paid plan to find out if it's the right choice for you.
Is Wix the right website builder for you?
You need cutting-edge templates with ready-made designs for your industry (e.g. architecture, fashion, advertising, jewelry, restaurant, hotel etc.)
You are a photographer and want to showcase your images in stunning galleries (and even sell your photos)
You are a musician or band and want to sell music online
You need a lot of flexibility customizing your design.
You want to be able to add additional apps easily (e.g. appointment scheduler for clients, event calendar, forum etc.)
You require an integrated newsletter tool
You want to create a large website or complex online store (30+ individual pages)
Your main goal is blogging
You need a responsive website layout that adapts perfectly to tablet devices
Wix User Reviews
Penny
Very user friendly & efficient for a small business owner
Bob
Wix made it easy to upgrade our company website.
Georgeta Tudor
Apps don't work as they are supposed to
Wix Alternatives

Squarespace
Read Review
Weebly
Read Review

Jimdo
Read Review
Squarespace is the one you should pick if you want to start a blog. Their designs are sophisticated and Squarespace's support is more personal and less salesy. The editor feels a bit more complicated than Wix, though. Read our Wix vs. Squarespace article for more information. In our book, it's the top Wix alternative.
Weebly is a great Wix alternative as it's extremely intuitive and easy to use. Its templates are not quite as stylish (or as numerous) as Wix's. Weebly also offers a more structured editing approach than Wix that some users prefer. Read our Wix vs Weebly comparison.
Jimdo is a lot lighter on features but probably the fastest website builder. It'll take you no more than 10 minutes to create your first personalized website draft. Jimdo sites also load very fast. But don't expect features like a blog or advanced SEO settings.
Not sure what website builder you should use? Let our smart finder decide for you in 2 minutes.
Techie Stuff (Mainly for Geeks)
In this section you can find a summary of some technical aspects about Wix.
This image shows the so-called "uptime" of our Wix demo website of a period of an entire year. When a website goes down, it means that no one can access it, which is bad for business. The closer the uptime is to 100%, the better it is. Anything less than 99.90% is considered relatively poor. Wix's score of 99.95% is pretty decent.
The graph also shows Wix's response time, i.e., the number of milliseconds it takes to get a response from their servers. A value in between 200-500ms is relatively good: more than 800ms can feel slow to the website visitor. Wix's servers are located in the USA, which means that loading times are fastest there.
| Wix | Desktop | Mobile | User Experience (mobile) |
| --- | --- | --- | --- |
| Template 1 | 74 | 67 | 96 |
| Template 2 | 89 | 74 | 96 |
| Template 3 | 82 | 72 | 96 |
| Average Rating | 81.67 | 71 | 96 |
Loading speed has become an increasingly important ranking factor for Google. That's why we selected three random Wix templates and tested them for their page speed using Google PageSpeed Insights. Anything below 70 is relatively poor, a rating of above 80 is considered as good. The maximum is 100 points.
FAQ
How do I use a domain name that I already own?
After logging into your Wix Account you will see the "Domains" menu. Here you can simply enter the domain name that you want to use. If you have already registered the domain name, they will show you how you can transfer it or point it to Wix (see screenshot). More information here.
Where is Wix from and where do they host my website?
Wix was founded in Tel Aviv (Israel) by Avishai Abrahami, Nadav Abrahami and Giora Kaplan. Tel Aviv is also where their headquarters are located. Furthermore they have offices all around the world: New York, San Francisco, Berlin, Sao Paulo and others. They are a public company, listed on NASDAQ: WIX.
Their customer's websites are hosted on servers in the United States.
Is Wix actually good for SEO?
Yes. If you are worried about SEO and want to reach the top of Google's rankings, you can do so with Wix. You have access to page titles, descriptions, 301 redirects and pretty much to all other relevant settings.
Where Wix falls short is 'page speed'. While you can certainly influence your website's loading speed, Wix doesn't allow you to fully edit your source code as, for example, WordPress does. However, if you need this, you'll probably be operating in a highly competitive industry. In this case, you should check out a more high-end solution, such as WordPress. But keep in mind that it'll be much more complex to use.
Learn more about SEO for Wix here.
Can I display a cookie banner on my site?
Yes, Wix lets you activate a cookie consent banner where your visitors can select which cookies they want to allow (e.g. marketing cookies, analytics cookies, etc.). This will help you fulfill the GDPR requirements for visitors from the EU.
Do I need my own web space to use Wix?
No, Wix is a hosted website builder. What that means is that by signing up they will provide everything you need for a complete website: the editor, the web space and a domain name. For a proper .com or .net domain you will have to purchase one of their premium plans.
If I use Wix to build my website, will they own my content?
No, Wix will not become the owner of your content. Here is what their terms of service say: "Wix does not claim any intellectual property rights over the User Content[…]" (TOS: 15. User Content D.)
The same applies if you purchase a domain name through them. They will never own it and you are free to transfer it to another domain registrar.
Does Wix run both on PC and Mac?
Wix runs in your web browser (Google Chrome, Mozilla Firefox or Microsoft Edge), it doesn't matter if you are using a Mac or PC. Just make sure your browser is up to date!
What is Velo by Wix?
Velo by Wix (formerly Wix Code) is a unique way to add custom applications and dynamic pages to your Wix website. An example would be a registration form, where artwork and text can be submitted. Using this data you can now create dynamic pages on your website that include this information.
Wix Code allows you to create websites with a depth of features that currently only professional CMS can deliver. Find further information here.
I can't see my Wix website on my mobile phone. Is it broken?
Please make sure your mobile phone uses a modern operating system and browser. Check the latest specs here.
Is it possible to monetize my Wix site?
You can integrate Google AdSense via their App store. Another possibility is banner ads and affiliate links. It's also possible to control which sellers advertise on your site by uploading an Authorized Digital Sellers file.
What is Editor X?
With Editor X, Wix especially approaches designers and advanced users, similar to Webflow.
You have even more customization options than with Wix's regular editor. Editor X allows you to build your site from scratch or adjust the available templates to your taste, through e.g. advanced "Grid Layouting", "Text Scaling" and setting up "Custom Breakpoints". Like that, you can create perfectly responsive websites and you don't even have to use CSS.
The implemented developer mode (Wix Velo) contributes to the editor's great flexibility as well.
Latest Review Updates
22 Dec 2021 - New videos (Pros)
17 Dec 2021 - Mobile app rating added
05 Nov 2021 - Live chat support now available
12 Oct 2021 - FAQ's updated
01 Sep 2021 - Most recent price increases reflected
19 Aug 2021 - 1-Minute Review added
12 Aug 2021 - Small updates
14 Jul 2021 – General update
23 Jun 2021 – SEO advancements
28 Apr 2021 – Updates in ecommerce
18 Mar 2021 – General update with new features added
14 Dec 2020 – Smart Finder added
13 Nov 2020 – Wix now has a page limit of 100
24 Sep 2020 – Improved cookie consent banner
16 Sep 2020 – Paid blog subscriptions now available
10 Jun 2020 – Presenting Wix Editor X for Pros
19 Nov 2019 – Updates on Wix's loading speed
31 May 2019 – Price increase reflected.
30 Apr 2019 – Wix Code is now called Velo.
04 Feb 2019 – Small update in "Depth of navigation".
05 Nov 2018 – New feature for multilingual websites
21 Aug 2018 – Updated the video review
28 Feb 2018 – Change to the uptime section
05 Oct 2017 – Thanks to their constant improvements and new features they are our new #1
26 Jul 2017 – Wix Code announcement
20 Apr 2017 – Alt images in post are now customizable (new rating)
03 Feb 2017 – SSL encryption available
17 Jan 2017 – The Backup & Restore section has been added
19 Oct 2016 – Wix launched ADI and improved the blog SEO features. New blog rating of 4
25 Aug 2016 – Wix allows you to use your own fonts now.
23 Jun 2016 – URLs are now clean. General rating upgraded to 4.4 and SEO rating to 4
01 Apr 2016 – Disqus integration possible
08 Mar 2016 – Update "Wix ShoutOut"
03 Feb 2016 – New Wix use case section
12 Jan 2016 – Wix Music and Wix Bookings added to the review
28 Oct 2015 – Wix allows to embed own background videos – new rating 5 stars
02 Sept 2015 – Wix introduced a multilingual app – new rating 4 stars
13 Aug 2015 – Video backgrounds and improved online store lead to a slightly higher rating.
04 Aug 2015 – Pros and cons added as well as server tests
30 Jan 2015 – General review update
13 Oct 2014 – New rating for blog, before 1,5
27 Aug 2014 – New rating for designs, now 4.5 stars
17 Jul 2014 – Wix introduced its own Newsletter tool "ShoutOut".
30 Jan 2014 – H1 tags can be added.
09 Jan 2014 – More detailed information about domain names.
10 Dec 2013 – Review of the blog feature added.
24 Sep 2013 – More storage space.
19 Jul 2013 – Supports Google Adsense now.
08 Apr 2013 – Review of Wix's new HTML builder. The review for the old Flash-based model can be found here.
14 Mar 2012 – Password protection information added
11 Apr 2012 – Initial review of Wix' HTML5 website builder
22 Nov 2011 – We have tested Wix' server performance.
07 Nov 2011 – Wix adds a blog module
20 Jul 2011 – Website builder for mobile websites reviewed reviewed, new eCommerce features added
17 Mar 2011 – General update
12 Jan 2011 – General update: support has not been reviewed this time.