Ever heard of The Grid?
If you follow the website builder market (like we do), you'll know that it was one of the industry's most hyped-up products a few years back.
In the lead up to its release, The Grid promised to revolutionize the process of building websites.
Its aim was to develop an AI (artificial intelligence) web builder that would create beautiful websites quickly and intelligently – with very little input from users.
The problem? Well, the development process took way too long. In fact, its launch date was pushed back by over a year.
By that time, investors and users had huge expectations.
And did it deliver?
Not even close.
For all the buzz and hype, The Grid turned out to be a bit of a dud. It was riddled with bugs, cumbersome to manage, and on top of that, the designs were just no good.
Luckily for us, this gave competing web builders the opportunity to learn from The Grid's mistakes.
That's why we now have a small but decent range of AI website builders available to us.
So, if you like the idea of having a website quickly and easily built for you – or you're simply just curious – read on as I walk you through my experiences with using the most popular AI web builders on the market.
Wix ADI
Wix (read the full review) have built a reputation for themselves as one of the most innovative website builders in the market.
So it's no surprise that they'd be blazing the trail for AI website builders, too.
Wix ADI was launched in mid-2016 – around the same time as The Grid.
Coincidence? Probably not.
But whether Wix were inspired by The Grid's vision, or were already working on an AI web builder on their own (albeit less vocally), one thing's for sure.
In terms of execution, Wix ADI absolutely blew The Grid out of the water.
How? Well, let's take a look.
How fast is it to set up a site?
Really fast. You start off by telling the assistant what kind of site you want to create. (Side note: Wix ADI supports most types of websites, including online stores, blogs, business sites, and portfolios. However, it's not available for photography, restaurants, or accommodation sites)
In my case, I wanted to set up an online store, and I was able to specify baby clothing as a category:
You're then asked a series of questions about your business name, location, as well as any extra features you want for your site. You also get to pick the kind of theme you want for your site:
Based on your responses, as well as any existing information Wix can find on your business/site (e.g. social media), Wix will suggest some website designs for your to choose from:
Once it's done collecting this information, Wix ADI does its magic, and provides you with a fully-featured site that's ready to customize. The whole process takes 2 minutes tops, and by prepopulating things such as logos and contact information, Wix ADI cuts down the work you have to do to get the site ready for launch.
Voila! The site created for us by Wix ADI
How easy is the site to edit?
It's actually pretty easy. Wix ADI has a little pop-up window that provides step-by-step 'smart tips' on what to do. But even without this, you'll find that editing images, text and sections is pretty straight forward. Just click on the section you want to edit, and you'll get a pop-up pane in the left that will let you edit the content. Simple.
Editing more complex features like store products or a blog is done in a separate screen, as per Wix's regular editor. But with a little practice, even this is fairly easy to manoeuvre.
How much can I customize?
A lot. You can add new sections to your page, as well as moving/deleting existing ones. You also have options to add new pages such as FAQs or About Us, and apps such as live chat and booking calendars.
For each page, you can also edit SEO properties such as title, page description, and URL.
If you're feeling particularly confident, you can even switch your site from the ADI editor to Wix's advanced editor (i.e. their regular website editor). This will give you almost complete control over how your site looks (and, if you miss the simplicity of the ADI editor, you can always switch back).
Quality of designs?
As you'd expect from Wix, the designs suggested by Wix ADI are attractive, modern, and mobile-responsive. And if you don't like the design suggested for you, you can change it completely – there's plenty of different themes to choose from. Which is great, because I didn't love the design Wix created for me – so I changed the theme to something I did like.
You can also customize designs with your own images, of course. Plus, Wix offers a library of its own stock photos, which you can use for free.
How 'smart' is the AI?
It's not bad. If you have an existing site, Wix ADI will pull in your contact details and also suggest a color palette based on your site's colours. But the suggested site designs seem to be mainly based on the theme you select. I don't feel like it really analyzes your content to come up with a unique design that it thinks is best for you.
The final product, however, is pretty impressive. Here's what I ended up with – click the image to check out the site in full.
Price:
Wix ADI is available on all of Wix's plans, including their free plan. See full pricing details here.
Rating:
4.5/5. Wix's AI builder is complete, intuitive, flexible, and – from what I could see – blissfully bug-free. I see it as being a top choice for users who need to build slightly more complex sites – e.g. online stores, businesses sites that need booking/scheduling tools or live chat – in a short amount of time. If it could build up the smarts to really personalize designs, it would be absolutely unstoppable.
Jimdo Dolphin
Here's another established website builder that's doing some nice things with AI.
Jimdo – originally known for their super easy-to-use web builder – came out with Jimdo Dolphin in late 2017.
Why 'Dolphin'? Well, because they wanted an AI-assisted builder that was fast, and smart.
And although they were a little later to the game, it's fair to say that they've quickly caught up.
So let's take it for a spin – this time with a bakery website.
How fast is it to set up a site?
Jimdo Dolphin claims to set up a site in less than 3 minutes, and honestly, this is pretty accurate. Taking a similar approach to Wix ADI, you start off by answering a few simple questions about what kind of site you want to create, your business name (to pull in your Google Places listing), and whether you want to connect Facebook/Instagram properties.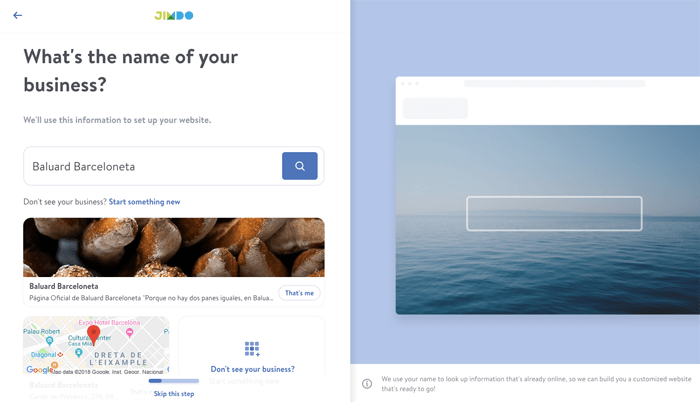 In just a few seconds, Jimdo Dolphin processes this information and generates a site that's filled with your business name and contact details, images, and even a text description of your business/site.
How easy is the site to edit?
Super easy. I'd go so far as to say it's even easier than with Wix ADI. All the editing of text takes place in-line (rather than in a separate pane or window), so it's just a matter of clicking and typing.
How much can I customize?
Quite a lot, actually. You've got options to change layouts of different sections (or content blocks, as Jimdo calls them), and within these blocks, of switching on/off elements (such as text, images and buttons). Blocks can be moved around and copied, and it's also possible to add features such as contact forms, music players, and booking forms.
SEO options, unfortunately, are limited – you really only have the option to set a homepage title and a single title for all other pages.
Quality of designs?
Not only can you switch designs/themes, but you can also edit styles within designs. This includes color themes, fonts, and even adding animations. All designs are mobile-responsive, too.
How 'smart' is the AI?
It's intelligent enough to suggest relevant site colors, and also pull in any high-quality images you may have on your online properties (e.g. social media and Google Places), which is a huge bonus. It also adds a business description to your site taken from social media.
I actually really liked the design Jimdo Dolphin created for me, so made very few changes to it. Check out the final site here.
Price:
The free PLAY plan gives you up to 5 subpages
The START plan (up to 10 subpages) starts at $9/month
The GROW plan for more storage and up to 50 pages at $15/month
The UNLIMITED plan for unlimited pages $39/month
Plans are billed annually. Find out more about Jimdo Dolphin pricing.
Rating:
4/5. The ease of use and quality of designs are impressive. But Jimdo Dolphin would definitely score higher if it gave us more options for website types (e.g. online stores, blogs), SEO, and let us switch over to the more advanced Jimdo Creator editor. As it is, we think it's suitable for simple business websites, portfolios, and businesses that take online bookings (e.g. beauty services, yoga studios).
Impress.ly
Impress.ly take a unique approach to web building, creating sites that put mobile first and foremost.
It's for that reason that their sites look and feel a lot like mobile apps.
(And the fact that they're powered by app maker AppMachine).
Curiously, Impress.ly shy away from describing their web builder as 'AI-powered'.
However, they do make reference to its 'native intelligence' and its 'automagical design algorithm' (!), so there's no doubt that it plays in this league.
Let's try it out with a restaurant website.
How fast is it to set up a site?
The process of setting up a site was fast, and easy. You don't even need to sign up to get started. Instead, Impress.ly jumps straight in and asks a series of questions about your site, and gives you options to pull in data from Facebook (or even an existing site).
Gathering content such as logo, images and brand colors, it then suggests a variety of customized mobile designs for you to choose from – and I have to say, these were pretty nice.
How easy is the site to edit?
Once you choose your design, you'll find the editor is pretty easy to navigate, with a clean interface and easily accessible editing options for changing text and images. It comes with plenty of pages included, too, including a menu where I could add my own menu items. Pages/content can easily be added and removed.
One thing that you might find a little jarring is that Impress.ly moves away from the whole idea of a 'drag-and-drop' editor. That means the user experience of editing is a little different to what many people are used to with these kinds of tools. I still found it simple enough to edit different pages/sections, though.
How much can I customize?
A good amount. You can change the style by choosing from different navigation, background and layout options. You can also apply site-wide fonts and colors. But again, without a drag-and-drop editor, you'll find that you're relinquishing control over some visual details.
Extra functionality that can be added includes blogs, maps, contact and reservation forms, and even an online store.
Quality of designs?
The mobile designs are decent, and really do make your site look like an app, with big buttons and subtle animations. I also like how the designs are really tailored to your brand, and how they include your logo, images and colors (if you have these available online).
The design of the desktop version of the site wasn't quite as impressive, but you could still change some elements of it, and it certainly wasn't the worst-looking site I've seen.
How 'smart' is the AI?
Smarter than most. I think this is where Impress.ly really stands out. It takes data from a variety of sources – including Facebook, Twitter, Youtube, Google Places, and even your existing site. And it adds your logo, brand colors, images, contact details and social media feeds to your site. So, it's probably the only tool that I feel creates a site with a truly customized design.
Price:
It's free to set up a site with Impress.ly, but to publish it, you'll need to upgrade to one of two plans:
The Starter plan costs $9 USD/month and includes a free domain + your site in HTML 5
The Business plan costs $14 USD/month and includes everything on the Starter plan, plus extra features such as ecommerce, a reservations system, music features, and a blog
Rating:
3.5/5. If you're a local business, store or restaurant and your main target is mobile visitors, Impress.ly is a decent option to try out. You might not get quite as much flexibility as with other web builders, but you do get all the features you'll need, in a simple-to-manage tool. However, I wouldn't recommend it if having a great-looking desktop site is important to you.
10Web AI Builder
At WebsiteToolTester.com, we often get users asking if they can easily migrate their Wix or Squarespace site to WordPress.
Sadly, our answer is usually no – there's no simple way to do this.
However, 10Web claims to have solved this problem with its recently-released AI Builder.
With just the URL of your existing website, 10Web says it can recreate your site in WordPress within minutes.
It does this with the help of the Elementor website builder, a plugin for WordPress that lets you edit your site within a visual editor.
It's an interesting value proposition – so let's see how well it works.
How fast is it to set up a site?
They weren't kidding – it took less than a minute for 10Web to import the design of my existing site into its builder.
All I had to do was copy and paste in the URL. In this case, I used our own ToolTester company website, which is built on Wix.

The tool also lets you import five pages at the same time, so in addition to the homepage, I selected our blog summary page, and one blog article.
Less than a minute later, 10Web had replicated the website within its builder – layout, images, text, and links were all there.
Of course, the formatting (as you can see) wasn't 100% perfect – which is where the next step comes in handy.
But, by automatically copying over all the content from my existing site, I do have to admit that it saved me a lot of time.
How much can I customize?
While 10Web takes care of the AI-powered import of your site, the customization takes place within the Elementor website builder (white labelled as the 10Web Builder).
If you're not familiar with Elementor, it looks a lot like many other visual website builders, with a click-to-edit text editor, and content blocks that you can drag and drop into your pages.
Because there are so many things you can customize (content, styles, positioning etc), the editor can take a little bit of getting used to.
But, that's a small trade-off for having so much control over your site's design. In fact, it offers a lot more flexibility than most of the AI builders on this list.
With the editor, I was able to take this: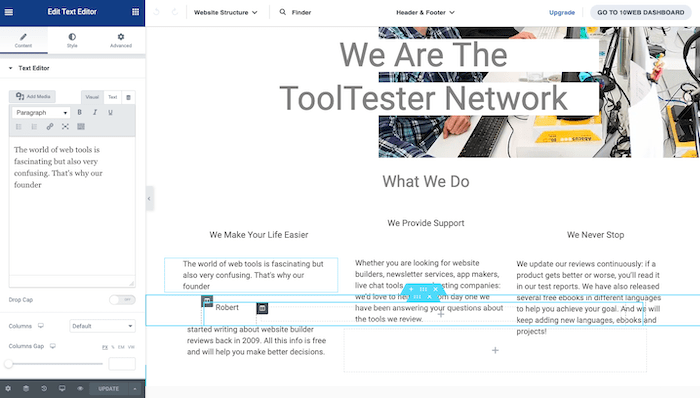 And turn it into this:
Quality of designs?
Unlike the other AI website builders we've looked at, 10Web replicates the design of your existing website, rather than generating a brand new one for you.
How true is it to the original design? I have to say, I was pretty impressed. Apart from a few formatting and font issues (that were easily fixed), 10Web copied over layouts, images, background colors and font colors surprisingly well.
Even sections with slightly more complicated layouts (with image, text and buttons) seemed to be carried over seamlessly:
That was true not just for the homepage, but for the other pages I imported too – they looked pretty spot-on: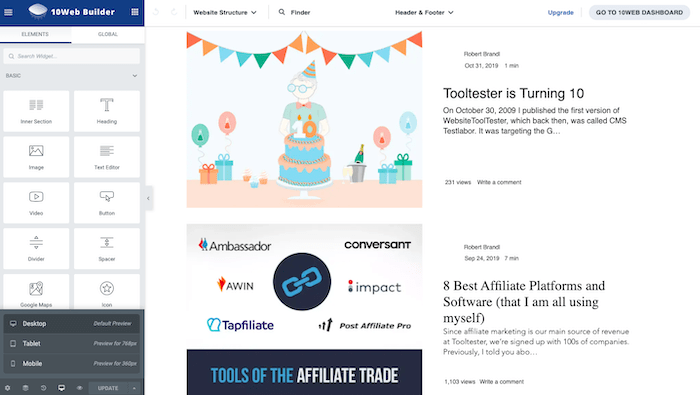 Pages were also mostly mobile-responsive, which was another big timesaver:
It's worth noting that, if you want to build a brand new site, the 10Web Builder does offer a handful of templates to help you get started. These are separate to the AI builder though, and so weren't tested in this review.
How 'smart' is the AI?
Overall, pretty good. As I've mentioned, it carries over most of the content from an existing site without issue, although I have to admit that the original site I used was pretty light in content. I'm not sure how it would handle a bigger or more complex site.
As the formatting didn't come across perfectly on the homepage, I did have to make quite a few manual changes. Curiously, some fonts carried over while others didn't – another thing that required a manual fix.
Price:
10Web is currently offering a few lifetime deals (for a limited time only):
The Plus plan costs $55 for three websites, and lifetime support and updates
The Freelancer plan is $85 for six websites, plus lifetime support and updates
The Expert plan is $140 for 15 websites, plus lifetime support/updates
The Agency plan costs $280 for 1,000 websites, plus lifetime support/updates
Rating:
3.5/5. While the AI is limited to replicating your existing site's design, that in itself is quite powerful. And I liked that you had a lot of flexibility in customizing the design too. There's room for improvement, but all in all, it's a fairly solid tool, and a very interesting solution for anyone looking to move their existing site to WordPress.
Constant Contact
You might be surprised to find Constant Contact – that's right, the email marketing platform – on this list.
We've been following it closely for a few years now on our sister website, EmailToolTester. In that time, it's evolved from a simple newsletter tool to a feature-packed marketing automation software.
But AI-powered websites are a somewhat unexpected direction.
Nonetheless, we can see how a close integration between email and website could be useful for the small businesses targeted by Constant Contact.
So, let's see how well the theory translates to practice.
How fast is it to set up a site?
The setup process is similar to that of other AI website builders. You start by specifying the category of your website – in our case, we wanted to build one for a takeaway sushi restaurant:
A few seconds later, you'll have the design of your website automatically generated for you:
The next few steps will let you customize your website's name, and a few elements of the design – background image (it gave me the option of selecting from a few sushi images, and also uploading my own image), logo (Constant Contact's paid plans also include its LogoMaker tool), fonts, and color scheme, for example.
Finally, you also get to choose your navigation style (e.g. how the menu is displayed), and will be asked to enter in your business information (e.g. address, phone number).
All in all, it's a pretty quick and painless process – although I have to say, the final website design it generated was a little underwhelming. So, let's see just how much of it we can actually tweak.
How much can I customize?
Next, you'll be taken to Constant Contact's website builder editor, where you (thankfully) get a decent amount of control to change up your design.
You have the option to add pages to your website by choosing the 'Pages' option on the left. One nice thing that Constant Contact's AI has done is create pages it thinks I'm likely to need, based on my website category (Menu, About and Contact pages):
Within each page, you can also edit the content by adding sections (Constant Contact offers a surprisingly long list of prebuilt layouts to choose from, e.g. image galleries, FAQs, forms etc):
There's also the option to add in some fairly advanced features, such as a blog, booking form or online store, which get added with just the click of a button.
You'll find that you can also modify the design elements you had selected in the previous step (color schemes, font etc), in case you were regretting any of your choices (I'm looking at you, bright orange background):
Quality of designs?
Let's put it this way – the website designs probably aren't going to knock your socks off. Constant Contact does emails, and the website designs kind of reflect that. They're simple and well-laid out, but not particularly memorable.
But, they are mobile-friendly. And if all you want to do is make sure your business or brand has a basic online presence, they'll do the job.
How 'smart' is the AI?
It gets a few things right. For example, it was smart enough to pull in the right images when I specified that my website was for a sushi restaurant. And it added in relevant pages, such as a menu and contact page. Constant Contact could probably take the AI further, but it does get points for saving me a few steps in the setup process.
A little tip – when specifying your website category, be as specific as possible. Initially I'd specified 'takeaway restaurant' as the category, but this was too broad – the AI ended up pulling in images of McDonalds takeaway bags! Not exactly the look I was going for…
One thing I also found a bit puzzling was the lack of integration between Constant Contact's website builder and its email tool. Sure, it's possible to add a subscribe form, but you couldn't specify the list that it was going to. In fact, it was hard to see any trace of the email tool anywhere. Which makes its pricing all the harder to justify…
Price:
We've always felt that Constant Contact's email platform was a little pricey compared to other providers. The pricing for its website builder isn't bad – so long as you're using it as a standalone service. However, prices start to skyrocket once you add in the email marketing platform:
The (standalone) Website Builder plan is $10/month and includes hosting, unlimited storage, and automated welcome + ecommerce transactional emails
The Email plan starts at $20/month for 500 contacts, and includes the website builder for free, plus email newsletters. Pricing is based on the number of contacts
The Email Plus plan starts at $45/month for 500 contacts, and includes everything on the Email plan, plus extras such as automations, event management, surveys, coupons and multiple users
Rating:
3/5. Constant Contact gets points for ease-of-use and convenience, but it's definitely not the most sophisticated AI builder on this list. The designs are a bit ho-hum, and the lack of integration with the email platform is disappointing. Let's hope Constant Contact works on improving it soon, because it has a lot of potential to be a really useful tool for existing users.
Bookmark
Here's something a little different.
Bookmark is a website builder that builds all its sites using its AI assistant (which it calls AiDA – Artificial Intelligence Design Assistant).
It claims to be the easiest, simplest and fastest (free) website builder available.
But does it really deliver?
Let's find out by creating a hotel website.
How fast is it to set up a site?
Bookmark promises to create a site in less than 2 minutes, and that's probably about right. Like the other AI web builders we've discussed, it starts by asking questions to gauge the kind of site you want, and what layout and style you'd like. It probably asks a few more questions than the other builders, but it doesn't feel like an overly drawn-out process.
How easy is the site to edit?
The options for editing are a bit overwhelming, as there's so many of them, and you're not really sure where to start. There is a little tool tip window but even this could be made easier to use. Not really the simple experience you'd like from an 'intelligent' builder.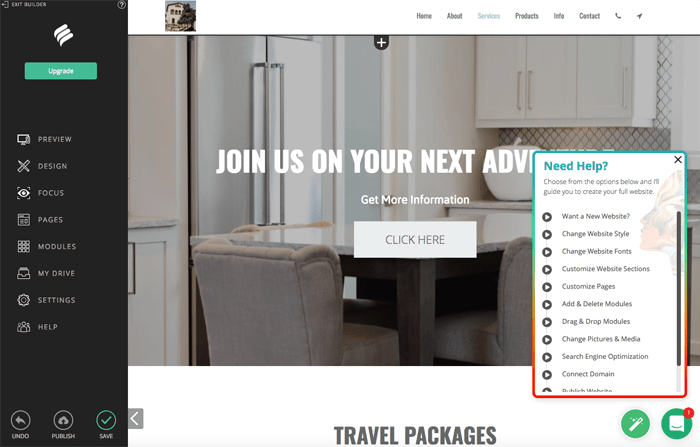 There are tutorials scattered throughout the editor to show you how to use it, but I can't help but feel that this would be redundant if the tool were more intuitive to use.
Rather annoyingly, you're constantly asked to save changes before moving onto new pages or sections – it would be much better if autosave was enabled.
How much can I customize?
Modules (text, images, video etc) can be dragged and dropped directly into the page. You can also add some pretty advanced features, such as event registration forms, third-party tools (e.g. PayPal button), and even an ecommerce store, although I didn't test these out.
SEO settings can be edited on a site level for the free plan, and for individual pages on the Pro plan and above.
Quality of designs?
Honestly – the designs didn't 'wow' me. They don't look as polished as with Wix ADI or Jimdo Dolphin. You'll likely have to make changes to your suggested design, or ask AiDA to create you a new one (which you can do without having to re-input your responses).
How 'smart' is the AI?
Although AiDA asked me a lot of questions upfront, I struggled to see how my responses really had any influence over the final design of my site. I ended up with a pretty generic-looking accommodation site with some random images that didn't really match the style I'd specified.
I was also asked to input the business's contact details (rather than AiDA pulling these in from the web). These didn't even end up getting inserted into the site. The only 'intelligent' thing I could see in the site was an image that it had pulled from the hotel's Facebook profile, which it weirdly treated as a logo.
Price:
The Free plan gives you 500MB of storage and a Bookmark.com subdomain (displays Bookmark branding)
The Professional plan includes unlimited bandwidth, unlimited storage and a free domain for $11.99 USD/month
The Business plan includes an online store for $24.99 USD/month
Rating:
3/5. While Bookmark gives you a good amount of flexibility and some decent extra features, it could do a better job of ease of use and quality of designs. Still, if you need have more complex requirements for your site (e.g. online store, event registrations), it's worth a try.
Sacha by Firedrop.ai
Sacha is a web builder with a slightly narrower focus.
It specializes in landing pages, building single-page sites for small businesses who only need small, simple sites.
It's a concept that's struck a chord with the market. Before launching in February 2017, the tool had already signed up 4,000 users.
Part of the appeal is in Sacha's simplicity – the website creation process is managed entirely through a chatbot.
Although it's currently in beta, I thought it was still worth checking out.
So let's build a single-page business website for a marketing agency.
How fast is it to set up a site?
Here's where Sacha is a little different to the other AI web builders. It uses a chatbot to collect input about the kind of site you'd like to build. Because it allows for free-text responses, the process of initial setup takes slightly longer, although it still felt pretty speedy.
Sacha's chatbot in action
How easy is the site to edit?
It's very simple to do. In the left window where your website is displayed, you select the section you want to edit and click the 'Edit' button, then 'Content'. A visual editor will pop up, allowing you to edit images and text.
At times I did find the editor a little buggy, especially when it came to trying to add images. It's hopefully the kind of issue Firedrop will have resolved once the tool is out of beta.
How much can I customize?
All customization is done via the chatbot – that is, if you want to make any changes, you've got to instruct the chatbot to do so. It's a novel concept, and for the most part I found it worked pretty well. The chatbot seemed to understand most of my commands. It also suggests a few options for customizing the site, including adding new sections/content (including some content templates), changing color palettes and fonts, and finding relevant images.
SEO options are limited. Although you can add a page title and description, you'll find it almost impossible to optimize your content – you can't set H1 and H2 headlines, for example, or optimize your images.
Quality of designs?
Sacha creates a design based on the 'design personality' you pick, and you can easily change between these (as well as customize them by choosing different color palettes). The main criticism I have is that the designs are a little too simplistic – they're definitely not on the same level as Wix ADI or Jimdo Dolphin. I also found some inconsistencies in some of the design elements – issues with alignment in different sections, for example.
How 'smart' is the AI?
Sacha is really designed for users starting a site completely from scratch. It doesn't search the web for any existing sites or social media profiles, and populates the site entirely based on your chatbot responses.
To me, the main 'intelligence' comes from its image finder, which lets you search for Unsplash images from straight within the chatbot. But even this isn't that advanced.
Case in point – it gives you the option to have Sacha find you a 'random' image. I tried this, thinking it would find an image based on my previous image searches (which were all related to digital marketing). It gave me an image of a ski lift. Go figure.
That being said, I do think the chatbot is quite clever, with some impressive smarts built into it that make the process of customizing the site very easy.
Here's the published site if you want to check it out.
Price:
The Free Starter plan comes with 1 webpage and a firedrop.me domain (plus Firedrop branding)
The Pro plan costs $6.49 USD/month and allows you to use a custom domain (with no Firedrop branding)
The Plus plan is $20 USD/month gives you the same as the Pro plan plus unlimited webpages
Rating:
3/5. Sacha does still feel a little 'beta', with a few small kinks to iron out, and designs that feel a little generic. Plus, the single-page proposition isn't going to suit everyone. But if you're after a very simple site (and don't have a whole lot of your own images to use), it's a quick and easy fix.
AI website builder: Conclusion
So are AI website builders ready to completely turn the world of website building upside down?
Well, not quite. The intelligence just isn't as advanced as most users would probably like it to be.
Do they still provide value?
Absolutely.
For those who would like to cut down the amount of work needed to build a site – beginners, for example, or users who need a site launched quickly – AI web builders offer an easy and affordable solution.
And not just for simple sites. Some tools allow for some pretty advanced sites – online stores and mobile-friendly sites, for example.
As long as you're okay with giving up some of the control – especially over aspects like SEO – you might find that an AI web builder will be enough to serve your website needs.
If you want to keep all your options open, though, we'd recommend Wix ADI. They manage to square the circle by letting you jump into Wix's regular editor where you'll enjoy full customization flexibility.
We also reviewed the best AI chatbots, for those who are in need of one.
Got any questions about AI website builders? Or experiences to share? Let us know in the comments below.
Review updates
4 Feb 2021: Constant Contact website builder added
18 Dec 2020: 10Web AI Builder added