Stunning websites. Freedom to create anything. The best choice for you. These are just a few of the claims Wix make on their website.
And to an extent, we tend to agree. They regularly top the list of our most recommended website building platforms. We think they are great for small businesses, drag and drop features and beautiful templates.
But it doesn't mean they are for everyone. As you'll see, the platform has its pros and cons, which is why you might be interested in our list of Wix competitors below.
Wix pros:
Wix cons:
For more details, check out our detailed Wix review.
It depends on what kind of website you want to build, so we separated this list into two main sections. The first one is about regular website content, and the second one is about online stores.
The Best 10 Wix Alternatives for Regular Websites
Squarespace, Hostinger Website Builder, Weebly, Webnode and WordPress are all strong Wix alternatives. They are slightly cheaper than Wix and all provide blogging functionality as well as ecommerce.
Weebly and Webnode are particularly user-friendly while Squarespace and WordPress offer the best blogging tools. The Hostinger Website Builder editor feels like a simplified version of Wix's and is a good option for budget-conscious users. The best alternative to create a professional online store is Shopify.
Read on to learn more about each of these website builders:
Squarespace – best alternative to Wix overall
You know them for sponsoring every podcast ever. You know that they're one of the sleekest website builders out there. They also claim to be the best for blogs, portfolios and online stores.
So are they really all that? Or is it just hype? Let our video review answer all your questions about Squarespace to see if they really offer "better websites for all".
Squarespace Prices:
Personal: $16 a month. Ecommerce not included.
Business: $23 a month. Unlimited contributors.
Online Store (Basic): $27 a month. Lets you sell online without transaction fees.
Online Store (Advanced): a $49. Introduces advanced ecommerce features.
Save 10% using our exclusive voucher code: TOOLTESTER10
Prices are shown for yearly contracts, which also include a free domain name for 1 year.
Squarespace Screenshots:
Squarespace pros:
Squarespace cons:
Why choose Squarespace Over Wix? If you want to build a website that focuses on blogging, Squarespace is fantastic. Also better for small ecommerce projects, thanks to their $0 transaction fees.
Hostinger Website Builder – for simple, modern-looking sites
If you're drawn to Wix's eyecatching designs and flexible editor, the website builder formerly known as Zyro offers a surprisingly decent alternative. We say "surprising" because Hostinger Website Builder happens to be a lot cheaper than Wix, with plans starting at $2.99.
So what's the catch with this Wix competitor? As you'll see in our list of pros and cons below, you are compromising on a few features. If you don't need them, however, Hostinger could be a good, affordable Wix alternative for building your site. In fact, in our comparison of cheap website builders, we've put Hostinger Website Builder at the top spot.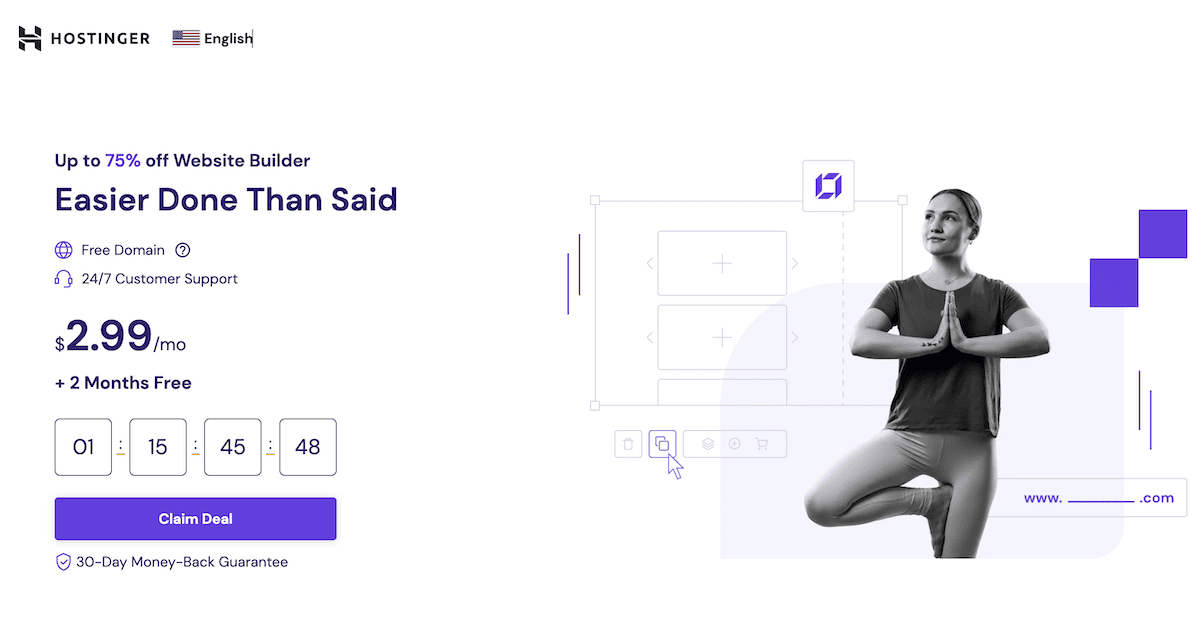 Hostinger Website Builder Prices:
Website: $2.99 a month. Ecommerce not included.
Business: $4.99 a month. For selling up to 100 products.
Prices are shown for yearly contracts, which also include a free domain name for 1 year and free email for 3 months. Further discounts available for 2-year contracts.
Hostinger Website Builder Screenshots:
Hostinger Website Builder pros:
Hostinger Website Builder cons:
Why choose Hostinger Over Wix? If bringing down monthly costs is important to you, and you don't need all the bells and whistles, we think Hostinger Website Builder is a smart choice.
> Try Hostinger Website Builder for free
Detailed Hostinger Website Builder Review
Webnode – relatively cheap
Based in Czech Republic and showing a 40m strong user base, Webnode is a decade old, and has grown through many iterations. We've been following them for a while and our opinion has shifted slightly. We weren't always a fan of their designs, but their new version has shown considerable improvement.
However, it's not all fun and games, as you'll see in the video below. There are still a few confusing things, and some options missing.
Webnode Prices:
Free: $0 a month. 100MB of storage and comes with ads.
Limited: $4.00 a month. Still has a footer ad, but you can connect your domain name.
Mini: $7.50 a month. Comes with custom domain (1st year) and email, but also an ad.
Standard: $12.90 a month. Ad-free and 20 email accounts.
Profi: $22.90 a month. Quite a leap, for big sites up to 5GB and 100 email accounts.
Prices are shown for yearly contracts.
Webnode Screenshots:
Webnode pros:
Webnode cons:
Why choose Webnode Over Wix? If you need a multilingual website. Or if you want a professional email at an advantageous rate.
Jimdo – build your website fast
We mentioned Weebly's 40 million websites earlier, and Jimdo still claims to support half of that. They're not the first name on everyone's mind when it comes to website builders, but their popularity seems to be growing steadily, especially for small business owners.
Their core feature? Like the competition it's on ease of use. No coding knowledge, no web design knowledge. Just like Wix ADI, they promise a website in no time thanks to their AI assistant. And they do deliver the goods. Their interface is clean, and offers a great side-wide option to customise all your fonts and colors at once.
In terms of features, Jimdo is slightly restrictive. They want to be the easiest and fastest website builder, not the one with the most bells and whistles. Check the video review below to find out more.
Jimdo Prices:
Free: $0 a month. No custom domain and Jimdo ads. Limited to 5 pages only.
Jimdo Start: $9 a month. Ad-free website with your own domain name (free for 1 year). Maximum of 10 subpages.
Jimdo Grow: $15 a month. More storage space (15GB), faster support, and up to 50 pages.
Jimdo Unlimited: $39 a month. Create as many subpages as you like and get unlimited storage.
Jimdo Screenshots:
Jimdo pros:
Jimdo cons:
Why Choose Jimdo Over Wix? The designs are all responsive, which will save you time when creating your site. And not only can you create your website in no time, it'll also load extremely fast due to their speed-optimized templates.
Weebly – super easy editor
Weebly had modest beginnings a few years ago, but is today the platform that supports more than 40M websites. We really like them, well, at least used to. When they were still updating their product. Unfortunately not much has happened in the past few years since Square took over.
At least their pricing is simple, that why we still consider it to be a Wix alternative.
In terms of features, there isn't much lacking, and best of all, their beginner-friendly approach is spot on. The interface is uncluttered. The drag and drop functions work wonders.
But how does Weebly compare with Wix? Maybe the video below can help you get a clearer picture.
Weebly Prices:
Free: $0 a month. Comes with a footer ad and no domain name.
Starter: $8 a month. You remove the ads and get a domain name.
Pro: $12 a month. Extra features like video and audio player. Also phone customer support.
Business: $25 a month. This is for running an online store.
Business Plus: $26 a month. Offers more advanced ecommerce features for serious store owners.
Prices are shown for yearly contracts, which also include a custom domain name for 1 year.
Weebly Screenshots:
Weebly pros:
Weebly cons:
Why Choose Weebly over Wix? We recommend Weebly you want good blogging options. The designs are also more structured, so it's better if you don't want to mess up the look of your website. Also, we prefer it for larger websites with more than 20 individual pages.
Wix ADI – Wix with a twist
It might be strange to see Wix in a list of Wix alternatives. But their separate ADI editor, which is part of all Wix plans, stands out almost as a different product. The ADI, by the way, stands for Artificial Design Intelligence, and that's essentially what it is: a smart way to create web pages automatically.
So how does it work? Quite simple. Instead of painstakingly placing elements on a page, choosing fonts and colors for your website, you just answer a few questions. You enter your social media handles. You choose your vertical (blog, ecommerce etc…). Then the artificial intelligence does the rest for you.
Still confused about how it works? Watch it in action in our video.
Wix ADI Prices – Note: they're exactly the same as the standard Wix offer.
Free: $0 a month. Has ads. No custom domain name.
Connect Domain: $5 a month. Connect your domain name. It's cheap but still has ads. This plan is not available in the US, unfortunately.
Combo: $16 a month. The recommended offer for small professional sites. Removes all ads, but limited storage.
Unlimited: $22 a month. Same as above but you get up to 10GB of storage.
Business Basic: $23 a month. As the name suggests, this plan lets you create an ecommerce business (Unlimited products included).
VIP: $45 a month. For advanced ecommerce stores.
Wix ADI Screenshots:
Wix ADI pros:
Wix ADI cons:
Why Choose Wix ADI over Wix? Honestly, we weren't so sure about how Wix ADI compares with Wix Editor at first, but it is actually an interesting solution for complete beginners. If you find Wix's approach to design too overwhelming or do not have time to spare, you can use Artificial Intelligence to do it for you.
> Compare Wix ADI to other AI-powered website builders
WordPress – Extremely popular but complicated
WordPress is the undisputed king of CMS or Content Management Systems. From blogs to online stores, there isn't much you can't do with this powerful website building solution. Keep in mind that WordPress comes in two versions: WordPress.org and WordPress.com.
As you can see below, there are a number of advantages, but also some shortcomings. So why choose WordPress over Wix? Let's look at how much it could end up costing first.
WordPress prices:
Hosting: approx. $6 a month for hosting WordPress.org. WordPress.com provides its own hosting and starts at $4 a month.
Template: Around $50. One-off fee. Some templates are free, so this can be optional.
Plugins: from $0 to $200 per year on average. Again, optional.
Programmer: Minimum of $30 an hour. If you need customised support or complex tweaks, you might want to hire a developer. It can be expensive.
WordPress pros:
WordPress cons:
Why choose WordPress over Wix? If you need a really flexible solution to create a 100% customized project. If you want your site to start small and build upon it over the years, it's also a great option.
Duda – great for multilingual sites
Duda were very quick to foresee the advent of mobile websites. Back in 2008, they started focusing their effort on responsive design that would look good on all screen sizes.
Today, their website builder has evolved to offer very interesting features, including a rare multilingual option. You can also use their unique Website Personalization Tools to redirect users to different pages based on their browsing behaviour. Pretty neat for marketing.
But is it one of the best Wix alternatives out there? Look at the video and pros and cons below to find out more.
Duda Prices:
Free: $0 a month. Just to try the product as you won't be able to publish your website.
Business +: $14 a month. Get your own domain and work in multiple languages.
Business + Ecommerce: $22 a month. Limited to 10 products.
Site For Life: $299 a month. You get the Business offer forever if you pay this one-off fee.
Duda Screenshots:
Duda pros:
Duda cons:
Why Choose Duda Over Wix? As an alternative to Wix, Duda offers the unique multilingual management system and the ability to create a custom experience for visitors. The ability to make one large sum payment can also be attractive to some users.
Gator – great designs
You may know HostGator for their hosting services, but they also have a pretty useful website builder you can use to create your own site.
This product is relatively new, so in terms of features, it can't be compared to Wix. However, their designs and templates are comparable to Wix's. On top of that, they are very easy to use too.
It actually reminds us a bit of Wix, as their editor is organized in a very similar way, and the elements are added and arranged very similarly.
Gator Prices:
Starter: $9.22 a month
Premium: $12.29 a month
eCommerce: $19.98 a month
Gator Screenshots:
Gator pros:
Gator cons:
Why Gator can be a good alternative to Wix: To be honest, Gator feels like a limited (feature-wise) version of Wix. The only reason I'd pick it over Wix is that they are somehow cheaper.
Webflow – the website builder for designers
Webflow isn't for everyone. It's focused on designers and developers, so the user interface can be overwhelming to beginners. However, their designs are slick and they're not afraid to show off their website builder: NASA uses it, and Webflow built their own website with the platform.
Webflow prices:
Starter: $0. One seat with 2 unhosted sites. To try the platform.
Core: $19 a month. Up to 3 seats. You can create up to 10 website projects and export your code.
Growth: $49 a month. The best plan for freelancers or designers, as you can create an unlimited amount of projects.
Webflow pros:
Webflow cons:
Why choose Webflow over Wix
? If you like big sets of tools for complete control (imagine a website builder version of Photoshop), Webflow is an interesting offer.
One.com – very cheap prices
Generous packages that all include the no-coding website builder and, sadly, extra fees. The pages are limited based on the pricing tier you choose. One.com also offers web hosting and email as well as online store. Let's see what their platform looks like in more detail in the video below.
One.com Prices:
Standard: $4.99 a month. For small projects under 5 pages.
Premium: $7.48 a month. Up to 200 pages and a good backup feature. Includes Beginner Hosting + Premium Website Builder
Webshop: $16.99 a month. Includes an online store.
One.com Screenshots:
One.com pros:
One.com cons:
Why Choose One.com over Wix: If you're on a tight budget for a very small site, it's not a bad option. Or if you like the idea of being able to switch to a CMS like WordPress or Joomla.
> Try One.com for free 14 days
Mozello – great free plan
A relatively unknown player in the website building world, Mozello is a Latvian company with an interesting offer: you can create a multilingual website for free.
There are downsides of course, such as the limited, rather inflexible editor.
Mozello Prices:
Free: $0 a month with an ad.
Premium: $7 a month. No ad. Your own domain name and 50GB storage. 30 item store.
Premium Plus: $14 a month. Unlimited online store items.
Mozello Screenshots:
Mozello pros:
Mozello cons:
Why choose Mozello over Wix? Those who want to create a multilingual website without breaking the bank. The good news is that their footer ad in the free plan are also very small.
Webstarts – similar to Wix but not quite
WebStarts claim to be the #1 Rated Free Website Builder, which is hard to verify, especially since they don't mention who rated them. On paper, their offer good features, not too dissimilar to Wix.
Webstarts Prices:
Free: $0 a month
Pro: $9.78 a month
Pro Plus: $14.32 a month
Business: $39.98 a month
Webstarts Screenshots:
Webstarts pros:
Webstarts cons:
Mobirise – build your websites offline
Something slightly different here, as Mobirise lets you install software on your computer instead of working online. It's a different way to work, and not a bad one if you understand how to setup an FTP connection.
In terms of templates and features, Mobirise is a bit disappointing. Firstly, you have to pay for almost every feature you add and secondly, there aren't many design choices. Note that there is no official pricing as they operate on a full Freemium model and you pay for the addons.
Mobirise pros:
Mobirise cons:
Why choose Mobirise over Wix? the fact that you can work on your website offline can be appealing to certain users, especially those who have a bit of technical knowledge.
Bookmark – the AI builder
We mentioned Wix ADI at the top of this article, for those interested in letting computers do the work for them. Bookmark also uses artificial intelligence to create a website, based on your business name and industry.
The results were mixed, but there could still be some bonuses to the approach for certain users, as you'll see below.
Bookmark prices:
Free: $0 a month. Ads and 500 MB of storage.
Professional: $11.99 a month. No ads, SSL certificate, unlimited bandwidth and pages.
Business: $24.99 a month. Same as above, with extra options for ecommerce sites.
Bookmark pros:
Bookmark cons:
Why choose Bookmark over Wix? Maybe you really love the idea of an AI-built website. But it's hard to recommend Bookmark over Wix ADI.
The Best Wix alternatives to create online stores
Wix does have an online store, and we found it rather promising. We particularly liked their attention to SEO, and their integration with other marketing solutions. It's good for small to medium ecommerce businesses and lets you sell physical or digital goods.
But if you want to shop around for alternatives, here are a few of the best ecommerce website builders…
Shopify
Shopify is not only more famous than Wix in the world of ecommerce, but also more reputable. The Canadian provider has been around for more than a decade, and it shows no signs of stopping as their NASDAQ listing shows.
Still, the platform may seem intimidating to beginners, as it has grown exponentially over the years. So how does it compare to a simpler web-builder solution for creating an online store? Let's find out the pros and cons and pricing first.
Shopify Prices:
Basic: $29 a month. Display unlimited products but pay a 2% transaction fee on each sale (unless you use Shopify payments). Includes gift cards and abandoned cart recovery emails
Shopify: $79 a month. The non-Shopify-payment transaction fees drop to 1%.
Advanced: $299 a month. Transaction fees are now 0.5% You get super advanced features like reports and automatic shipping rate calculations.
Shopify Screenshots:
Shopify Pros
Shopify Cons
Why Choose Shopify over Wix? It's better for bigger stores. In fact, it's also better for smaller businesses who are serious about ecommerce. If the store is just something you attach onto a blog or a personal website, maybe Wix will do just fine. Read more in our detailed Wix vs Shopify comparison.
BigCommerce
Things are bigger in Texas, so it makes sense that two Texans would name their online store builder BigCommerce. Generating close to $10 Billion in yearly sales, this platform sure has big ambitions too: they aim to offer every feature you will need for your store.
This is all well and good, but is it a bit too much compared with a simple solution like Wix? Let's find out in the comparison table below.
BigCommerce Prices:
Standard: $29.95 a month. Basic online stores without advanced features.
Plus: $71.95 a month. Offers the killer feature of abandoned card.
Pro: $269.96 a month. Comes with custom SSL and product filtering.
Enterprise: Quote a month.
BigCommerce Screenshots:
BigCommerce Pros
BigCommerce Cons
Why Choose BigCommerce over Wix? Like Shopify, it's better suited for serious online store owners. If you want advanced features, it's also a better option than Wix.
Read our detailed BigCommerce review or try BigCommerce for free.
WooCommerce
Technically a plugin you add to your WordPress site. It means you already need to be confident with WordPress. Only the most advanced users need apply. However, if you have a bit of time on your hands, it's not impossible to manage. The learning curve isn't all that hard once you are familiar with the WordPress backend.
In terms of prices, WooCommerce is technically free. But like we wrote above on our section about WordPress, there may be costs involved for keeping your site online. Expect to spend an average of $6 a month for cheap wordpress hosting (and more for a reliable and fast host), maybe $50 on a premium template and $30 per hour for optional custom development.
WooCommerce Screenshots:
WooCommerce Pros
WooCommerce Cons
Why Choose WooCommerce over Wix? If you have a limited budget but time on your hand, it could save you money by taking the DIY approach. WooCommerce is also more flexible than Wix. Those comfortable with code and custom development will have a field day here.
Wix alternatives: So which one should you use?
As you can see, there is no shortage of options available. And of course, the best one for you depends on your needs. However it's easy enough to give you the broad strokes.
Small business sites: Here, we would recommend you check out Squarespace. They are very close to Wix in terms of features, but with a slightly different approach that can work for some.
Bloggers: We'd say have a look at Squarespace or WordPress. They should have everything you need there.
Small to medium ecommerces: Shopify or Squarespace are excellent alternatives. They have more options than Wix and are just as easy to manage.
Big online stores: Shopify or BigCommerce are much better options. In terms of features, scalability and how easy it is to enhance them as your ecommerce grows.
And that's it for now! Don't hesitate to leave feedback about what's your best alternative to Wix or ask questions in the comment below.
We keep our content up to date
12 Feb 2023 - Zyro is now Hostinger Website Builder
29 Dec 2022 - Small update in Shopify's pricing
27 Jun 2022 - Added Zyro
31 Mar 2022 - Webflow pricing update and other smaller changes
03 Aug 2021 - Ranking changes and other updates
20 Jan 2020 - Smaller updates and corrections