Back in 2015, my wife was toying with the idea of creating a mobile app for her museum website. We took the opportunity to try out some of the best app builders on the market and went with one called GoodBarber. It worked great!
We also learned a ton about no-code app building in the process. And while the market has changed a lot since then, I thought I'd revisit this post to help you learn more about app-making. But before we begin, let's explore when it makes sense to choose an app maker.
If you are short on time, find the full list of app builders here:
Who Should Build Their Own App?
Based on my research, I can think of a few scenarios where it makes sense to use a no-code app maker.
You already have an online business or institution (like a school or church) and want to create an app as an extra way to connect with people. It can be an additional sales channel or a way to offer loyalty rewards to customers.
You are a professional app builder who wants an easier solution to scale your business for clients.
You want a simple app to display content such as text and images and maybe a few services. Essentially a website in app form.
What you'll notice is missing is the category called "I have this amazing app idea". If you are considering building the next TikTok, Amazon, or JustEat, you're probably better off talking to a team of professional developers. Or you could learn iOS or Android development (check out Udemy, where there are numerous app development courses available.)
While most app makers do offer options that let you access a phone's features (such as camera, payments, notifications, or geolocation), I would venture that it's still very technically difficult to create a great, unique app using these pre-built tools.
In other words, app makers are great to expand your business or service. Not so much to launch a new venture. I could be wrong, but since we've been monitoring the appmaking business, we have yet to see a success story that started with an app maker.
Native App Vs Progressive Web App: What's the Difference?
Now if you think DIY app-making is still the way to go, there is a key piece of information you need before you begin: the difference between native apps and progressive web apps:
Progressive Web Apps (PWAs) are like a cross between a responsive website and an app. You can open them via an icon on your phone, but also via a browser. It doesn't require installation and still delivers an app-like experience thanks to simple functions such as notifications and payments.
Native apps can only be downloaded through the Apple App Store and Google Play Store. They are better optimized than PWAs and offer a high level of interaction with the phone's hardware. That means accessing the camera, microphone, Bluetooth, and more. They are easier to monetize, as you can sell them for your chosen price and even enable ad networks.
Most app makers let you build both types. Native apps are, of course, much more expensive to run, as they need to be regularly updated by the app maker to meet the latest app store requirements in terms of security, data privacy, and more.
It should also be noted that submitting an Android app is less expensive than an iOS app. So you might also find prices that reflect this fact.
How Much Will It Cost To Make An App?
Most app makers operate as SaaS companies (software as a service). That means that you pay a monthly fee to use the app maker and to keep the app content online. If you stop your payment, you will still see the app on your phone, but it won't properly work anymore.
There is usually a free trial. Then, the service costs around $30/month for a PWA and $50 for a native app, but there is a lot of variation. For instance, some services let you pay a one-time fee to create the app and upload it. In that case, you will be responsible for managing updates (which should not be underestimated!) and the hosting of content.
Note that there is also a $25 one-time fee to submit a native app to the Play Store. It's $99 per year for the App Store. Some app makers do cover that fee, but it's always worth double-checking.
Can You Make Money From Your App?
Yes, you can sell native apps and set the price that you want. You can also enable ad networks on your app for extra revenue. This tends to be a paid option with app markers.
Some app makers also encourage you to sell their app through white-label or reseller programs. They usually offer special deals when you create more than 3 apps with them, and they even remove all their branding (logo, brand name, etc…).
That way you can make it look like you created the whole app-making platform with your own skills. You can even give your clients a login so they can edit the app themselves.
If you want more info about reseller programs or how to start your app reseller business, we have a dedicated blog post on the topic here.
The 11 Best AppMakers in 2023
Now that we've covered the basics, let's dive into our favorite solutions for building, maintaining, and selling your own app.
1. GoodBarber – Beautiful Design, Smooth User Experience
The app builder with the most interesting name comes from the French island of Corsica and impressed us with its beautiful themes and elegant design. We found the drag-and-drop editor intuitive and the setup wizard to be a good introduction to those new to app building.
GoodBarber lets you choose from a wide range of pre-built templates, such as ecommerce, restaurant, school, online courses, and more. Each will come with its own dedicated features, but you can also purchase extra add-ons.
The basic GoodBarber app is a PWA, which costs $30 per month billed yearly. It comes with up to 2GB of storage, 10K push notifications, and up to 5 free extensions (features). For a native app, you will need to pay at least $55 per month.
If you want to sell items, GoodBarber shopping apps start at $40 per month for a PWA, and $70 per month for a native app.
What we liked about GoodBarber:
Beautiful templates in a variety of categories. They are easy to edit and customize to give your app the appearance you want.
A generous amount of storage and push notifications even with the entry-level plan.
Wide range of features, from social media integration to video, podcasts, shopping and payment, and more.
Why look for an alternative:
Honestly, the biggest competitor to the GoodBarber PWA isn't another app maker, but rather a good website builder. Apart from push notifications, it's absolutely possible to get similar features with a responsive design, and at a much more affordable price.
Resellers might want to look for more cost-effective solutions. Siberian CMS, for instance, costs €599 (approx. $635) forever. GoodBarber is $215 per month minimum.
Free Trial: www.goodbarber.com
Detailed Review: AppToolTester
2. Shoutem – Clean Templates and Bespoke Apps
Founded in 2011, Shoutem offers a very polished product. The templates are sleek and offer loads of customization options, so you can get good-looking apps in no time. The features are good too, making them a great choice for News, Tourism, or Events apps.
You can have a look at the company's case studies to get ideas of what Shoutem can do (although note that some apps may be geo-locked). We also like the idea of turning a Shopify Store into a mobile app. Sadly, this is a custom service they offer, not part of the basic app-building experience.
When you launch the Shoutem tool for the first time, you can choose to build the app yourself or get a tailored service. Getting help from Shoutem will cost you $1,499, including a free consultation and a couple of revisions, or $2,499 for a more bespoke service.
If you're going the solo route, the Builder platform costs $49 per month for one Android app. It's $79 for both Android and iOS, including analytics, notifications, and user management, but it's limited to 2 GB of space. You'll need the Professional plan, costing $149 per month, to upgrade to 10 GB.
What we liked about Shoutem:
A smooth and pleasant app editor. Getting started is intuitive, and you get plenty of branding options.
Good looking templates to get you started on the right foot.
The free consultation to build your app idea makes sense, and it might even be cost-effective.
Why look for an alternative:
One of the most exciting features, the ability to turn a Shopify store into an app, is available via consultation only.
Once again, the basic features aren't that exciting compared to what a responsive website can do. The notifications are a plus, but it can be hard to justify building an app for that.
Free Trial: www.shoutem.com
Detailed Review: AppToolTester
3. Bravo – From Figma to AppStore
If you're confused by the name Figma, you might want to skip this one. But if you're a designer used to working in teams that rely on tools such as AirTable and REST APIs, Bravo could be a lifesaver.
Put simply, it's a fantastic way to create an app from a design-first approach. This is reflected in all the tools you get, such as sliders, reveal animations, pop-up pages, and so on.
It's not just visual treats, though, as you also get powerful features such as QR codes, search filters, authenticated logins via Firebase, and even payment integration thanks to Stripe.
Now Bravo is mostly geared towards teams that want to quickly iterate on an app idea. This is reflected in the Team plan, which starts at $422 per month. But there is also a solo plan that costs a mere $23 per month and gives you the ability to publish on iOS and Android.
It's worth noting, however, that Bravo delivers app builds, but it won't take care of the publication to the App Store or Play Store. Do keep in mind that this can be a costly and lengthy process.
What we liked about Bravo:
A design-first approach that makes it easy to turn a product (especially SaaS products) into an app.
A focus on modern technologies, including authentication, Stripe payments, and REST APIs.
A very affordable plan for technically-minded solo app builders.
Why look for an alternative:
Bravo delivers app builds, but doesn't take care of the publishing process, so you need to manually deal with Apple and Google to be listed on their respective app stores.
While it is a no-code solution, Bravo is probably better suited to technically competent startup teams than mom-and-pop shops.
4. BuildFire – DIY and Pro App Building
The last time we checked BuildFire, it had pretty much just launched. It has since grown in leaps and bounds, even acquiring Bizness Apps, one of its major competitors in the market.
Buildfire now calls itself the "most powerful app maker for iOS and Android", and while it's a bold claim, we'll agree that some of the features are impressive.
This is in part because BuildFire seems to straddle the line between DIY app-making and professional development. They indeed offer both services (the latter is called BuildFire Plus).
Now, the features for the standard app builder include maps, FAQs, event scheduling, and even task management – ideal for building your own business internal app. But the kicker is that there is an app market with more than 150 plugins for your app.
The prices aren't exactly cheap, though, starting at $100 per month for two native apps and a PWA. And that doesn't let you access premium features, such as a task manager or QR scanner.
This makes it hard to recommend BuildFire for solo app developers. But if you want to see how good some of the apps they helped build look, check out their case studies. Unlike other competitors, they actually point to real live apps and they look very professional.
What we liked about BuildFire:
Some useful app features such as task management, on-the-go push notifications, and file management.
The marketplace lets you expand what your app can do.
The consultation side of their business produced some very attractive apps.
Why look for an alternative:
Starting at $100 per month for an iOS, Android, and PWA app, it may stretch your budget.
Most of the best features are locked behind even pricier plans and the ability to build custom functions is better suited to developers.
5. Wix Branded App – A Powerful Business Add-On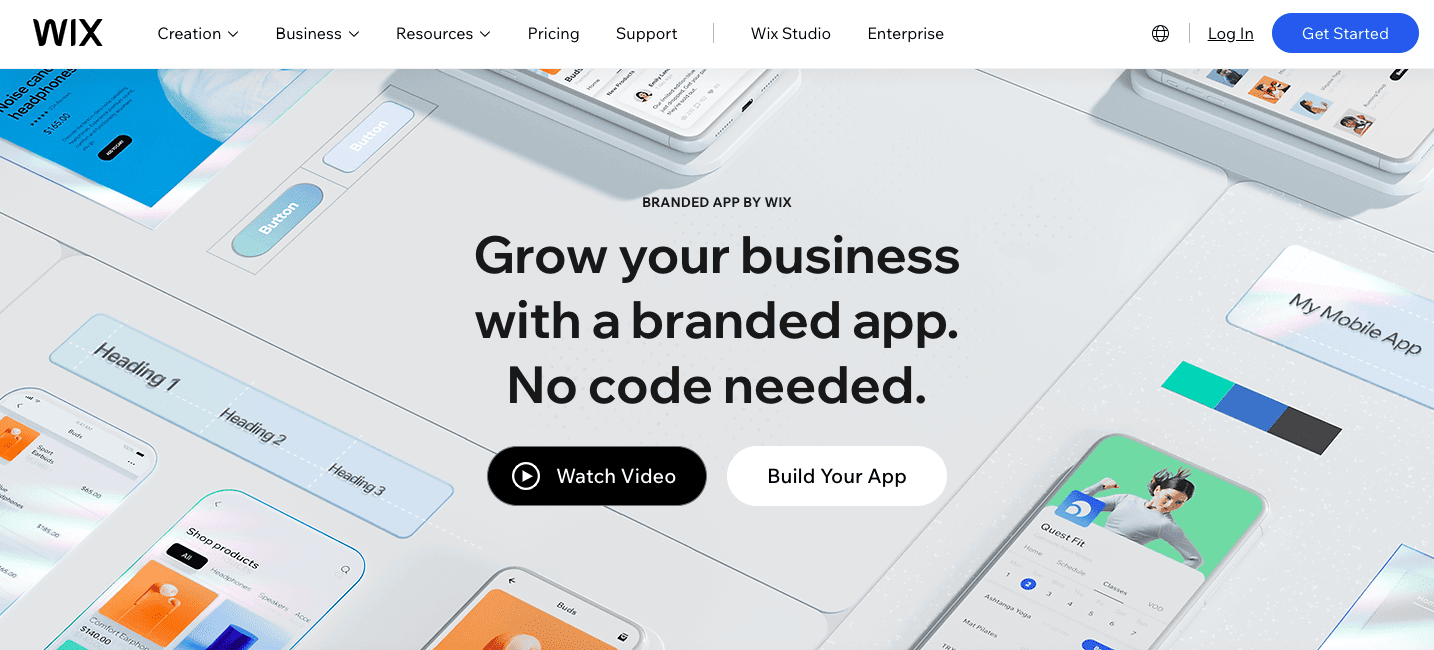 Wix is one of our favorite website builders, so we're really excited to see how their app maker fares. The good news is that it delivers when it comes to powerful features, clean design, and ease of use.
We like the three easy steps when you begin. You can first design your app's look and feel, customize your features (called sections), and finally push it live with Apple and Google.
The features are just as neat as those you may find on a Wix website. That includes the ability to chat with customers, sell items with a clean-looking online store, and even accept bookings – perfect for a small business.
What's less perfect for a small business is the price. The Wix branded app costs around $200 per month, and that's before you consider the app store fees and paid add-ons.
Also, it's worth noting that the Wix website builder and app builder are two independent services. So you can't transfer the apps you bought for your website onto the app. The same goes for the content – it will need to be added from scratch.
What we liked about the Wix Branded app:
The Wix website builder is known for its clean designs, ease of use, and powerful features. The app builder is just as good in those areas.
You can edit your Wix app directly from the Wix owner app! This is great for making changes on the go.
The online store and booking sections are particularly impressive. But be warned that they're not transferable from your Wix website, you will need to set them all up again.
Why look for an alternative:
At around $200 per month, the Wix app builder is definitely hard to recommend for small businesses. And that doesn't even include the App Store and Play Store fees!
While you can customize the app, it's simply a matter of adding your logo and colors. There are no templates and the app design changes based on the features you add.
6. AppMySite – Seamless Website to App Conversion
As the name suggests, AppMySite is designed to let you convert your website into an app and the one-click integration sure is impressive. In practice, it works by entering your URL into the AppMySite dashboard, waiting a few seconds, and the magic happens behind the scene. It's worth mentioning that they recently added a Custom App option that doesn't require an existing website.
You can choose to appify (is that a word?) a standard website, but also a WordPress website or even a WooCommerce app. The company is also working on a Shopify version. When converting a WordPress site, you must install a plugin on your site that can grab your new content and automatically sync it with the app.
In our tests, we found that the website to app feature worked surprisingly well. While the app didn't automatically import our branding colors and fonts, it is still easy enough to tweak the design within the AppMySite dashboard.
Previewing the app is easy and intuitive, and we like that you get a handful of options. First, you can choose the built-in preview feature, which even includes various Android and Apple phone screen sizes. You can also use a preview app directly on your phone, or even download the .apk package and install it manually.
All in all, it's not exactly one-click, but it's still pretty impressive, especially as the prices are affordable. You can convert a website to an iOS and Android native app for as little as $10 per month.
What we liked about AppMySite
The conversion from website to app is seamless and super intuitive
The options you get to preview your app within the dashboard, via a third-party app, or by installing the .apk file manually.
The price is very reasonable, starting at $10 per month for both an iOS and Android native app!
Why look for an alternative:
While it's possible to create an app if you don't already have a website, the process is a lot easier if you do have one.
While importing the content is automatic, you still need to tweak the app design to match your original website.
Free Trial: www.appmysite.com
7. AppInstitute – Affordable Native Apps
AppInstitute was once the largest app maker in the UK, and since we last looked at the solution, it also absorbed a competitor (Swiftic, also previously known as Como). So it is still growing to this day.
Sadly, the features and templates aren't the most exciting we've seen, and the whole company looks like it's trailing behind in terms of design. Even the company's logo has a distinct early 2010 flavor to it. You can also browse some of its published apps to see what we mean.
Still, AppInstitute has a major advantage over the competition, which is its affordable plans. The Starter plan, which costs £49/month, is probably one of the most affordable ways to publish and maintain an iOS app. (You also get a PWA and Android app for that price).
Upgrading to the Pro plan gives you enhanced push notifications, better customer management tools, and even the ability to build iPad apps.
What we liked about AppInstitute
The price to build and maintain an iOS app is extremely attractive compared to the competition.
AppInstitute has a dedicated Online Ordering System, although it's not part of its standard pricing.
Why look for an alternative:
The designs feel a tad dated. You can of course upgrade them with your own colors and branding, though.
Free Trial: www.appinstitute.com
Detailed Review: AppToolTester
8. Appy Pie – A Feast of Features?
Appy Pie, based out of India, claims to let you build some pretty impressive apps. These include shopping apps, business apps, on-demand business apps, dating apps, and even taxi booking apps.
What we found during our tests was that these templates work up to a point. They usually require integration with third-party services, some of which are paid. And what you end up with is a bare-bone app that functions, but isn't going to look or feel amazing.
In short, Appy Pie seems designed to attract people who think they have invented the next big thing. The prices seem to reflect that idea, as it starts at a very attractive £12 per month for an Android app and £48 to add iOS. But your app will be branded with the Appy Pie logo unless you pay twice as much.
What we liked about Appy Pie
Not many other app makers claim to let you build the next Uber or Tinder. There is a reason for that. But Appy Pie can still let you implement basic features that feel like a dating or taxi booking app.
The editor is easy enough to use for a basic app. It gets more complicated when you try to implement these killer features, as the documentation is lacking.
Why look for an alternative:
The templates look dated and the design options aren't great.
While the prices appear attractive at first, you have to pay twice as much to remove the Appy Pie branding.
Free Trial: www.appypie.com
Full review: AppToolTester
9. AppMachine – Intuitive Block Building
AppMachine is a stylish and fun app builder based in the Netherlands. Its most innovative feature is in how it lets you build your apps, using Lego blocks!
It's one of the most playful app creators we've seen, and although not all of the user interface was intuitive right from the start, it was great fun to create a basic app in minutes. The design elements are also easy to tweak and customize to your heart's content.
We also like the integration with web services such as Google Sheets and other services that let you connect via APIs. It may be a bit advanced for people new to app-making, though.
Prices start at $15 per month for a web app and go up to $63 to add an iOS and Android app.
What we liked about AppMachine
The editor is a joy to play with – partly due to its modules which resemble Lego blocks.
The integration with web services via APIs is intuitive enough for technically-minded beginners.
Why look for an alternative:
While you can customize them, the initial templates didn't inspire us that much.
10. Mobile Roadie – The Enterprise App Builder
As one of the bigger players Mobile Roadie proudly showcases its clients: Disney, TED.org, and Universal have apps made on the platform.
Sadly, you need to speak to its sales team to get a quote, but we can safely say that it won't be at the more affordable end of the spectrum. Mobile Roadie caters to enterprise clients and specializes in creating apps that match their branding and design language.
In terms of features, it seems like Mobile Roadie focuses on apps that let businesses and artists engage with their customers or fans. Great for displaying multimedia and social features, and it even claims to be able to offer AR and interactive maps.
What we liked about Mobile Roadie
Some of the advanced features you could access, such as AR and interactive maps.
Why look for an alternative:
Pricing, of course. It's not publicly available, but it's safe to say it won't be affordable for individuals
Free Trial: www.mobileroadie.com
11. AppYourself – App and Marketing Magnet
Appyourself, launched in 2011, lets you build a native app and promises to integrate powerful marketing tools to get the most out of it. Its campaign feature lets you easily create welcome messages, reminders, confirmations, and other forms of onboarding.
Its customer management tool is called LightCRM, and it lets you build basic marketing workflows (for instance, if a user buys X, send coupon Y), and even chat directly with customers.
The prices are reasonable, starting at €49 for a PWA and €69 for adding native apps. Note that there is a €149 fee to set up the app in both cases. You can also hire AppYourself to build your app, starting at €169 per month.
What we liked about AppYourself
The promise to turn your app into a marketing powerhouse could be attractive to certain businesses
Why look for an alternative:
The designs look rather dated and the setup fee is quite steep.
Free Trial: http://appyourself.net/
Conclusion – The Best App Maker and Alternatives
The overall best: we think that GoodBarber is a winner thanks to its combination of features, decent prices, and, above all, excellent design.
The most affordable: you have to add the cost of your website and hosting, but if you already have online presence, you can turn it into a native app with AppMySite for as little as $10 per month.
The most powerful: if you want to make the most from a phone's hardware, you might want to look at consultation services offered by app makers. BuildFire, Shoutem, and Mobile Roadie come to mind.
We should also mention a few interesting alternatives we've come across. For instance, GameSalad has a focus on gaming apps, starting at $25 per month to publish an iOS and Android app (+HTML5).
If you're comfortable with the basics of app development, you could also look at providers that strike a middle ground between nop-code and development frameworks. Appery.io offers such as service, and so does Adalao.com.
And that's it! Hope this helps answer all your questions about getting started with an app maker. Got more questions or feedback? Don't hesitate to get in touch below!
We keep our content up to date
27 Oct 2023: Complete overhaul of the article: Siberian CMS, Swiftic, Bizness Apps, Mobincube and MobAppCreator removed. AppMySite and Bravo added.
24 Oct 2022: A couple of smaller updates for Shoutem, Goodbarber and Siberian CMS.
11 Nov 2021: Apps-Builder and AppMakr removed (now part of AppyPie), Wix App Builder added.
19 Nov 2019: Goodbarber section updated.
02 Nov 2018: Paragraph on courses and hiring added.
15 Oct 2018: Siberian now offers in-app purchases.
06 Feb 2018: Information for PWA's added.
15 Aug 2017: Added new Goodbarber review video and pricing updates.
THE BEHIND THE SCENES OF THIS BLOG
This article has been written and researched following a precise methodology.
Our methodology