Do you want to start a small or medium-sized online store? In that case, this guide is for you. We want to give you a head start on all things about starting online stores. Once we're done, you should know all the basics and what to look out for in the future. In particular, we'll focus on the technical requirements that an online store should meet.
Start your online store in 7 steps:
Pick a product to sell
Find a domain name that's available
Define your ecommerce website requirements.
Choose the adequate online store provider (ecommerce software).
Set up your online store.
Start a marketing campaign.
Check your results and take some action!
For years now, online commerce revenue has known only one direction: up. Just take a look at the black line on the chart – that's the sum of all ecommerce sales in the USA. The blue line above it shows all retail sales in the USA. And while retail still has an advantage over ecommerce, Statista predicts that this advantage will shrink, favoring ecommerce in the long run.

Source: Statista
And that makes perfect sense, too – after all, every new generation grows up knowing the Internet and seeing online purchases as completely normal. In fact, ecommerce will soon be the most common way to buy.
By the way – you're on a good track if you're catering to English-speaking markets: Nobody spends more money online than people in the USA and the UK.

Source: Statista
And it doesn't matter whether you already run a brick-and-mortar business or whether you're starting from scratch. If you want to plan your own online store, put that plan into action, and see your store succeed, then we want this ecommerce guide to help you do just that.
Check out our video below for a (short) visual introduction to ecommerce:
Why Start Online Stores of Your Own?
That's a fair question when you consider the many, many places online where people can buy things: Amazon Marketplace, eBay, and Etsy all offer platforms where anyone can sell products online. And that might not be a bad idea for starters, either: You can use their visitor numbers to your own advantage without investing into advertising.
There is a problem, though: Depending on the products you're selling, the brokerage fees you have to pay the platform may be anywhere from 5% to 20%, and over time, that's a lot of money. You also don't have access to customer data, so you can't invest into the customer relationship afterwards (e.g. through an email newsletter).
By running your own online store, such fees will no longer be an issue for you. Instead, you have to keep payment provider and hosting costs (e.g. PayPal) in mind. But ultimately, this will cost you less than staying on a marketplace platform. Obviously, you can try and run both strategies at once and try and shift customers from the platform to your own store over time.
In the long run, a website and starting an online store of your own are, by far, the best way of creating brand recognition and winning over steady customers.
Finding the Best Products Niches
If you aren't quite sure about what to sell, there are plenty of different ways of finding interesting niche markets.
The easiest option will always be to start off by focusing on an area you are already familiar with. Perhaps flying drones is your hobby? Maybe you have a passion for fine coffee? Or you might be a fan of retro headphones?
In all of these cases, there are small, very specific niches just waiting to be tapped into alongside the major markets. If we take coffee as an example, we might be looking at portable espresso machines or something along those lines. The key is to make sure that there are enough people showing an interest while ensuring that there are relatively few existing providers.
Researching product demand
You can look for these kinds of niche markets, for example, using Google Keyword Planner, KWFinder, Google Trends, or, best of all, Ahrefs. That way you can find out how many times in a month people are searching on Google for a particular keyword and/or product. Not to mention that all the aforementioned keyword tools generate related keywords that you may not have thought of otherwise.
The screenshot shows an Ahrefs analysis of the keyword "portable coffee maker" as an example. You can see that there are around 2700 searches on Google every month in the USA. Ahrefs is a practical tool in that it also works out how difficult it would be to rank in the top ten on Google for a certain keyword (on a scale of 0 to 100). As you can see, this would apparently not be too tricky in this example.
And, of course, you also have the option of building up demand yourself. So if you want to sell a product that doesn't really get a lot of hits on Google, you can also choose to advertise on other platforms like Facebook and Instagram. If you want to go down this route, though, you have to make sure that the product lends itself well to social media and can be relied upon to incite impulse buys.
You also might consider selling digital downloads like graphic design files, website templates or ebooks.
Dropshipping
The idea of dropshipping is simple: you sell the product via your online store and a third-party provider will take care of handling the order, shipping and returns (e.g. AliExpress and FBA – Fulfillment by Amazon). Shopify is a great platform if you are planning on dropshipping, their Oberlo app (read review) comes with thousands of products and integrates with AliExpress. Another good solution for dropshipping is WooCommerce and the AliDropship plugin (read review).
What's your USP?
Once you've come up with an idea for a potential product, it is absolutely essential that you give some thought to the USP (unique selling proposition). In other words, why exactly should customers buy from you? Here are a few examples:
You are the only supplier of a particular product (such as a T-shirt with a completely unique design).
You are always top of the Google search rankings and therefore attract an extremely high number of visitors.
You are a pro when it comes to paid advertising (e.g., Google Ads and advertising on Facebook), which enables you to reach your specific target audience effectively.
The sales channel: You are the only supplier of a product in the USA.
You have superiority when it comes to positioning: You have a better understanding of your customers' pain point, meaning you can describe your product in such a way that customers feel more inclined to buy from you.
Next up, we are going to be looking at a range of ecommerce platforms you can use to create your very own online store.
The Online Store System Requirements Checklist
Complexity and budget:
This is a fundamental decision. How much time, and what amount of resources are you willing to put into this project? We put the providers into three categories:
| Complexity | easy | medium | difficult |
| --- | --- | --- | --- |
| Time frame to completion |  3-7 days | 1-3 weeks | Several weeks or even months |
| Budget (rough estimate) | $12 to 30 per month | ca. $15 to 200 per month | Creation (single expense): $2,000 to $20,000; plus $20 to $350 per month |
| Hosting | Included (Cloud) | Included (Cloud) | Installation on your own web storage |
| Examples | Wix, Squarespace, Weebly | Shopify, BigCommerce, Volusion | Magento, PrestaShop, WooCommerce, Yo!Kart, X-Cart |
There are some differences here: A simple shop like the one offered by Wix is easy to set up in no time. Anyone who knows their way around the Internet should be able to figure out how the interface works in just a few hours. Often times, a weekend is plenty sufficient to get an online store up and running. For a small store with a handful of products, you won't need more than the Wix Business Basic plan for $23 per month.
The shop systems of medium complexity offer a much wider array of features. Integration and payment methods, however useful, require a steeper learning curve and a higher budget, though. Unlike the simpler systems, these will allow you to manage much larger stores, and you have better marketing options, too (such as cross-selling, price search engines, etc.). Two good examples are Shopify and BigCommerce, which we compare here.
Complex online stores such as Prestashop or Magento in particular are a project of a completely different magnitude. Beginners without technical skills will most likely not be able to set something like this up because these open-source systems have to be installed and configured by hand. You also need web storage of your own. The less complex shop systems don't have those requirements – the providers host the shops in their own cloud infrastructures. How long this setup procedure lasts can vary greatly, and it depends mainly on the contractors you choose and how much you want to customize the design and the code.
Some Other Shop Features You Might Find Useful:
Criterion
Options
Which payment methods do you want to offer?
PayPal
Credit card
Direct debit
Money transfer/money order
Invoice
Cash on delivery
Installment payments
Shipping options
Interfaces with shipping companies such as DHL or UPS
Pricing according to regions and countries
Dropshipping
Accounting options
Create invoices or integrate with accounting software (such as Xero)
Different VAT rates
Automatic import and export of goods
Manage large product portfolios too large for manual maintenance (e.g. more than 100 products)
Customer accounts
Can customers sign up in order to speed up the checkout process?
Marketing features
SEO (URL structure, etc.)
Cross-selling
Integration of price search engines
Coupons
Email marketing (newsletters and 'abandoned shopping cart' emails)
Blog feature for content marketing
Domain name / email addresses
Are the domain name and email accounts included?
Internationalization
How many languages and currencies are supported?
Security features
SSL encryption
Automatic backups
Guaranteed website availability (SLA)
Support
Email support
Telephone support
Live chat
Availability
An Overview of Various Shop Systems
Check out our comparison website for shop systems to find out more about a variety of providers. Here's a brief introduction of the ones we thought were the most interesting to start an online store with: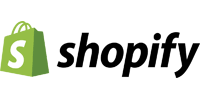 The 800-Pound Gorilla of Ecommerce
Even if your business grows really rapidly, chances are that you will have no reason to move it to another platform – unless you want to run a truly global store. It gives you all the necessary tools you need to start smoothly and then set your path to rapid growth.
You can try Shopify 14 days for free to test it (no credit card needed). The cheapest entry-level plan is "Lite" for $9 monthly. You can use it to sell goods on an existing website or social media profile. The other plans offer a complete store with additional features such as telephone support, better statistics, and template modifications. Find out more information in our detailed Shopify review.
Wix, online stores for small budgets
Wix is one of the cheapest alternatives when thinking about launching an online store. They make it extremely affordable for users, especially if you go for yearly (or longer) deals. One of the Wix advantages is that, unlike Weebly, they don't charge transaction fees.
Not only is their ecommerce system great value for money – it's also really easy to use and (to an extent) powerful. For example, my favorite features are the ability to sell digital goods (e.g. videos), creating membership sites, and the real-time shipping cost calculator.
However, I don't think Wix is for every ecommerce project. I would say it's more suitable for smaller online stores that won't have more than, let's say, 200 or 300 products to manage. For larger projects, Shopify and BigCommerce would be better.
Offers An Impressive Free Account
Shift4Shop (formerly 3dcart) is one of the oldest players in the ecommerce builder industry, as it was founded in Florida in 1997. After over 20 years, this platform has over 20,000 active merchants and employs around 100 people.
This ecommerce solution is a high-end platform for online store projects that need advanced features like real-time shipping, automatic calculation for taxes or integrations with marketplaces like eBay or Amazon.
US-based customers can actually take advantage of Shift4Shop's free plan if they opt for Shift4 as their payment processor. This includes unlimited products, staff, and bandwidth, plus the full range of store features – it's Shift4Shop's best-value option by far. If you're outside the US, or want to use a different payment processor, plans start at $29 a month, allowing you to sell unlimited products and without any extra-transaction fees. Some features are restricted however. Shift4Shop also has around 100 free themes to choose from, but some of them look a bit outdated.
Makes Selling Easy, Extremely Easy
If you already have a website made with Weebly and you don't want to struggle with a complicated setup process or source code, then you should consider taking a closer look at their built-in e-commerce solution. The online shop works as easy as the rest of the website editor.
Weebly Starter allows you to sell up to 10 products. That's not much, but it's a start; if you don't need ALL the bells and whistles, it should do the job. If you want to sell more products and need features like vouchers, then you have to pick their "Business" plan. Weebly is made for beginners that want an easy solution. Because of this, you won't find advanced features, like dozens of international payment gateways or customer accounts.
Weebly brings out regular updates that provide more features and help you to create a better online shop.
Find out more in our detailed Weebly review.
The Addon That Turns Your Existing Site Into a Store
Ecwid is a particularly attractive option if you already own a website that doesn't have an e-commerce feature, it's a simple way to add a shopping cart to your current site. It includes an impressive range of functions, such as a massive number of integrated payment gateways for credit card payments, PayPal, and even voucher codes for special promotional offers.
Next to the free plan, there are also three premium tiers that allow you to use discount coupons, calculate tax rates automatically, and add additional apps.
You can also sell both physical and digital goods. Varying VAT rates between different states are no problem here either. The only drawback with Ecwid is that there is no real easy way for Google to index your product pages.
Find out more in our detailed Ecwid review.
The #1 Choice for WordPress Sites
If you already have a WordPress site, or are thinking about building one, WooCommerce is definitely an option worth exploring. As the world's most popular ecommerce plugin, it can convert any WordPress website into an online store. It's estimated to power around 3 million websites globally, and even beats out Shopify in terms of usage.
With these serious credentials to its name, you can bet that it has powerful features to back them up. Indeed, WooCommerce's exhaustive feature list, payment gateways, shipping integrations, and SEO capabilities make it an attractive option for anyone with dreams of opening up a high-volume online store.
But, there are some big downsides. While the plugin itself is free, you'll have to purchase hosting, domain, email and templates separately. And, unless you're tech-savvy, it's likely you'll also need to hire a developer to help you with both the initial set-up of the store, and the ongoing maintenance. Plus, the lack of centralized support can be frustrating.
Find out more in our detailed WooCommerce review.
Other Ecommerce Platforms
Do you have further requirements? Here you can find even more providers and detailed information about them.
> Top-Rated Ecommerce Site Builders
Legal Requirements for Online Stores
Please note: This advice was not written by a legal professional. Please be sure and consult a lawyer.
In order to start an online store, you need to register a business. The simplest form of business is the sole proprietorship, also known as sole trader. You need to be 18 years of age to do so.
Tip: If you want to try out your online business idea, you don't need to register a business right away. We know from experience that the bureaucracy can be a bit daunting in the beginning. So we'd recommend testing your concept first, and sitting down with a tax consultant once the first couple of orders have come in. You can then register your business after the fact.
Important legal documents for your online store
This information mainly refers to the US, however, in the sources at the end of this section you can also find further information for online stores based within the European Union.
Any US-based online store should provide the following three documents in a place that's easily accessible (e.g. the website's footer):
1- Privacy Policy
This document explains how the user's data that is being collected on your website will be used. There is no general rule of how a privacy policy has to look like in the US.
However, in general, you should cover the following information:
What information you gather and how you share it;
The process the customer can follow to review and make changes to the information you have on them; and
The policy's effective date and a description of any changes since then.
Check this guide for more information.
2- Terms and Conditions
The terms and conditions are made for your customers. It explains what they must or must not do in order to use your service.
This would usually cover clauses such as:
Definition of keywords;
Customer rights and responsibilities;
Proper or expected usage of the website;
Intellectual property protection;
Accountability for actions, behavior, and conduct;
Payment details;
Disclaimers and warranties;
Exclusion or Limitation of Liability; and
User notification upon modification of terms.
3- Returns and Refunds Policy
This is another document that can vary widely within each US state. It's very important to have a Returns and Refunds policy as not having one will oblige you to accept full refunds within 30 days for all your customers from California, for example.
Important Tips for Product Sites
Now, here's two basic tips for your ecommerce store content:
Product images
Presentation is key, and it must be immaculate. You can't afford to make mistakes on this. We recommend high quality images, made either by yourself, or even a professional photographer. Here are some tips on how to make a DIY photo studio at home. Or, for an even easier way to create high-quality product images you can also use an app like Pixelcut, which removes the background from your photos automatically.
More and more online stores have also started using videos. Please don't use the manufacturer's standard videos! Make your own instead. If it's not about a product you made yourself, you can use the video as a kind of review and tell your customers about the advantages and disadvantages you see with the product. That makes you trustworthy and will make your customers want to come back.
Texts
The same thing applies to texts – don't just copy the standard descriptions offered by the manufacturer. Your customers will get bored, and so will Google! Re-using a text that Google can find elsewhere, too, will reduce your chances of a good ranking. So either write your own texts, or get a professional to write them for you.
Another good idea is having an FAQ section about your products. Use real customer inquiries and add them to the product pages. This has two big advantages: First of all, the text is completely original, and secondly, you get to use the exact language used by your customers. This can improve your Google ranking significantly.
Which brings us to the next topic: