Running a business online, you now have access to more support and sales channels than ever. From phone to email, social media like Twitter, Facebook and even Whatsapp, there is no shortage of ways in which you can communicate with your users and customers. But one new channel, in particular, is becoming increasingly popular: live chat.
Customers are very impatient these days: a study by Hubspot points out that 90% rate an immediate response as important or very important when they have a customer service question. Immediate being defined as 10 minutes or less.
That's why some companies are even superseding the email option altogether. WP Engine, a major hosting company now starts all support queries via live chat. It seems to work well for them: they haven't switched back to email since enabling their live chat almost 5 years ago. So are you ready to start? Let's see how below.
Best Live Chat Software: 19 Top Choices Compared
Here you go, this is our long list of the best options for paid (and free!) live chat software. Click on any of the links to learn more about each one.
Chat console: this is your control center. You will answer chat requests, monitor your live website users and more. Usually this will be provided via a desktop or web client. Some live chat software also lets you go through an already existing instant messaging service like Slack.
Proactive chats: the ability to monitor live users on your website and contact them before they touch the live chat window. This can be a great help, but can also frustrate some users who feel bothered by your messages.
Canned messages (shortcuts): these are pre-written answers to regular questions that you can just bring up with a shortcut or in a few clicks. They can save you time, but can also make users doubt they are talking to a real person, so better use them sparingly.
Triggers (chat automations): sometimes these have different names depending on the live chat software (greetings, targeted chat) but they are essentially the same tool for analyzing user behavior and sending an automated message. For example, you could start a proactive chat conversation with users who spend an unusually high amount of time on your checkout page to help them with the payment.
Chatbots: you can think of them as the next step up from triggered/automated chats. As the name suggests, these allow you to set up pre-programmed chat conversations with site visitors, removing the need for a chat operator to get involved. They are useful for answering frequently-asked questions or automating repetitive conversations, and are often powered by AI technology – but usually come at an extra cost.
Chat protocols: a record of the live chats. Great for monitoring the quality of the answers and finding patterns in the frequently asked questions.
Find detailed profiles on the live chat tools below:
1. LiveChat – One of the Biggest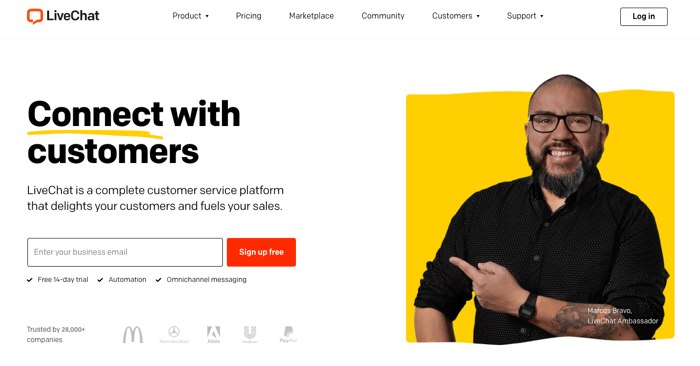 We awarded LiveChat our Best Live Chat Tool badge for 2023!
If you already have some experience with using live chat software, and are ready to take full advantage of everything it can do, our top recommendation would be LiveChat.
The company with Polish roots is one of the largest live chat solutions out there. Their history dates back to 2002 and today, 37,000 customers use their product. No small feat.
LiveChat make it easy to like their product. It's extremely powerful, with features that you don't see in every live chat solution – omnichannel integration with chat tools like Facebook Messenger; the ability to enhance chats with media-rich and interactive messages; and a chatbot, help desk and knowledge base (available at an extra cost). It offers a slick interface that makes interacting with the product a breeze. Next to the polished chat console, there are apps for PC/Mac as well as iOS and Android.
LiveChat's deep integrations with major CRMs are also impressive. For example, the Salesforce integration works both ways, meaning you can export contacts and leads to Salesforce, but also search through your Salesforce contacts/leads from within LiveChat. It's also possible to pull in data from any CRM field to set up 'custom variables', which in turn can be displayed in chat windows to give your agents extra information on the visitor.
LiveChat Pricing
Starter: $20. Track up to 100 visitors in real time. Includes 1 targeted greeting/automation as well as customer satisfaction surveys and asynchronous messaging.
Team: $41. Track up to 100 visitors. Unlimited targeted greetings + reports and unlimited chat history
Business: $59. Track up to 1000 visitors. Includes advanced reporting, staffing predictions, automatic work scheduler, and SMS + Apple Business Chat integration.
Enterprise: $149 (negotiable). Dedicated account manager and onboarding, plus the ability to white-label product.
Prices are per month, billed annually
It's worth noting that LiveChat changed their pricing model a while ago. They used to charge per seat and not per agent. However, now they switched to a price per agent model like the majority of live chat tools.
LiveChat Video Review
What I like about LiveChat
Their numerous plugins that let you easily add the chat widget to the most popular website builders (WordPress, Weebly etc.) with just a couple of clicks. Plus, integrations that connect the chat with your newsletter tool (e.g. GetResponse, Mailchimp) or CRM (e.g. Salesforce). They make it easy to set everything up.
LiveChat's automations ('targeted messages') are also more advanced than other tools', with sophisticated triggers, and the ability to send visually-appealing 'rich messages' (letting you add images, animations, and action buttons). You can even direct a visitor to a specific webpage that can be opened within the chat window.
We like that you can set up chat widgets in multiple languages (close to 50 languages are supported). The general look and feel of LiveChat is a big positive. And their Help Center is also excellent.
What LiveChat should improve
As a tool, it can be quite overwhelming due to the sheer amount of features, and the busy dashboard view/menu. There is a lot to unpack and explore, which in itself is not a bad thing – it would just be great if there was a bit more guided support in doing so.
Prices are a bit higher than most of their competitors.
Who is LiveChat recommended for?
Anyone who has the necessary budget, needs a complete and reliable live chat tool, and wants to take advantage of LiveChat's plentiful features (help desk, apps etc.).
> Full LiveChat review
> Try it for free (14-day trial with 30% off)
2. Brevo Conversations: Top Value for Money
Brevo, formerly known as Sendinblue, did not always offer a live chat service. Initially, it was an email marketing service—and a highly-rated one at that. It later acquired the Chatra live chat service, which has since been integrated into their product suite and rebranded as Brevo Conversations.
Is it worthwhile? Initially, I expected to discover a decent, yet unremarkable, live chat tool. How wrong I was! I found it to be nearly on par with LiveChat.com, our leading provider. It's substantially more cost-effective and introduces some innovative features that arguably challenge even LiveChat.
Brevo Conversations Pricing
Free: $0. Unlimited chats, email integration, full conversation history, business phone features
Pro: $15. Adds targeted messages and chatbots, Facebook, Instagram and WhatsApp integration, live visitor feed, chat ratings and saved messages.
Further pricing information (see Conversations tab)
Prices are per month. Save 10% if you sign up for an annual plan.
What I like about Brevo Conversations
Value for Money: At only $15 per month, Brevo delivers incredible value. You won't find a more cost-effective live chat software elsewhere. While other providers may limit your chat history or work scheduling features, Brevo includes these at a minimal cost.
Wide Range of Integrations: Brevo allows integrations with WhatsApp, Instagram, and Facebook. Additionally, you can synchronize your chats with their CRM through Brevo.
Triggers and Chatbots: You have full access to automatic triggers, including the feature to initiate 'exit-intent' chats (triggered when a visitor is about to leave your website). There are predefined chatbots, for example, that can collect your visitor's email address if your reply is delayed for any reason.
Visitor Live Feed: The live feed provides essential details and indicates who received a triggered message.
Multilingual Live Chat: The chat widget is translated into many different languages, and setting up language-specific messages is straightforward.
What Brevo should improve
Mobile App: The iOS app leaves much to be desired in terms of fluidity; it serves its basic purpose of alerting to new conversations but falls short on user-friendliness, resembling a webpage more than a mobile application. Similarly, the Mac desktop app fails to deliver a pleasant user experience.
Who is Brevo Conversations recommended for?
Anyone who is looking for a cost-effective live chat solution. It's also a no-brainer for any existing Brevo users.
> Try Brevo Conversations for free
3. Tidio Chat: The Top Choice for Automations
Just like LiveChat, Tidio also has Polish roots (seems like Poland is quite a hub for live chat software). It is a relatively new live chat software but it has nevertheless put together a really attractive bundle. In fact, the free plan includes up to two agents and unlimited chats as well as pre- and post-chat customer surveys.
What really sets them apart from their competitors, however, is their chatbots feature, which is seamlessly integrated within the tool. These are advanced automations that can be customized through a visual workflow, and let you play with different combinations of triggers, conditions and actions – similar to some of the more advanced newsletter tools we've looked at. Amazingly, you can use chatbots on the free plan (with a limit of 100 unique visitors per month). There's even a tentative foray into AI chatbots using natural language processing.
Tidio Chat Pricing
Tidio offers four different pricing tiers:
Free: $0 (for 3 operators, 50 live chat conversations, 100 chatbot triggers)
Starter: $29/month (for 3 operators, 100 live chat conversations, 500 chatbot triggers)
Communicator: $25/agent/month (unlimited live chats, 100 chatbot triggers and advanced chat features)
Chatbots: $29/month (up to 3 operators + 2,000 chatbots triggers/conversations)
You can also remove Tidio branding for an extra $20/month (which is a little steep, if you ask me!)
Tidio Video Review
What I liked about Tidio Chat
The chat button and widget look fresh and modern.
They have mobile apps for iOS and Android.
Their multilingual chat setup is really the best we've seen so far – it just takes a click to get additional languages added, and text can be fully customized.
The workflow-based automations (chatbots) are astoundingly advanced, if not slightly overwhelming. You can use them to trigger abandoned cart campaigns, answer frequently asked questions, and more.
It's also handy that you can send automated emails to your visitors.
What Tidio Chat should improve
The integration options are quite limited – at the moment, you can only connect directly to Facebook Messenger and email, plus a handful of other CRM and marketing automation tools (although its Zapier integration gives you more options).
Not necessarily something to improve, but be prepared to roll up your sleeves – getting your head around the automations/chatbots will take a bit of work.
I am missing a feature that lets your chat go offline automatically if there's no mouse (or keyboard) movement
Finally, it's also a bit light in customer service/support features.
Who is Tidio Chat recommended for?
Any small business that wants a powerful free plan, wants to make use of chatbots/advanced automations, and/or needs to support multiple languages.
> Full Tidio review
> Free trial: tidio.com
Tip: Receive an exclusive 20% lifetime (!) discount when signing up for Tidio via this special link.
4. JivoChat – Apps for Every Device
JivoChat is a fully international live chat software and almost 300,000 websites use it currently. Their whole appearance is very modern, with a clean and easy-to-navigate chat console. There's a mobile app for iOS and Android as well as desktop apps for Windows and Mac.
JivoChat's feature list is one of the most extensive we've come across. These include a built-in CRM, desktop and browser apps (in addition to their web-based app), automations ('targeted chats'), one-click calling, email integration, and internal team chats.
For an extra cost, you can also add real-time visitor monitoring, a callback feature, and even a business phone line. Chatbots are available through third-party integrations.
JivoChat also works well if you have a multilingual site – the chat widget can be offered in up to 25 languages, and there's even a way to enable automatic translations via Google Translate.
Incredibly, JivoChat offers a 'Permanently Free' plan for up to 5 agents, with unlimited chats and a decent amount of inclusions.
JivoChat Screenshots
JivoChat Pricing
Basic version: $0. Unlimited chats for up to 5 agents
Professional: $19/month/agent. Automatic triggers, visitor info, canned responses and advanced reporting included.
Enterprise: $38/month/agent. Solution for 10 or more support agents.
Price per month, paid annually.
What I like about JivoChat
The chat window is more modern than others we've seen, and can be customized to blend in nicely with any website. The interface also feels very familiar – if you're used to using tools like Slack and Trello you'll have no trouble getting your head around JivoChat.
They have a great system for automatic triggers that also lets you hide the chat widget if you want. You have an integration with Zapier, which helps you plug it into your favorite helpdesk or CRM, plus omnichannel integrations with Facebook Messenger, Apple Business Chat, WhatsApp and more. It's also quite smart how you can ask your visitors for their contact details once the chat has started.
Pricing is very attractive for a live chat software – $19 per agent is relatively low, but even the free plan includes 5 agents.
What JivoChat should improve
Usability could be improved a little as it's not always totally obvious where to find certain settings, especially for customizing the chat widget (but to be honest, I've seen worse).
The chat widget looks pretty good, a few more customization options wouldn't go amiss. While you can customize the pre-chat buttons, it would also be nice if they actually triggered some useful actions (e.g. directing visitors to a webpage, or sending them to the knowledgebase).
Recommendable for: Companies who need a feature-packed and cost-effective chat solution, and possibly also want to offer phone support.
> Full JivoChat review
> Try their free plan
5. Userlike – Top Choice for European Users
More than 2,000 customers rely on Userlike, a Germany-based live chat support solution. Their servers are also inside the EU, which makes them a particularly attractive solution for customers in the European Union as they are fully GDPR compliant.
Feature-wise, it's definitely one of the more complete solutions, with chat automations/widget routers, voice and video calls, and even 'push macros' that allow you to send visitors directly to a URL (e.g. a help page on your website). There is also offline (asynchronous) messaging, and options to integrate with additional channels (such as WhatsApp and Facebook Messenger), which is part of their Unified Messaging offering.
Its most impressive feature, however, is its AI Automation Hub, which includes an AI chatbot, a Smart FAQ feature that allows customers to find answers to their specific problems, and contact form suggestions. The hub is fed with business knowledge and is self-learning, growing in intelligence over time from customer conversations and feedback.
What's great is that Userlike offers a powerful free plan with 1 chat widget and unlimited conversations. If you have more than just one operator, or need to access the advanced features, things start getting expensive pretty quickly though.
Userlike Screenshots
Userlike Pricing
Free: $0
Team: $90 (includes 4 agents and 4 widgets)
Corporate: $290 (includes 10 agents and 10 widgets, plus access to the AI Automation Hub)
Flex: On request (includes 20 agents and 20 widgets)
Prices per month, paid yearly.
What I like about Userlike
The free plan is pretty decent to start with. The Unified Messaging features – such as asynchronous chat and multichannel messaging – have great potential.
It's also a capable tool when it comes to internationalization as you can create different chat widgets in different languages (they support seven of them). There's also an integration with DeepL, an automatic translation engine.
I particularly liked the clever routing features, such as assigning chats to operators based on skills, 'sticky chat' which sends visitors to operators they've spoken to before, and also letting visitors choose between operator groups.
The AI Automation Hub is powerful, allowing AI chatbots to handle conversations intelligently, and helping customers to self-serve via contact forms and FAQs. It's also intuitive to set up, as responses are fed from a centralized knowledge base.
What Userlike should improve
The behavior of the chat widget can be a bit odd after updating it as it's quite slow to show the changes.
I would like to see better trigger-based chat automations – there are only a handful of basic triggers to choose from, and setting them up (via the 'Website routers' option) isn't as intuitive as it could be.
It's also not ideal that you need to directly purchase 4 agent licenses with the cheapest paid plan.
Who is Userlike recommended for?
EU-based companies that need a feature-rich live chat software that respects strict privacy laws.
> Full Userlike review
> Try their free plan
6. Olark: Powerful Potential – at a Premium Price
Olark, funded by Y Combinator, counts an impressive 44,000 customers and has been around since 2009. Its website paints a picture of a young and fun-loving company, and boasts several Stevie Awards earned for customer service – so you'd expect them to know a thing or two about delivering excellent live chat experiences. Interestingly, their team is distributed worldwide, meaning that there is (almost) always someone happy to answer any support requests you may have.
Notable features of this live chat software include chat automation features (which they call targeted chat) that let you send automatic messages to visitors who are visiting specific pages. Imagine you receive a lot of chat requests from countries where you don't even ship to: Olark lets you simply hide the chat for certain geographies. There's also an add-on that lets you enable co-browsing to see your customer's screen.
However, after a recent price hike, this formerly affordable solution just doesn't offer the same 'bang for your buck' that it used to.
Olark Pricing
The pricing structure is simple – aside from the free plan (which isn't widely advertised), there's basically just one paid plan that includes everything, is priced per agent, and can be paid for monthly, yearly or bi-yearly (with discounts applied to yearly and bi-yearly plans).
Forever Free: $0 (1 agent, 20 chats per month, limited features)
Billed monthly: $29
Billed yearly: $23
Billed bi-yearly: $19
There's also an enterprise-level solution, Olark Pro – the pricing details of which aren't available online. This includes chatbots (currently in beta), a dedicated account manager, and priority support.
Video Review
What I like about Olark
Setting the chat widget up on your site is a piece of cake, and the platform is mostly easy to navigate.
The automation triggers are also quite advanced – you can send an automated message in Spanish if a visitor is located in Spain, for example. And the (paid) add-ons for enabling co-browsing, translations and other features are powerful.
What Olark should improve
We used to regard Olark pretty highly, but after a recent review (and price hike) we can see where it lags behind many of its competitors. For one thing, the sign-up experience is a little sneaky (it seemingly requires a credit card to start the free 14-day trial, although if you look closely there is an option to skip this step).
It also feels a bit disjointed that the chat console is a separate platform to their dashboard; you need to open it up in a new tab in order to start accepting chats. The dashboard can feel sluggish as a new page loads up every time you navigate to another menu item.
The feature range could also be better. For example, there's no ticketing system – offline messages get sent via email but don't appear in the chat console.
Finally, the design isn't as slick as it could be – both the chat widget and dashboard could look more modern. Overall, the pricing of this live chat software feels a little steep for what's included.
Who is Olark recommended for?
Customer service-focused businesses that plan to take advantage of Olark's advanced extra features (co-browsing, translations etc) – and have the budget for it.
> Full Olark review
> Try it for free (2 weeks trial)
7. Pure Chat: The One for Large Teams
The promise of this Arizona-born live chat software is an attractive one for larger teams: unlimited chats for up to 10 operators priced at a flat fee of $79/month (paid annually). In addition, you can install the live chat widget on as many websites you like.
Pure Chat lets you try their live chat software for 30 days. During that period, you can test all the available pro features. Mobile apps are available for both iOS and Android. This way you will never miss a visitor's message. Another interesting feature is Artibot.ai, a chatbot helping you to capture leads, book appointments and even accept payments (note this is a separate tool).
With their two paid plans, you also get features like real-time visitor analytics and automatic chat alerts. The upgrade to the PRO plan will remove the Pure Chat branding.
While I like many aspects of the tool, I was a little disappointed about the lack of new features and major updates since our last review – as it stands, Pure Chat is pretty light in features compared to other live chat software. In October 2020 it was acquired by virtual receptionist services provider Ruby, so we'll keep a close eye on what that might mean for new developments in the future.
Pure Chat Screenshots
Pure Chat Pricing
Growth: $39 (up to 4 operators, 1 website only)
PRO: $79 (up to 10 operators, unlimited websites)
Prices per month, billed annually.
What I like about Pure Chat
Their real-time visitor analytics are top-notch and exactly the way I wish to have them. The rule-based alerts are also great – this way you'll know when there's a high-value customer on the site. The system for tagging contacts is handy and the Contacts section is organized well. Overall, you get some pretty useful contact management features.
What Pure Chat should improve
I am not a fan of their user interface. It's uninspiring, a little confusing to navigate, and could do with a redesign. For example, you can upload a profile pic for your chat agents. If it's not the right size it will be squeezed together (see screenshot). Also, the design options for the chat bar aren't exactly fantastic.
The automated triggers are very basic, giving you options to trigger the chat box based on time on site and URL, but nothing else. I'd also like to see a searchable knowledge base and a few more support articles.
Who is Pure Chat recommended for?
Companies that have larger teams with multiple chat agents. If you need support for more than one website, you should upgrade to the PRO plan.
8. Smartsupp – Analyse Your Visitor's Every Movement

Smartsupp is unique in many ways. For once, they bring live chat analytics to another level. The Czech live chat software records your visitor's actions on your site so you know exactly where things can be optimized.
They also have a free plan that boasts unlimited chats and unlimited agents. To benefit from their visitor recordings feature you got to have at least a subscription to the STANDARD plan.
Interestingly, their user interface looks very much inspired by Zendesk Chat. Plenty of details and features were simply copied over, which is a bit sad, really (unless they have some special licensing deal going on).
Smartsupp Screenshots
Smartsupp Pricing
Free: $0
STANDARD: $19.50 for up to three agents
PRO: $48 for up to three agents (upgradeable to 10)
Prices per month, billed yearly.
What I like about Smartsupp
Obviously the recordings feature is a great benefit – the question is whether you actually need it. The live analytics are superb and exactly the way they should be in my opinion. If that's important to you, Smartsupp is one to consider.
What Smartsupp should improve
I wasn't that fond of the designs for the chat bars. The customization is very limited.
Who is Smartsupp recommended for?
Data-driven companies that are looking for a feature-rich live chat software.
9. LiveAgent: Chat to Your Customers Face to Face
In case you haven't noticed yet, Eastern Europe really rocks the live chat game! LiveAgent is yet another example: their head office is located in Slovakia. Having launched in 2007, they've put together a pretty sizable team serving over 21,000 businesses according to their website.
The list of features indeed looks impressive, among them, unique in this list: video chat. They also sport a fully integrated help desk solution where every chat request is being added as a ticket (actually the help desk is their core business). You have a bird's eye view of how your customer support agents are doing and generally feel like LiveAgent is probably targeting the higher end of the customer spectrum (medium and large enterprises).
LiveAgent Screenshots
LiveAgent Pricing
Free: $0 (limited ticket history)
Ticket: $15 per agent
Ticket+Chat: $29 per agent
All-inclusive: $49 per agent
Prices per month
What I like about LiveAgent
The onboarding process is pretty good, you have a to-do list of various items to get started (see screenshot). Their pretty unique video chat capability also makes it into our list of pros. You can also set it up for voice calls only. The fact that you can set up a customer knowledge base and a help desk is great, too. Oh yeah, they also support a tonne of languages.
What LiveAgent should improve
I am really not a fan of their user interface. It looks quite dull and due to the high amount of features it's easy to get lost. I also came across a couple of menus where I just had no idea what I was looking at (see the 'gamification' screenshot). Generally there should be better help resources.
Who is LiveAgent recommended for?
Medium or large enterprises that have lots of agents and need an integrated help desk solution as part of their live chat software. Also businesses that require video chat functionality.
10. Hubspot: Highly targeted chats and tight CRM integration
Is there anything that Hubspot doesn't do? The CRM and marketing automation giant launched its live chat software in 2017 to complement its suite of sales tools. Since then, it has evolved to become an impressively-featured live chat solution, with automated chatflows, a universal inbox, and an integration with Facebook Messenger. Like other live chat tools, it also includes canned responses, chat assignments and the ability to set online/offline hours.
In addition, it includes some smart chatbots that can qualify leads, book meetings, and provide customer support. Some of these are even available on Hubspot's free plan.
Hubspot Screenshots
Hubspot Pricing
Free version: $0. Includes up to 1 million contacts, unlimited users, 1-to-1 chat, universal inbox, canned snippets, Facebook messenger integration, and some chatbots.
Starter plan: Starts at $45/month as part of Starter plan for Service Hub. Removes Hubspot branding and includes 2 users, full range of chatbots (including lead qualification and booking meetings), integrations with knowledge base, ticket creation, and conversation routing.
Professional plan: Starts at $450/month as part of Starter plan for Service Hub. For 5 users. Includes custom bots and advanced chatbots, plus full range of customer service features.
Price per month, paid annually.
What I like about Hubspot
The chatbots are fairly advanced – they can target users based on segments or other characteristics (e.g. which country they're in or device they're using), and branch off onto different paths using if/then logic. You can even integrate with your knowledge base to allow users to search for answers from within the chat widget. Plus, it supports over 30 languages, which can be automatically displayed based on website URL, country or browser language.
What Hubspot should improve
As it sits within the wider Hubspot platform, it does get a bit lost amongst all of Hubspot's features. The multi-window Inbox view can also be slightly overwhelming to new users. There aren't a whole lot of options for customizing chat widget design, either. Plus, Hubspot's pricing is a minefield, so be careful to choose the right plan if you do decide you need to upgrade (and note that moving from the Starter to Professional plan will make your monthly price skyrocket!).
Who is Hubspot recommended for?
Hubspot's live chat software makes most sense for businesses who already use Hubspot, or are considering it for their marketing automation, CRM or customer service platform – as a standalone solution, I'm not sure the expense is justified. That being said, the free plan allows you to set up some basic chatflows and is useful for those who are just getting started with live chat.
11. Chaport
With over 10,000 users, Chaport's live chat software offers a few features that really stand out. Firstly, its multichannel capabilities allow you to receive messages from external platforms like Facebook, Telegram and Viber – and respond to them from within your Chaport inbox. Secondly, it also offers an easy-to-set-up chatbot that's included within the higher-tier plans.
But perhaps the icing on the cake is its free plan, which comes with unlimited chats and a 30-day chat history. The paid plans are pretty affordable, too, starting at $15/operator/month. Other features include multilingual support for 32 languages, detailed visitor information, typing insights (the ability to see messages while users are typing them), and automatic operator assignments. All this within a modern, streamlined user interface.
For users who are just getting started with live chat, it's definitely one to try out.
> Get started for free with Chaport
12. Formilla
According to their website, there are already 12,000 companies relying on their live chat software. Their free plan includes 1 chat with 30 chats per month. Formilla allows you to offer different live chat widgets, which is handy if you are serving different languages for example. There is also real-time visitor monitoring, automatic messaging as well as canned messages.
Formilla Edge is a feature you probably wouldn't expect in a live chat software: it's a lead generation tool that help you grow your newsletter list using pop-up messages and hello bars. All in all Formilla makes a polished impression and is pretty affordable at $11.99/monthly per agent. The only thing I was missing is a preview for the chat widget, making a bit harder to get the design right at the first try.
13. Helpcrunch
Helpcrunch puts great weight on chat automations by allowing you to create very granular segments to target your most valuable customers. But not only that, you can also automate email messages.
At first, the backend of this live chat software is almost a bit overwhelming due to the high number of options. One feature I particularly like is the ability to offer live chat in different languages. Paid plans start at $12 per month per agent, which is a really fair price. The only I was missing is a real-time view of all the current visitors, which always gives me a good impression of how busy the website currently is. According to Helpcrunch's own live chat, this feature is already on the roadmap.
14. HelpOnClick
The Israeli company started out in 2012. It was shortly after that I first got my hands on their software. Having looked at it again, I have to say that now much has changed. HelpOnClick was a solid, slightly complicated solution back then. Now it is still the same, yet the user interface looks really dated (I know, I've been moaning about user interfaces design quite a lot already but I find it extremely important). They have a decent way to organize departments and also have apps available for PC/Mac, iOS and Android.
> Full HelpOnClick review
> Try it 30-days for free
15. Tawk.to
Free is the magic word on tawk.to's website. They compare themselves to the likes of Google and Facebook, which are, you guessed it: free. Where they make money is by providing live chat agents to their users. Interestingly this only costs $1 per hour if you contract them 24/7. Full-time ($2.20) and part-time ($3) agents are slightly more expensive.
They will be able to serve a maximum of 2 visitors concurrently. I can't comment on the quality of this service but I wouldn't expect that they are going to learn all the ins and outs of your business. But still, it's definitely an interesting package they've put together here.
16. MyLiveChat
The best things in life are free and so is MyLiveChat. Whether it belongs to the best free live chat software list is a different story. They are certainly very generous, providing unlimited free chats for 1 agent with a 3-year chat history. Canned responses and proactive triggers are also part of the package. On the downside, I found their interface confusing due to the extremely high number of menu options. Also, design-wise there is room for improvement as they seem to like stock photos of support agents just a little bit too much for my taste.
17. ZenDesk Chat
This live chat software used to be called Zopim but then got bought by the help desk giant ZenDesk. They have great live visitor tracking, excellent triggers and prices are relatively affordable (starting at $14 per agent). Their free plan is limited to one concurrent chat.
18. Intercom
Intercom is not your typical live chat software. It's a conversational relationship platform that sits more in between email and live chat in terms of speed. Companies would often use it more as an easy-to-reach contact form than for instant replies. The website visitors usually need to enter their email addresses and then wait for an answer. With Intercom there's even voice and video chat available. Apart from that, you can also send email campaigns through Intercom. But as pricing starts at $74 per month, there are much more affordable Intercom alternatives that are better suited to small-to-medium businesses.
19. Kayako
Their main selling point is the helpdesk solution. As you can imagine, it also includes live chat. They seem to have great personalization options as well as chat automation. And all of this is neatly integrated into the helpdesk application. A free plan makes it easy to start working with them.
Best Free Live Chat Software: A Summary of The Top Tools
| Provider | Number of users (approx.) | Apps | Voice/Video Chat | Free plan? | Overall impression |
| --- | --- | --- | --- | --- | --- |
| LiveChat | 34,000 | PC / Mac, iOS and Android | No | No | Cutting edge live chat tool that includes advanced features, a help desk as well as a really polished backend. |
| Brevo Conversations | 500,000 | PC / Mac, iOS and Android | Yes | Yes | Live chat software that offers excellent value for money. Despite its low price it's one of the best in class, thanks to advanced triggers and chatbots. |
| Tidio Chat | unknown |  PC / Mac, iOS and Android | No | Yes | One of the best live chat software for multilingual websites. Really great chat automations too. |
| JivoChat | around 300,000 websites | PC / Mac, iOS and Android | Voice only | Yes | Free plan for up to 5 chat agents. Clean interface, great functionality at a bargain price. |
| Userlike | 2,000 | No | No | Yes | Solid live chat software, which respects EU privacy laws. Features a great free plan with unlimited chats. |
| Olark | 44,000 | No | No | Yes | Offers good chat automations but lacking in other features. Feels a bit overpriced. |
| Pure Chat | 14,000 | iOS and Android | No | No | Offers very detailed live analytics and pricing that is suitable for 4+ operators. |
| Smartsupp | 7,000 | No | No | Yes | The only live chat software offering video recordings of your visitors. Efficient backend but scores a bit low on the front end designs. |
| LiveAgent | 21,000 | iOS and Android | Yes | Yes | Your top choice for video chat. Feels a bit complex due to the high number of available options. |
| Chaport | 10,000 | PC / Mac, iOS and Android | No | Yes | Modern design, easy to use, and includes useful features such as multichannel chat and chatbots. |
| HelpCrunch | unknown | iOS and Android | No | Yes | A multilingual live chat tool that has interesting marketing automation features. |
How Live Chat Works
At its core, live chat is a simple window that pops up on your website to display text. Users can type in it, and you can see and reply from your own backend. Your agent can also see a list of users on the website and approach them with a question, like in a real store.
It's also worth noting that these days, installing live chat software is relatively painless. You will mostly have to copy a few lines of codes and integrate it into your website. Some tools also have direct plugins with CMSs and website builders like WordPress, Wix, and Shopify etc, making the process of installation even easier.
Pros and Cons of Live Chat
As mentioned above, chat support software is becoming increasingly popular, especially with younger, more tech-savvy generations.
The PROS for users and companies include:
Better customer service: it's easier for your staff to "know all the answers." They can answer multiple users at once, transfer to another team member or refer to the documentation for tricky questions. The customer won't even notice it.
Real-time and instant feedback: Unlike email support, the answers are fast, so users can quickly find what they are after.
Improved user experience: A simple text box means no need to deal with cumbersome phone menus or extra contact forms. The answers are also clear, without any miscommunication due to strong accents or poor call quality.
Great data-analyzing capacity: With live chats, it's easier to log answers for review than with phone support. This is useful for analytics and to monitor the quality of your agents' responses.
Pro-active communication: One significant advantage of live chat software is the ability to proactively contact your website users. This means live chats can also be a powerful tool for sales and upsells.
CONS:
Not for everyone: The less computer-savvy users might dislike chat support and might rather talk with a real person. They could also not know how to use it, which is why live chats are a great addition to phone and email support.
Not always great on mobile: Mobile users' experience might suffer sometimes, as it's a bit tedious to write on a small smartphone display.
Requires real-time attention: While you can close the live chat and get email questions instead, live chat support does need someone's full attention to be efficient. Ideally, you should also have regular live chat hours, so users can come back if it is their preferred method of communication.
How to Choose the Best Live Chat Software for your Business
We know that there's a lot to weigh up when making any major business decision, including choosing the best live chat software for your business. Based on our firsthand experience, here's our step-by-step guide to getting it right:
1. Create a list of all the features you need (and be clear on what you don't need)
Does your business field a lot of support requests? If not, an integrated help desk that helps you manage support tickets is probably a feature you could do without. On the other hand, if you're getting lots of sales inquiries, an automated chatbot could come in handy.
Prioritize what you really need, as this can help you narrow your choices down, and prevent you from paying extra for unnecessary features.
Here's our list of some of the features to consider:
Ease of use: is getting off the ground quickly important to you, or would you prefer to invest the time in a more advanced tool?
Triggered messages / automated messaging: do you want to be able to proactively start chats with visitors (e.g. if they visit the pricing page on your website), or would you prefer to reserve chat for incoming messages only?
Offline / asynchronous messaging: do you want to be able to receive messages and continue conversations while you're offline?
Tracking and live analytics: how important is it to have a live view of how many visitors are on your site, and which pages they're viewing?
Multilingual chat widgets: do you serve multiple markets, and is it important to be able to offer different language options for chat?
Ticketing / help desk system: do you anticipate high volumes of support tickets? Or can you integrate it with your existing ticketing system?
Chat routing and assignment rules: do you need to be able to set up automated rules for assigning chats to specific operators (e.g. based on languages or expertise)?
Voice and video calls: is this an important part of your customer support or sales process?
Screen sharing / co-browsing: this might be useful for demos or support of software products, but may not be strictly necessary otherwise
Integrations and additional apps: do you need to be able to integrate it with your existing business apps?
Support: what kind of customer support is offered to you? Are they reachable when and where you need them?
Chatbots: these can be very handy in automating repetitive conversations, but are usually quite pricey too.
In our complete live chat reviews of top tools like LiveChat, Tidio, Olark, and Userlike, you'll see how well each provider delivers (or doesn't deliver) on each of these features.
2. Set yourself a budget
We've purposely focused on live chat tools for small and mid-sized businesses, rather than enterprise-level solutions. As a result, the live chat software we've featured range between $8-50 per agent per month (and in some cases, they're even free). Features like chatbots and helpdesks are usually an additional cost (as is the case with LiveChat), although rare providers like Tidio include chatbots as part of its plans.
Have a clear idea of what you can realistically spend on a live chat software every month. Bear in mind that discounts are often offered for annual or bi-ennal plans, so these can be good options if you're 100% set on a specific solution.
Some providers (such as Tidio and Pure Chat) also allow for multiple users under one plan, instead of charging per agent, which may work out to be better for smaller teams.
Upgrading to higher-level plans is usually pretty hassle-free, but moving to a cheaper plan can at times be problematic – if not impossible. If you anticipate that your needs are likely to change, or don't want to commit to a long-term contract, we'd recommend sticking to more flexible month-to-month plans.
3. Shortlist the best live chat software tools that meet all your needs
Now that you have your must-have features listed and your budget in mind, you can start narrowing down your choices!
If you need a bit of help with this, check out our live chat software comparison tool to review all your different options side-by-side.
4. Sign up for free trials and plans
The best live chat software apps usually let you try out their platform before you commit to buying. This is great news, as there's no better way to figure out whether or not a live chat tool is really right for you.
Here's a roundup of the providers on our list that offer free trials or plans:
5. Install your widgets – and get chatting!
Now's the time to really put these live chat apps to the test! Most can be easily installed onto your website by embedding some code. We recommend installing them on select pages, rather than your entire site – for example, highly-trafficked pages like your homepage, or high-impact pages (e.g. checkout or pricing pages).
Set up your chat widgets, create your agent profiles, and play around with more advanced features such as triggered messages, offline messaging, chat routing, and chatbots. Have a few test conversations with yourself as well as with real visitors, to try and cover every possible scenario.
If you're testing out multiple live chat solutions, it's a good idea to try them out one-by-one, rather than all at once. For example, you could allocate a two-week testing period to each one. That way, you can draw a more accurate comparison between how they work in similar environments.
Also make sure to test out the live chat provider's customer support across the different channels offered (these usually include help center, email, telephone, and, of course, live chat support). Can you reach them when you need to? Do they provide helpful answers? This will help you understand what kind of support you'll receive in the long term.
By the end of the testing period, you should have a feel for the pros and cons of each solution, and have a good idea of which is the best live chat software for your specific needs.
From there, it's just a matter of canceling the unwanted plans (make sure you do it within the free trial period!), and continuing to perfect your live chat setup with your selected software, which is likely to be an ongoing process.
Conclusion: The Best Live Chat Software for Small-to-Medium Businesses
As you can see, the live chat world seems to be evolving fast, and in numerous directions. Many are experimenting with chatbots (LiveChat, Tidio and Brevo), while others give free plans to place their own agents (Tawk.to). Some offer top-of-the-line user experience (LiveChat), while others look like they were designed 10 years ago (Olark).
In any case, if you're serious about live chat for your business, the good news is that there is no shortage of options. The paid plans are mostly affordable, and even some free plans offer decent services. Multilingual options seem to become available more regularly, and the triggers and automations can be a powerful tool for converting users on your pages.
And best of all, all the live chat software mentioned above have managed to make live chat a fairly intuitive tool. The training for your agents should be minimal in terms of technical skills, which means they will be able to concentrate on your main goal, whether it's to offer awesome support, make sales, or help users navigate your website.
If you have any further questions, please let us know in the comments!
We keep our content up to date
11 Oct 2023 - Brevo Conversations added, SnapEngage removed (product doesn't exist anymore)
01 Aug 2023 - Minor update for LiveChat
24 Jul 2023 - Small update Tidio
28 Jun 2023 - Price increase for LiveChat reflected
26 Jun 2023 - Updated Tidio pricing
13 Apr 2023 - Added Tidio video review
11 Jan 2022 - New feature for Userlike (AI Automation Hub)
15 Dec 2022 - Smartsupp and LiveAgent price changes
12 Dec 2022 - Added badges
15 Sep 2022 - Added guide on how to choose best live chat software
22 Apr 2022 - Tidio price change
16 Mar 2022 - Smaller updates and corrections.
06 Oct 2021 - WebsiteAlive removed.
01 Oct 2021 - Userlike + rankings updated.
28 Sep 2021 - New video review for LiveChat.
25 Aug 2021 - Tidio and Pure Chat updated, rankings changed.
18 Aug 2021 - Olark and JivoChat updated.
29 Jul 2021 - LiveChat updated.
23 Jun 2021 - Userlike updated.
10 Jun 2021 - Hubspot added.
04 May 2021 - Chaport added.
08 Feb 2021 – Purchat removed its free plan.
29 Oct 2020 – Price increase for Userlike.
16 Jun 2020 – LiveZilla removed, company being liquidated.
12 May 2020 – Pricing increase for Tidio.
03 Mar 2020 – Minor updates for Userlike.
23 Jan 2020 – LiveChat changed their pricing model.
02 Jan 2020 – Smaller changes.
19 Dec 2019 – Tido changed the Automation plan into "Chatbots".
22 Oct 2019 – JivoChat increased its price from $10 to $13 per month.
08 Jul 2019 – Snapengage prices updated.
14 Jun 2019 – JivoChat added.
10 Jun 2019 – Voice and video chat options added.
25 Apr 2019 – Smaller updates and corrections.
12 Feb 2019 – A few smaller updates.
26 Oct 2018 – Helpcrunch is now offering a free plan.
07 Sep 2018 – Helpcrunch added.
10 Jul 2018 – LiveAgent Price change reflected.
09 May 2018 – Formilla and MyLiveChat added.
12 Feb 2018 – Pricing change for LiveChat (news plans).
THE BEHIND THE SCENES OF THIS BLOG
This article has been written and researched following a precise methodology.
Our methodology