Shopify and Squarespace reviews are full of superlatives. They're the biggest, best-looking, most popular, fastest-growing website / online store builders around, etc…
In fact, it's amazing that both started as late as 2004, because these days, Shopify is publicly traded, employs around 7,000 people and claims almost $3B in revenue for 2020. Of course, Shopify benefited quite a lot from COVID-19 as everyone moved their businesses online. Shopify has always been an ecommerce-first company.
Squarespace, on the other hand, started out as a tool for bloggers and creatives. It took them until 2013 to launch their ecommerce feature. They also just went public in May 2021. The good thing about it is that we can finally look up their revenue numbers: for 2020 they reported a little more than $620m for their 1,000+ employees.
As you can see, the companies have very different backgrounds. And understanding their roots should already give you an idea of what they stand for.
Shopify vs Squarespace: What's the difference?
Shopify was always designed to build online stores. They offer powerful ecommerce feature, and their monthly plans range from $26 to $266. Squarespace was initially created to build blogs but added ecommerce in 2013. There are fewer ecommerce tools, but it is also cheaper, with plans ranging from $12 to $40.
Use the SmartFinder to find your personal recommendation!
Who Wins this Online Store Comparison? (Spoiler Alert)
Surprisingly, it's a close one. But Shopify just has more points for specific ecommerce features. You can jump to the conclusion to see why and check out alternatives, or read on below for the detailed breakdown.
Squarespace vs Shopify: Our video comparison
To try Shopify for free, click here: https://www.websitetooltester.com/out/shopify-youtube Squarespace can be trialed here: ...
Shopify vs Squarespace 2019: Where's the Best Home for Your Store?
2019-10-14T11:30:18.000Z
https://i.ytimg.com/vi/yin177qSrP4/default.jpg
> Try Shopify for free
> Sign up for Squarespace here
Round 1: Pricing – Which is Better Value?
Comparing the pricing between these two providers can be a bit of a challenge. But here's my attempt to compare them in a neat table:
For $18 a month
N/A
Business plan: Unlimited physical products.

3% Squarespace transaction fee.
Also around 2.9% + 30¢ per transaction (charged by Stripe / Paypal).
Free domain for a year

For $26 a month
Shopify Basic: Unlimited products. No free domain.

2.9% + 30¢ card fee with Shopify payments
Extra 2% gateway fee if you don't use it
Abandoned Cart Recovery
Customer Logins
Digital products
Print Shipping Labels
POS Integration

Online Store Basic: Removes Squarespace transaction fees.

2.9% + 30¢ per transaction
Free domain for a year
Customer Account
Checkout on your Domain
Instagram Integration
Digital products
POS Integration

For $40 a month
N/A
Online Store Advanced: full features.

No Squarespace transaction fee
2.9% + 30¢ per transaction (by Stripe / Paypal)
Free domain for a year
Sell Subscriptions
Abandoned Cart Recovery
Real-Time Carrier Shipping
Flexible Discounts
Gift Cards
Orders API

For $71 a month
Shopify (that's what the standard plan is called):

2.6% + 30¢ card fee with Shopify payments
Extra 1% gateway fee if you don't use it
Same features as above, plus gift cards and pro reports.

N/A
For $266 a month
Advanced Shopify:

2.49% + 30¢ card fee with Shopify payments
Extra 0.5% gateway fee if you don't use it.
Advanced report builder
Real-time carrier shipping

N/A
So a few things to note right off the bat:
Winner: Something for everyone here so it's a draw. Hard to decide looking at price alone, and for the features, you'll need a bit more research based on your needs.

Round 2: Ease of Use
Now for something easier to digest: both Squarespace and Shopify have great editors.

Shopify editor
The Shopify editor, in fact, is surprisingly easy to use considering the wide range of features they offer. It's also very fast (much faster than Squarespace's) and the structure just makes sense.
Squarespace editor
Squarespace might be slower, but it's also a lot more intuitive. You can design and populate pages with more freedom, and it's true WYSIWYG (what you see is what you get), whereas Shopify's editing areas don't actually look like the site.
Winner: It's close, but I'd give this round to Squarespace. However, if you are really after the easiest site editor, I'd throw in Wix as an alternative.

Round 3: Templates and Design flexibility
Shopify only lets you start with 10 free themes. They look good. But you can also find 60 paid themes, and external websites like Envato sell more of them. In my opinion, premium themes tend to look better, so you get what you pay for.
Free Shopify themes
Squarespace also lets you choose 10 templates in the ecommerce category, but they let you add an online store to any of their themes. Like with everything Squarespace, they look great, but be careful because they might not always be fully optimized for e-commerce. You can also add templates from external sources, but it will fall outside of the scope of Squarespace support (they are also pretty complicated to install). So it's up to you to weigh the risk / reward there.
Finally, you can customize your templates manually via HTML and CSS with both providers.
Winner: Shopify has more themes built specifically with online stores in mind. They get this point.

Round 4: Product Presentation
This is another round where Shopify takes the upper hand. You have zoom-effects for your product pictures, videos, and find add all kinds of external apps for photo and video galleries or customer reviews. They have even launched an Augmented Reality app recently that almost makes your product come alive.
Shopify's AR app
Squarespace is much more limited. You can only add images, and videos are weirdly hidden below the fold, in the 'read more' section.
Winner: As mentioned, Shopify wins this round too.

Round 5:  Product and Blog Import / Export
If you've already built content elsewhere, you might want to import it directly into Shopify or Squarespace. Both let you do it via CSV, which is nice and easy.
Squarespace also lets you import via different file formats like Shopify, Etsy and Big Cartel. However, I tried importing my Shopify store products to Squarespace, which just caused a bunch of errors. The regular CSV template import worked great, though.
Squarespace Importer
Note that you can also import blog posts to both platforms. Squarespace, which is great for blog, lets you bring in WordPress, Tumblr or Blogspot posts through their importer tool. With Shopify you'll need a paid app.
Winner: Even if they didn't all work great in my tests, Squarespace has more options and should get this point.

Round 6: Supported Payment Options
At this stage, you should have a presentable online store. So it's time to start accepting payments. This is how the two providers let you do it:
| | Shopify | Squarespace |
| --- | --- | --- |
| Paypal | Yes | Yes |
| Credit Card payments | Yes. No transaction fees through Shopify payments. Transaction fees for the hundreds of other gateways they support. | Stripe and PayPal only. In combination with Stripe it's also possible to activate Afterpay. |
| POS | Yes, through Shopify POS | Yes, via Square |
| Offline payments | Yes | No |
| Apple Pay | Yes | Yes |
| Google Pay | Yes | No |
| Other channels | Instagram, Facebook, Pinterest, Twitter or Amazon | Instagram, Facebook |
| Multiple currencies | Possible, but through a complex, non-supported HTML, CSS, JavaScript and Liquid hack. Not ideal. | No |
Winner: Shopify takes this point home due to the wider range of options.

Round 7: Shipping Cost Settings and Carrier Integration
Both Shopify and Squarespace let you define shipping zones around the world and add prices based on weight or order value. Both also offer label printing, although with Squarespace you have to go through a third-party service called Shipstation, whereas Shopify has their own label printing solution.
However, a good thing about Squarespace is that you get carrier calculated shipping rates in the Advanced Commerce plan ($40 / month). This is dirt cheap compared to the Advanced Shopify plan ($266 / month).

Squarespace's shipping options

Shopify also offers a whole range of shipping apps which may or may not be useful for you. Squarespace just has one additional integration: ShipBob, which is a fulfillment and inventory solution.
Winner: as they don't charge hundreds of dollars for their calculated shipping rates integration, Squarespace narrowly win this round. But for any advanced shipping options, the Shopify paid apps have got you covered.

Round 8: Tax Settings and Calculations
Shopify calculates US taxes automatically. For other parts of the world, you need a paid app like TaxJar ($19/month). Sellers of digital products can also offer tax exemption to customers from the EU (VAT MOSS scheme) via an external app (Exemptify, for example).
Squarespace doesn't offer any automatic tax settings, so you'll need to bring out the old calculator. However, you can also connect TaxJar to your store.
Winner: More out-of-the-box options with Shopify.

Round 9: SEO and Page Speed
Sometimes, building a great store isn't enough. You also need to draw traffic from Google, Bing, and others, which is done via search engine optimization (SEO).
In that regards, Shopify does everything right – with the exception of the strange URL structure. For instance, store products always appear under /products/. Blog articles are even worse as Shopify adds three words: https://yourstore.com/blogs/news/title. On the bright side, we found that Shopify stores load quite fast
Squarespace has recently improved its ability to completely customize page titles for product pages and blog posts. Adding alt-texts can be a bit overcomplicated but it's all doable.
You can also do 301-redirects with both Squarespace, but unfortunately, you won't be prompted to set one up automatically when changing a URL. And Shopify has a much smarter way of dealing with this:
Shopify prompts you to set up a 301 redirect
Finally, Squarespace's sites tend to load a bit slower than Shopify's. Especially on mobile phones, and which could hurt your SEO a bit.
Winner: both are pretty good for SEO, with minor issues on both camps. So it's a draw.

Round 10: Marketing Features
Squarespace offers a built-in newsletter tool called Campaigns. It's basic, easy to use and relatively inexpensive. They also offer an easy integration with Mailchimp. And if you are in the content marketing game, you'll certainly appreciate Squarespace's great blogging tool.
It's also very handy that there is a pop-up feature and an announcement bar.
Squarespace announcement bar
Shopify doesn't offer any of that. At least not out of the box. Fortunately there are plenty of free apps available. What they do offer in addition is an integrated functionality to run Facebook and Google Adword campaigns.
Winner: Squarespace has great built-in features, so this point goes to them. But if you want to explore more email marketing solutions, check out this blog post on EmailToolTester, which takes a close look at the best newsletter services with Shopify integrations.

Round 11: App Store
Squarespace launched the Extensions marketplace in December 2019. The selection is still very limited, however, they mainly focus on ecommerce integrations (shipping and accounting apps, for example). It will be interesting to see what else there is to come.
Shopify's, on the other hand, is one of the best ecommerce app stores around. It's like a features buffet, where you can pick and choose what you want from a variety of paid and free apps. You'll even find some of the best free apps are built by Shopify themselves, which should remove any worries about a lack of future support for the platform.
Winner: Shopify should almost get two extra points here because their app store is fantastic.

Round 12: Dropshipping
If you want to run a dropshipping store, there's only one choice. A query for "dropshipping" in Squarespace's help desk returns exactly zero results.
Squarespace's knowledge base
Quite the opposite with Shopify. They invested heavily in dropshipping by acquiring German company Oberlo, and have tons of possible apps and integrations to make it easy to dropship.
Winner: clearly Shopify. Note that if are planning to create your first dropshipping business, AliDropship for WooCommerce could be a great alternative.

Round 13: POS (Point of Sale)
Shopify is actually one of the leaders for combining offline / online payments, thanks to their hardware for card payments, inventory management, and even full retail POS systems. Just note that a POS plan is slightly different in terms of features and payment fees.
Squarespace also offers Point of Sale via Square (it got introduced in November 2019). The only real difference is that Shopify uses its own system, which isn't compatible with Square.
Round 14: Multilingual Stores
Neither are the perfect solutions for multilingual store setups. You can pretty much forget about Squarespace. While they have a workaround, it's not ideal for regular sites, and plain terrible for online stores.
Shopify does a much better job, letting you add extra languages to your store, and providing a handful of free themes with in-built language selectors (if this isn't available on your theme, it can be added with an app). It's an improvement on previous workarounds (which involved the use of either expensive themes or third-party apps), but is still not as seamless as it could be. That's because you still need to have a translation app enabled to be able to display translated content.
Winner: Shopify barely takes this one thanks to their paid (and expensive) app. But if running a store in multiple languages is your main goal, look at WooCommerce. You'll even be able to work in different currencies.

Round 15: Security
Both platforms are pretty secure by design. SSL comes with all the plans, and you can enable 2FA (2-factor authentication) to protect your accounts.
In fact, the big advantage of Shopify and Squarespace is that they are closed systems tightly controlled by their developers – unlike an open-source system like WooCommerce.
When it comes to protecting against fraud, Shopify has a system built into Shopify Payments. Since Squarespace doesn't have their own payment gateway, you will have to rely on Stripe (who still have years of experience with CC transactions).
Winner: Both do well here. One point each.

Round 16: Support
A short while ago we ran a pretty extensive support test with a number of website builders and online store platforms. Shopify was ranked #2 overall. Squarespace wasn't bad either, reaching #4 in our list.
In fact, both delivered good answers in a timely manner, and the support agents were easy to reach and helpful. The knowledge bases are also well written, and contain a good mix of tutorials, customer questions, and video how-tos.
Winner: Both providers offer great support, but Shopify takes the lead thanks to their phone support channel.
Side-by-Side Comparison
Now, let's do a direct comparison of Shopify and Squarespace: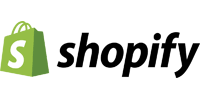 4.7/5

4.3/5
Choice and flexibility of templates
Confirmation emails customizable
FAQ
Chat
Email
Telephone
FAQ
Chat
Email
Telephone
The Bottom line: When to Choose Shopify or Squarespace
In all honesty, I'm surprised to see Squarespace did so well in this comparison. For a company that was mostly known for sleek blogs, they're really upped their game in terms of ecommerce features. Who knows what they'll be able to achieve in a few more years?
Still, Shopify is the undisputed king of e-commerce, simply because it's what they've done for so long, and what they do best.
Choose Squarespace: if you want an easy-to-manage and small store attached to a great-looking website or blog; you can't get Shopify Payments in your country and only deal with digital sales.
> Try Squarespace 14 days for free or read our detailed review.
Choose Shopify: if you are serious about ecommerce; you want a shop that will grow in size or expand globally; you want extra apps and features or build a dropshipping business.
> Try Shopify 14 days for free or read our detailed review.
But there are also other alternatives to consider:
Choose Wix: if you are looking for more design flexibility and ease of use
Choose WooCommerce: if you really need a multilingual shop (or you simply are in love with WordPress)
And don't forget that you can see a full side by side comparison of the best online store builders here. Still confused? Try our ecommerce starter guide, or don't hesitate to comment and ask questions below!
Latest updates:
07 Jul 2021 – General updates.
02 Jul 2021 – Multilingual feature update.
15 Oct 2020 – A few minor updates.
12 Dec 2019 – Squarespace Extensions launched.
13 Nov 2019 – Squarespace added their own POS solution.
14 Oct 2019 – Video review added.
04 Oct 2019 – SmartFinder added.