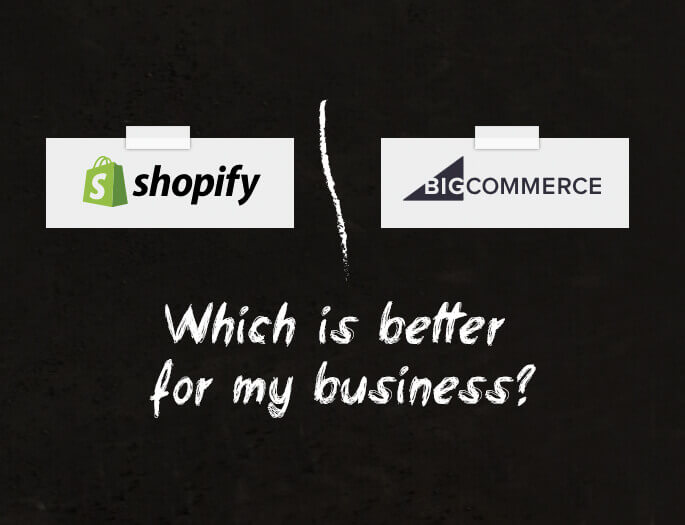 Ladies and Gentlemen, the gloves are off. Shopify and BigCommerce are both competing for the top spot as your next ecommerce platform, and they're not scared of fighting dirty. Just look at these two pages!
Shopify Vs BigCommerce (according to Shopify)
BigCommerce Vs Shopify (according to BigCommerce)
Not exactly objective / helpful, are they? Luckily for you, we've spent the last few weeks testing their offers so YOU can make an informed decision. We've also created a quick overview table so you can quickly jump to each round.
If you are more of a video person you can also just lean back and watch our video reviews:
Shopify Review
BigCommerce Review
You can try Bigcommerce here: http://www.websitetooltester.com/out/bigcommerce-youtube Read our detailed review about Bigcommerce here: ...
Bigcommerce Review: Let's explore this online store builder
2015-09-29T11:17:53.000Z
https://i.ytimg.com/vi/NIl6CQwAf6g/default.jpg
Now brace yourselves, this is going to be a long fight. Ding-a-ding!

Still unsure what's your best option? No problem – let's read on our in-depth comparison.
Round 1: Ease of Use
Both Shopify and BigCommerce (BC) pride themselves on being extremely easy to set up for new users. This is partly true, but remember there is actually quite a lot of information to fill in for an online store. This includes adding each product and variants, shipping fees, tax information and more. Which is why both platforms offer a number of tools to help you get started.
| | Shopify | BigCommerce |
| --- | --- | --- |
| Quick tour to help you get started |  No | Yes |
| Support documentation | Yes, (Tax Settings page for example) | Yes (SSL Overview for example). |
| Adding products and variations | Very easy | A few more clicks to make |
| Integration with external apps. | Yes – Quickbooks, Xero and Freshbooks are supported. |  Same |

Winner: A tough call. The only notable difference is that BigCommerce offers a bit more flexibility which also makes it a bit harder to use for beginners. So the winner is Shopify. Only because it takes less clicks to add products and set things up.
Round 2: Themes and Flexibility
Themes (or the templates that will dictate the way your online store looks), are one of the most important points to consider when choosing your platform. As you can imagine, we can't objectively decide which ones look the best, because this is purely based on your aesthetic preferences. But there are a few other things we can measure.
| | Shopify | BigCommerce |
| --- | --- | --- |
| Number of themes | 74 | 86 |
| Number of free themes | 10 | 12 |
| Industry categories | 6 | 12 |
| Premium themes price range | $140 – $180 | $170 – $235 |
| Themes general style | Modern / sleek | Traditional / professional |
| Customizable themes | Yes – you get a live editor to see what the changes with your actual content | Yes – change pictures, logos, fonts and has a similar live editor to Shopify's |
| Responsive themes | Yes – look good on every device | Yes – same |
| Customisable template files (HTML & CSS) | Yes | Yes |

Winner: Another tough call. But because it offers very modern designs and cheaper premium ones, we'll have to say Shopify. We also really like their live editor.

Round 3: Product presentation and features
After choosing your storefront, you'll have to fill it up with goods! As we mentioned earlier, BigCommerce offers more flexibility when it comes to tweaking your inventory, but is it enough to win this round?
| | Shopify | BigCommerce |
| --- | --- | --- |
| Product display options | Limited – you can add a title and description and not much more. | Complete control here – just tick the options in your dashboard to display product weight, price, brand, rating, category etc. You can also list items however you want (price, alphabetical, size…) |
| Product variation options | 3 variants only – for example, you can choose Size, Color & Material, but no more. | We stopped counting after enabling the 6th. Go crazy! |
| Product carousel | A smooth carousel with cool zoom feature – no video support |  Nice carousel with video support. |
| Store features | Limited – you can add more features thanks to 3rd party apps – but for example enabling a Wishlist option costs $10 / month | Several – wishlist, CAPTCHA, product comparison, search suggestions, bulk discount and more. |
| Enable product reviews | No – needs an external app. | Yes |

Winner: While some users may prefer the sleek way in which Shopify presents your products, the options are not really impressive. BigCommerce wins, by a long shot. Way more flexibility and options to maximize sales in your store.

Round 4: Payment Options
Now that you've got your store setup, it's time to sell! In an ideal world, people could just throw money at you in anyway they want, but there are a few logistical points to consider with an online store. Are any of those points make or break for you?
| | Shopify | BigCommerce |
| --- | --- | --- |
| Paypal | Yes | Yes |
| Credit Card payments via gateway processors (Authorize.net, Stripe etc…) | Yes – more than 80 gateways. Would be hard to find one missing. | Yes – 19 gateways. Still covers most credit cards. |
| Offline payment  (bank deposit, cash on delivery) | Yes | Yes |
| Apple Pay | Yes, with some gateways | Yes |
| PoS (Point of Sell) | You can use Shopify PoS to sell in person anywhere. | You can integrate Square PoS |
| Sell via Facebook / Twitter / Pinterest / Amazon | Yes | Yes |
| Sell on eBay | Yes but through a 3rd party app | Yes |
| Transaction fees | Yes – unless you use Shopify payments, which is not available everywhere | No |
| Support multiple currencies | You can, but you need to integrate them yourselves via code – doesn't look super easy | Yes – even offers automatic exchange rate |

Winner: We'll have to say both solutions offer far more than enough ways to process payments online and offline. But Shopify loses points because of its transaction fees and a complicated multiple currency integration. So BigCommerce wins this one!

Round 5: Customer Logins and Checkout Options
Letting your customers log-in to buy your products can be a double-edged sword. On the one hand, it gives you access to more data, but on the other, it can turn some people off. This is where we see how the two platforms let you manage your customers.
| | Shopify | BigCommerce |
| --- | --- | --- |
| No customer account needed (disabled) | Yes | Yes |
| Must sign-in to buy (mandatory) | Yes | Yes |
| Can sign in to buy (optional) | Yes | Yes |
| Manual add customers | Yes | Yes |
| Import customer lists via CSV | Yes | Yes |
| Export customer lists via CSV | Yes | Yes |
| Offering customers store credit | Yes (but requires a paid app) | Yes |

Winner: Ooh that's going to have to be a tie. Shopify is slightly easier to use, but BigCommerce has two cool extra options (offering store credit and exporting your customer lists).

Round 6: Shopping Cost Settings and Carrier Integration
Shipping is one of those areas that can quickly become a logistical nightmare for small online store owners. So you'd be happy to learn that both platforms are super helpful when it comes to letting you manage it, as you can see in the table below.
| | Shopify | BigCommerce |
| --- | --- | --- |
| Free shipping, flat rate, ship by weight | Yes | Yes |
| Real-time shipping quotes from FedEx, USPS and UPS | Yes | Yes |
| Create shipping rules per US state and world zone | Yes | Yes |
| Let users know their geographical zone is not supported | Yes | Yes |
| Print and buy shipping labels | Yes – USPS and Canada Post – more via apps | Yes – USPS is native. You can also use the ShipStation app to print for Canada Post, DHL, FedEx and UPS at a discount rate. (this is free for 50 labels a month, you have to pay for extra) |
| Dropshipping | Shopify's app Oberlo is excellent for dropshipping and connects with several providers. | You can use external apps to connect with several dropshipping providers – some apps work better than others. |

Winner: If dropshipping is an integral part of your business, then Shopify has a smarter system. But this is a very close call!

Round 7: Tax Settings
Online store taxes can be a minefield. Especially if you are shipping to different areas around the world, and using different tax rates for your products. Luckily both platforms give you great flexibility when it comes to managing them, which will make accounting easier in the long term.
| | Shopify | BigCommerce |
| --- | --- | --- |
| Show or hide taxes on products | Yes | Yes |
| Show or hide taxes on shopping carts and invoices | Yes – but you need to tweak the HTML to do it | Yes |
| Create tax per regions | Yes – you need to do it via your shipping settings | Yes – easy to create tax rates and tax zones per country, state or world region |
| Create tax classes depending on your product (e.g. non-taxable, VAT or gift wrapping) | No | Yes |
| Advanced tax calculation | Via 3rd party app | Same – although if you already have a premium Avalara account, BC integrates it easily and for free. |

Winner: Here again, Shopify wins us over with its simple menus and options. But BigCommerce has more features and options.

Round 8: Multilingual Capabilities
Expanding your sales to global markets can make a huge difference to your business. Turns out, it's not as easy to do as you would think, whether it is with Shopify or BigCommerce.
| | Shopify | BigCommerce |
| --- | --- | --- |
| Multilingual themes | All of Shopify's free themes allow for multilingual stores. Some also have in-built language selectors. But themes can be updated to include these features, and you can also purchase a multilingual theme. | No – you have to manually translate your website and edit the code to display numerous languages. This will cost you a lot in developer fees, unless you can do it yourself. |
| Multilingual apps | You'll need one to be able to display translations. There are some free ones although we can't speak to their quality. Otherwise, the Langify app costs $17.50 a month | No |
| Add Google translation | You can enable the Google translate widget, but it is a tricky task – might need to hire a developer to do it | Yes – you can do it via your BigCommerce control panel |

Winner: While it isn't perfect (and the fact that you still have to use a third-party app is downright annoying), Shopify's native provision for multilingual stores makes it a much better choice in this category.  (Also remember that if multilingual stores are a must, you also have a 3rd option with WordPress and WooCommerce)

Round 9: SSL
A simple round to see if you can offer secure pages to your customers. Remember it is also a sign of trust!
| | Shopify | BigCommerce |
| --- | --- | --- |
| SSL for secure Pages | Yes | Yes, using the BigCommerce shared SSL certificate |
| SSL for whole website | Yes and yes! | Yes |

Winner: Both tools offer the same. You'll get a complete SSL-ed store out of the box with both BigCommerce and Shopify.

Round 10: SEO Capabilities
Here is your chance to rank at the top of the search engines' result pages and sell more more more! Each of the sections below are useful for SEO.
| | Shopify | BigCommerce |
| --- | --- | --- |
| Customize your page title | Yes | Yes – for all pages except blog posts where BigCommerce automatically uses the title of your main header and your store name |
| Customize description | Yes | Yes |
| Customize URLs | Yes – but Shopify adds extra terms to the URL such as /products/ or /collections/. There is no way to remove them. | Yes – fully customizable |
| Modify existing URL | Yes – you have a tick box to enable an automatic URL redirect | Yes – same as Shopify |
| Customize headings, alt text and 301 redirects | Yes | Yes |
| Modify the robots.txt | Yes | Yes – through a form in your dashboard |
| Modify search engine instructions | Yes | Yes |
| Integrate with Google Analytics | Yes | Yes |
| Integrate with Facebook Pixel ID | Yes | Yes |
| Sitemap | Find it under yourdomain.com/sitemap.xml | Find it under the "Server section" |

Winner: The fact that Shopify automatically structures your pages' URL and doesn't let you tweak the robots.txt really lets it down in this round (Shopify SEO guide) – another point for BigCommerce! (BigCommerce guide)

Round 11: Pagespeed
Pagespeed could have gone under the SEO section because it is an important metric that search engines use for ranking. But it is also a crucial point for your customers when every second counts for that next sale! We created two test shops and below you will find the performance results we got when testing page speed and uptime.
Shopify

BigCommerce

GT Metrix Test Score

Loading time: 1 s

PageSpeed Insights: 85%

Yslow score: 91%

Loading time: 1.5 s

PageSpeed Insights: 82%

Yslow score: 84%

Webpagetest.org

 Loading time: 1.6 s

Loading time: 2.3 s

Pingdom Test

 Loading time: 323 ms

Performance grade C (75)

Loading time: 989 ms

Performance grade B (82)

CDN
Enabled on all accounts
Same

Winner: This boxing match has now turned into a race to the finish, and it looks like Shopify wins by a split hair! Please note that these tests are not always 100% accurate, so no reason to discard BigCommerce based on pagespeed alone.

Round 12: Support
Setting up a shopping cart can be daunting, especially if it is your first one. Luckily both Shopify and BigCommerce offer excellent customer support, whether you are in the process of building your website, tweaking it or trying to increase its reach through extra resources.
| | Shopify | BigCommerce |
| --- | --- | --- |
| 24/7 Support | Yes – phone, email and live chat | Same |
| Written tutorials | Yes – they are very good | Same |
| Community forums | Yes – Shopify has a big community so a lot of questions are already answered there | Yes – it was given a complete overhaul last year so it's not as full as Shopify's yet |
| Extra resources | Shopify's marketing blog is an excellent source of ideas and techniques | The community mentioned above offers advice about all kinds of topics including marketing. We're also big fans of the support links they provide when you are editing your website. |
Winner: This is going to have to be a tie. On paper, both platforms offer excellent support and claim you will rarely have to wait more than 5 mins to speak to a staff member. However, we found that their email response time varies from time to time so we should take these claims with a pinch of salt.

Round 13: Market Place
Both BigCommerce and Shopify pride themselves on their "app stores", where you can purchase additional features to get the most from your online store. While you may be cynical and believe this is just another avenue for money-grabbing, we have to say that a lot of excellent apps are completely free. In any case, you should be able to find pretty much anything you want there.
| | Shopify | BigCommerce |
| --- | --- | --- |
| 3rd party apps | More than 1500 apps, 597 of them are free | Around 360 – 104 free apps |
| Apps scope | Everything you can think of: marketing, sales, social media, shipping etc… | Same, you can even create loyalty programs, live chats and more… |

Winner: So here again it looks like both app stores have got you covered. However, Shopify stands out because of its bigger community of developers.

Round 14: Prices
And here we are: the last and final round. You may think it's as straightforward as choosing a price plan, but remember that there are always extra fees, especially when you are in the business of making money online. Hopefully, this last table should give you all the info you need to pick the price plan that's best suited to your needs.
| | Shopify | BigCommerce |
| --- | --- | --- |
| Lite version | $9 / month – allows you to add products to your existing website or blog, accept card payments and sell on Facebook | N/A |
| Entry price plan (paid yearly) | $26 / month | $29.95 / month |
| Medium price plan (paid yearly) | $71 / month | $71.95 / month |
| Pro price plan (paid yearly) | $266 / month | $269.96 / month |
| Transaction fees | 2.7 – 2-9% + 20 cents per transaction. No fees if you use Shopify payments, only available in US, UK, Ireland, Puerto Rico, Canada and Australia | None |
| Sales threshold (when exceeding it you need a higher plan) | None | $50K – $180K and up to $400k depending on price plan |
| Staff accounts | 2, 5 or 15 depending on price plan | Unlimited |
| Freebies (in every plan except Lite) | Manual order creation, discount codes and free SSL certificate. Unlimited storage, bandwidth and products. | Shipping label discounts, coupons, discounts and gift cards, real-time shipping quotes, professional reporting tools, product ratings and reviews, Apple Pay. Unlimited storage, bandwidth and products. |
| Pay extra for these features | Real-time carrier shipping is only available in the $79 / month plan | Abandoned cart-saver only available from $79.95 / month onwards |
| Free Trial – no credit card required | 14 days | 14 days |

Winner: Their prices look really similar. Since we're showing the discounted rate for yearly contracts you'll notice that BigCommerce's entry plan is a few dollars more expensive than Shopify's Basic plan (if you pay 'month by month' it's the same price).
What's most important with BigCommerce is that you will never be charged additional transaction fees. Where they are special is with their sales thresholds: the more you sell, the higher they bump you up in their pricing tiers. That makes BigCommerce a bad choice for low-margin, high-volume products. All in all this round is a tie as we can see good (and not so good) use-cases for both products.
Our Side-by-Side Comparison
Now, let's take a real deep look inside Shopify and BigCommerce. Check out the direct comparison: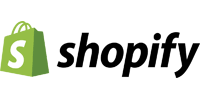 4.7/5
4.6/5
Choice and flexibility of templates
Confirmation emails customizable
FAQ
Chat
Email
Telephone
FAQ
Chat
Email
Telephone
BigCommerce vs Shopify: Our Conclusion
So here we are ladies and gentlemen! Not quite the knockout we expected, as Shopify takes a small lead by 11 points to 10. But hey, we know these points are just arbitrary and they shouldn't be the reason you choose one over the other. Everyone's online business needs are different, so whaddayasay we sum it up in one last table?
Shopify
BigCommerce
Better for

Dropshipping
App market
Creating blog posts and landing pages
Ease of use
More payment gateways

SEO
Product reviews
Entry plan features
Customization options
No transaction fees

Not so good for

Transaction fees
Product reviews

Multilingual sites
Sales thresholds
So there you have it! Hopefully this should be a good start on your journey to becoming an online store millionaire.
But remember that the best way to get a feel for the platform is to try them yourself. As we mentioned, both Shopify and BigCommerce offer a great 14 days no-credit-card-required trial, so knock yourself out!
Latest updates:
02 Jul 2021: Multilingual feature update + introduction of editable robots.txt file
04 Nov 2020: Pricing updates
10 Apr 2019: New Shopify video review added.
20 Nov 2018: Information about dropshipping added.
26 Oct 2018: Side by side comparison added.