Bluehost Review (2023)
Is It Really The Best Choice for Your Site?
Bluehost is part of a massive corporation, Endurance International Group (EiG), which owns various web hosting providers (e.g. HostGator or iPage) and has a colossal market share.
They obviously have the financial muscle to pour millions into marketing. That probably accounts for the huge amount of (overly) positive Bluehost web hosting reviews online.
I read several of those reviews and most talk about their fabulous customer support (really?), good prices and scalability options. But in those reviews, there's very little about their actual flaws.
Hey, even WordPress recommends Bluehost.
But does this mean that Bluehost is a reliable service and a good match for your project?
Check out this Bluehost video-review if you don't feel like reading the whole article:
Let's look around under Bluehost's hood and intensively test their (shared) web hosting.
What Products Does Bluehost Offer?
This US-based web hosting provider offers loads of different hosting-related products, from domain names to dedicated servers. Let me quickly go over their large catalogue.
These are the most important hosting related products that Bluehost offers. I was surprised to see that they don't have cloud hosting services.
Note: This Bluehost review focuses on their shared hosting services, so from now on I'll be sharing my own experience and knowledge about this Bluehost product. Read more about the other products in our Bluehost pricing page.
Bluehost Pricing
Price Increases on Renewal
The prices above are what you will pay (per month) after the initial introductory offers ends.
Almost all web hosting providers offer discounted introductory prices, which will then revert to the regular price when you renew your plan after a year.
You can see in the chart below how each of the most basic shared plans of various web hosts increase in price after a year.
As you can see, Bluehost offers a particularly low initial price, with a particularly big percentage increase on renewal.
When you're trying to decide between different web hosts, it's really important that you compare these renewal prices rather than the introductory prices, as it's the renewal price that you'll be paying from then on.
What Do Their Shared Plans Include?
You can compare the different features of the four different shared hosting plans in the table below. Note that you will get exactly the same features if you opt for the (non-managed) WordPress option on the Bluehost website.
Basic
Plus
Choice Plus
Pro
Websites
1 website
Unlimited
Unlimited
Unlimited
Allowed subdomains
25
Unlimited
Unlimited
Unlimited
Customer Support
Phone and live chat
Phone and live chat
Phone and live chat
Phone and live chat
CPU Performance
Standard
Standard
Standard
Optimized
Max. files amount
200,000
200,000
200,000
300,000
Storage
10 GB
20 GB
40 GB
100 GB
Email accounts

Email storage

5

100 MB

Unlimited

Unlimited

Unlimited

Unlimited

Unlimited

Unlimited

Databases

Max. DB size

20

5 GB

Unlimited

5 GB

Unlimited

5 GB

Unlimited

5 GB

Max. concurrent MySQL connections
150
150
150
150
Backup
Basic
Basic
Advanced *

(for 1 year)

Advanced *
Dedicated IP
No
No
No
Yes
First-term prices
$2.95/month
$3.95/month
$4.45/month
$9.95/month
Renewal price
$9.99/month
$14.99/month
$18.99/month
$28.99/month
* Integrated system that lets you create and restore your own backups.
The Basic plan is good if you are only going to have 1 website and 10 GB of storage is enough for your project. It also has a limitation on the subdomains you can have, and the databases you can create.
With the Plus plan, you can have as many websites as you need and double the storage of the Basic plan.
If you get the Choice Plus package, you'll be awarded with all the Plus features, plus free domain privacy and better backup options (for 1 year). It doesn't really warrant the much higher price compared to the standard Plus plan.
The Pro tier is suitable for those looking for higher performances. The maximum files you can host with this plan jumps from 200,000 to 300,000. It also has permanent advanced backup options.
For more information about Bluehost's products and prices, please check our guide to Bluehost pricing.
Bluehost Pros & Cons
Pros
The first term is cheap

But be aware of the renewal rates, they are high.

OK uptime

Generally speaking, my uptime tests with Bluehost have been reasonable. But unlike other providers, they don't offer an SLA (Service Level Agreement) that guarantees a minimum uptime.

Unmetered bandwidth

Bluehost won't limit the traffic that your website(s) can get.
When to Use Bluehost Web Hosting?
If you are looking to host a small-medium project (e.g. a bakery site) and you won't be getting tons of traffic, Bluehost can be an OK option.
But being 100% honest, I think there are similar alternatives with better prices.
When to Avoid Bluehost Web Hosting?
If you are managing a project that depends on your website, and you need the best performance, Bluehost isn't for you. Check out the most reliable and fastest web hosts to help you choose a better cheap web hosting provider if you own an ecommerce business, are a thriving blogger or provide Software as a Service.
Bluehost shared hosting won't be for those looking for advanced hosting features like staging areas or Git repositories either.
Bluehost Shared Web Hosting Ratings
Bluehost Performance Tests
Is Bluehost a slow web provider? Is their uptime OK?
To be able to answer all these questions, I've closely monitored Bluehost's speed and uptime for months. Let me show you my findings…
Bluehost Speed Test
As a website owner, I don't have to tell you how important speed is for providing the best user experience and improving your search engine rankings.
I compared Bluehost's speed to the most popular (shared hosting) competitors to find the fastest web host. I used GTmetrix, Pingdom and Webpagetest to check their loading times.
You can see how they fared in 2022 in the chart below: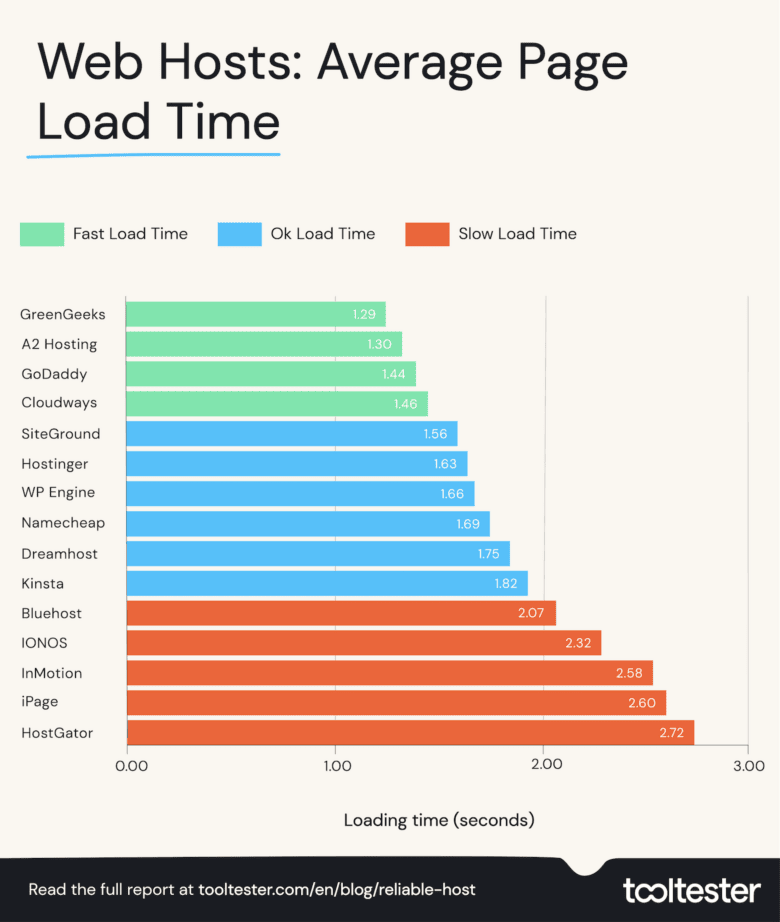 Bluehost didn't perform so well in 2022, compared to the other web hosts, with an average page loading time that is longer than 2 seconds. It also performed quite poorly in 2020 and 2021:
These tests were carried out under the same circumstances (e.g. same page and content).
As you can see, Bluehost isn't top of the class when it comes to speed. In fact, they are towards the bottom of the class!
There are things you can do yourself to fix a slow website and even make WordPress faster, but it's difficult to make significant progress if your web host is slow.
So, if you are concerned about speed, SiteGround and A2 Hosting are, in my experience, much better performing providers.
In the chart below, you can compare the speed and prices of different web hosting providers.
As you can see, Bluehost isn't good value for money when it comes to speed.
Bluehost Uptime Test
Believe it or not, your web hosting service (most likely) won't have a 100% uptime. Due to technical reasons (e.g. server maintenance), your site will be down for (hopefully) short instances of time.
A bad uptime is terrible as your visitors and search engines won't be able to reach your site. Your goal should be to have an uptime higher than 99.95%.
In our 2022 web host reliability and speed tests, Bluehost's reliability was OK but certainly not great:
And this marks a downturn in reliability, because they performed much better in the previous two years:
To monitor uptime I use StatusCake, a tool that checks each website every 5 minutes.
And be aware that they don't offer any uptime warranty! Other hosting providers will compensate you (e.g. a free month) if their global uptime drops below certain levels (usually 99.9%).
Bluehost Review: Do I Recommend It?
You've probably noticed already that Bluehost is not my favorite provider. However, if you want a hosting service with unmetered storage and unlimited bandwidth, Bluehost could be a suitable option.
As you can see in the above tests, their speed wasn't the best. However, I was impressed with their uptime scores as they got similar results to top providers like SiteGround and DreamHost (compare it with Bluehost).
Their (first-year) pricing is remarkably cheap, but please consider the renewal prices as these sky-rocket.
> Try Bluehost 30 days for free or read out gudie to the very best web hosting providers we've tested!
Bluehost Alternatives
Alright, if you go with Bluehost, your site is probably going to be OK, at least if your visitors are mainly located in North America.
However, it's not the cheapest option out there, and I think for the same money you could get better performing web hosts that come with advanced options.
A2 Hosting
A2 Hosting is much faster and more reliable (in terms of uptime) than Bluehost. Their shared plans also come with more features.
For example, on their cheapest shared hosting plan, you get 10 times as much storage, 4 (rather than 1) worldwide data center locations, unlimited (rather than 5) email addresses, a staging area for testing, better backup options, plus loads more.
A2 Hosting also performed much better than Bluehost when we tested the customer service of the different hosting providers. In fact, it was one of the best performers for customer service.
All this and it's only slightly more expensive than Bluehost on renewal. I genuinely can't think of any reason to choose Bluehost over A2 Hosting. Read our full A2 Hosting review.
GreenGeeks
GreenGeeks is also much faster and more reliable than Bluehost. In fact, GreenGeeks was the fastest web host we tested in 2022! And like A2 Hosting, it also comes with more features than Bluehost.
On their cheapest shared hosting plan, these include 5 times as much storage and 50 (rather than 5) email addresses. You won't be able to send as many emails an hour as with Bluehost (100 vs 500). But you do get the satisfaction of knowing you're doing your bit to protect the environment.
And better customer support according to our tests!
GreenGeeks is slightly more expensive than Bluehost on renewal (although slightly cheaper than A2 Hosting). But again, I think GreenGeeks will be a much better choice than Bluehost for most people. Read our full GreenGeeks review.
Dreamhost
Unlike A2 Hosting and GreenGeeks, Dreamhost is actually quite a bit cheaper than Bluehost on renewal.
On their cheapest plan, you'll also get 5 times as much storage, automatic daily backups, decent customer support and a 97 money-back guarantee! You won't get as many subdomains (5 vs 25), and you'll have to pay extra for email addresses, though.
In terms of performance, Dreamhost has been faster than Bluehost for the last years. And it has always had better uptime until 2022 when it took a bit of a nosedive and showed a poor level of reliability.
However, if you're looking for a cheaper alternative to Bluehost then I would definitely recommend considering Dreamhost. Read our full Dreamhost review.
> But, if you still want to use Bluehost, remember that you can try Bluehost for free for 30 days
Note: I've created a Bluehost vs HostGator comparison so you know which EiG product is better for your project.
We keep our content up to date
29 Nov 2022: Facts checked, 2022 performance tests added, alternatives changed
17 Sep 2021: Bluehost reviews fact-checked
17 Sep 2021: Performance and General update. New rating.
23 Oct 2020: General and performance update
02 Jun 2020: Video review added
05 Sep 2019: New dashboard
27 Jun 2019: First review
THE BEHIND THE SCENES OF THIS REVIEW
This article has been written and researched following a precise methodology.
Our methodology