You know how when you gamble in casinos the house always wins?
In the world of web hosting, it seems like no matter which provider you choose, it's always EIG who makes a profit – even with this Bluehost Vs Hostgator dilemma.
Let me explain: EIG (Endurance International Group) is a massive corporation that owns over 60 web hosting brands, including the major players like iPage, FastDomain and HostMonster.
EIG's specialty is acquiring web hosting services, sometimes at record-breaking prices. When HostGator became popular around 2012, EIG just cut them a deal for $225M – paid in cash!
But is there some benefit for you, the consumer, in having more choice of EIG products? Let's see by pitting two of their subbrands together.
Bluehost Vs HostGator Summary Table
About Bluehost
Bluehost is big and old. Like, two million domains big, and 20+ years old. It was acquired by the aforementioned EIG in 2011, and the brand benefits from their parent company's considerable marketing power.
A few years ago, Bluehost was one of the only hosting providers to offer a one-click WordPress installation. I don't know if that's why WordPress still recommends them, or if there's something more nefarious at play here.
In any case, our full review of Bluehost is here if you want more info.
About HostGator
The name Gator in HostGator, probably refers to the fact that its founder, Brent Oxley, was studying in Florida when he launched the service. The company has since moved its headquarters to Houston, Texas, after a decade of furious growth.
As previously mentioned, it joined the EIG family in 2012, and they continue to offer a wide range of web hosting services, which we'll examine in detail below. To their credit, they claim to invest in renewable energies to offset their server emissions, something they call Green Web Hosting.
And the full HostGator review is here.
Who is The Most Popular Hosting Provider?
Interestingly, it looks like both provider's popularity has been on the wane for a few years. But Bluehost is still a lot more famous than its EIG cousin.
Bluehost Vs HostGator: Tell Me Who's the Best Already
Both Bluehost and HostGator are owned by the same parent company. Their features, prices and ease of use are similar. The HostGator entry plan offers unlimited storage and bandwidth, while Bluehost limits storage at 50GB. Overall HostGator offers a more reliable service.
Ease of Use
Both Hostgator and Bluehost are pretty even at first. Signing up with both providers is akin to buying low-cost airline plane tickets. It's confusing by design. You have to keep an eye on all the add-ons, or you'll end up with things you don't need.
Once you're past that hurdle, both systems offer an intuitive way to manage your hosting account. I would not be able to pick one over the other.
Winner: I think both are equally easy to use and annoying with the upgrades.
Storage and Bandwidth
One of the big promises of HostGator is its unlimited storage options. It holds true. All their plans come with unlimited storage, databases, and unmetered bandwidth. There's no limit to the amount of traffic you'll get, which can give real peace of mind if you want to scale your site in the future.
Bluehost is generous, but you have to be careful. The basic plan gives you a decent 50GB and 20 databases and higher plans are unlimited on both counts. Bandwidth is unmetered on all plans too.
| | HostGator | Bluehost |
| --- | --- | --- |
| Entry-level plan storage | Unlimited | 50GB |
| Middle plan storage | Unlimited | Unlimited |
| Higher plan storage | Unlimited | Unlimited |
One thing to note, however, is that hosting providers also measure something called inodes. It's equivalent to the number of files and folders you have on your hosting account. And having too many of them can affect your account. With HostGator and Bluehost, you're allowed a maximum of 200,000.
If you cross that, you'll be in violation of their terms and conditions, and it's not clear exactly what would happen – you'll most likely be forced to upgrade or lower your inodes count.
Winner: Another point for HostGator – but Bluehost isn't too bad for most users.
Domains, Subdomains & Parked Domains
Bluehost offers a free domain for a year with all their plans. After that, it's $17.99 a year (expensive). You do get unlimited parked domains and subdomains, unless you're on the lower entry plan, where it's set at 5 and 25 respectively.
With HostGator, also a free domain for the first year – and buying them through their service is just as pricey. A standard .com site costs $12.95 the first year, and $17.99 after that. Still, you can add unlimited subdomains with all the plans, and unlimited domains with the higher plans. The entry plan is designed for one site (domain) only.
Winner: A tie. But you should probably try Namecheap if you are looking for an affordable (and reliable) domain name registrar.
Managing Emails and Email Accounts
Bluehost has more limitations in place with their email feature. You get 5 accounts and a measly 100MB of storage with the basic plan. Higher plans offer unlimited accounts, but you can't send more than 500 emails per hour – not great for newsletters.
HostGator once again gives you unlimited on all plans. But they have the same 500 emails/hour limitation in place.
Note: Check these alternatives if you are looking to send email marketing campaigns.
Winner: HostGator and Bluehost, both are pretty generous with the email accounts/storage.

Security – How Am I Protected?
Both providers offer SSL, HTTP/2 and 2-factor authentication, which are recommended for running your site with higher security. Apparently, HostGator also has a custom firewall (to protect from DDoS attacks), but it isn't something you can test easily.
Bluehost also has extra security features (as paid add-ons) like SiteLock and CodeGuard, which gives you more backup options. And guess what: HostGator is also ready to sell you extra security add-ons like SiteLock too. It costs from $2 to around $40 a month depending on your needs.
Winner: Another tie, as both offer what you'd expect to prevent your site from falling into the wrong hands.
Backups – How to Restore your Site
This is where I'd be careful, and I speak from experience. Neither provider has great backup and restore features out of the box, so you might want to keep an eye on your files yourself or use an external solution (e.g. a backup plugin if you are a WordPress user).
With HostGator, it's backed up once a week, and only if your account is less than 20GB (100,000 inodes). They only keep one backup at a time – for me this is unacceptable. They offer a paid add-on at around $30 a year to have some more backup options.
But Bluehost will force you to buy their backup and restore add-on (starts at $3 a month) with the 2 lower plans – this feature is included with the higher tiers.
I have the feeling that both offer very limited backup options so you end up buying extra add-ons. It's an artificial way to increase your hosting price.
Winner: Both are pretty poor here, but HostGator is the lesser of two evils. If you'd like a hosting provider that includes more backup options out-of-the-box, I'd encourage you to check SiteGround – compare it to HostGator.
FTP & SFTP Accounts
HostGator continues with the unlimited trend by giving you as many FTP accounts as you want. SFTP is available.
You also get unlimited FTP accounts with Bluehost, but only one SFTP on your main account, you won't be able to create additional SFTP accounts. For most people, it's enough.
Winner: both are good here.
WordPress Integration
As mentioned above, WordPress still recommends Bluehost as a provider. You do get an easy one-click install and a dedicated hosting plan. The same goes for HostGator. Both claim to have engineered a WordPress-specific architecture that will make your CMS or blog run at blazing speeds.
However, both fall short when it comes to managing your WordPress site. Neither have a 1-click staging or advanced caching options built-in.
It's kind of crazy to me, because it means they're actually underperforming compared to other, non-WordPress recommended providers. For instance, SiteGround or A2 Hosting provide built-in WordPress solutions to optimize your work, such as staging areas or specific WordPress speed optimization plugins.
Winner: another tie. But it's still strange to me that WordPress recommends Bluehost, because Siteground, for instance, has more advanced features.
Speed and Uptime – A.K.A Good Old Reliability
Bluehost is secretive about the locations of their server. However, the consensus is that they own 20+ data centers in the US, China, India and Europe. They all operate at a high certification tier (Tier 3), assuring you a 99.9%+ uptime per year.
HostGator has a more reliable Tier 4 certification for its servers (also 99.9% uptime), which are located in Texas and Utah. Great news if you and your visitors are in the US, but no so much for the rest of the world.
Bluehost pre-integrates Cloudflare so you can enable this CDN (Content Delivery Network) at once – some CloudFlare services are paid separately. With HostGator, you could also enable a CDN, but there's not a pre-integration built so you'll need to manually configure it.
Now I have to say that it all looks good on paper. Except…
My own speed and uptime tests have uncovered some worrying stats for both Bluehost and HostGator.
In the chart below you see the fastest (and slowest) web hosts in 2022: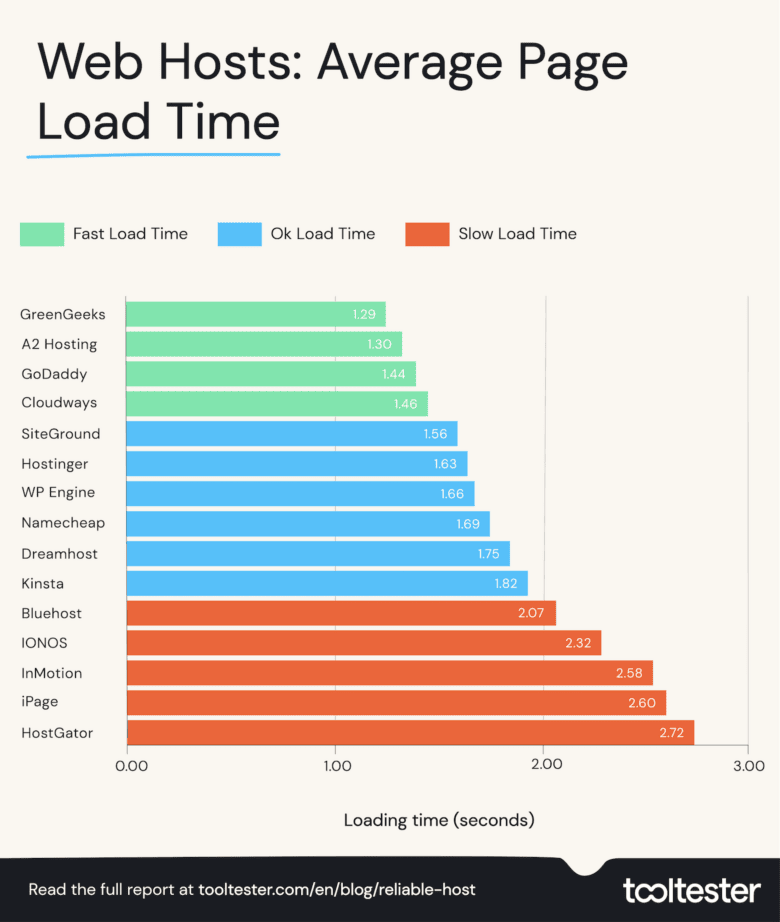 When measuring the website speed from a variety of locations over several months, our Bluehost site took an average 2.07 seconds to load, putting it in the bottom half of the results, while Hostgator languished in last place on 2.72 seconds.
So both web hosts were slow. With Hotgator particularly slow.
Unfortunately for both web hosts, this was not a one off. As you can see in the table below, for the last three years Bluehost and HostGator have been consistently slow comapred to the other providers.
In the chart below you can see the mot reliable (and least reliable) web hosts, in term of uptime, in our 2022 tests:
Both Bluehost (99.95%) and HostGator (99.98%) had OK uptime levels in 2022, so I have no real complaints here.
And as the table below shows, they've also performed quite well over the last three years:
Therefore, some hosting-dependant projects like online stores, digital agencies or avid bloggers may find that HostGator's and Bluehost's uptime rates are solid. However, neither were close to being the fastest web host in our tests.
Winner: Both are hard to recommend for different reasons, so probably a tie. Both have good uptime rates, but the speed should be much better. Read our website load time statistics study to find out why speed is such an important consideration here.

Site Migration – How Easily Can I Move In or Out
Migrating a website is no easy feat, and EIG companies tend to be particularly difficult with the process. Bluehost keeps true to the tradition, by not offering the service at all… except if you pay $150 (5 sites and 20 email accounts)
HostGator is a pleasant surprise here, as they offer to migrate all your website files, including databases, scripts, and one domain registration. This is all available for 30 days after you sign up or upgrade your account.
Note: Be aware that I've never actually used this service as I've been always able to migrate my own websites, so I can't vouch for its quality.
Winner: $150 vs $0? I'll pick HostGator thank you very much.

Scalability – Will They Help Me Grow?
As we've seen so far, the Bluehost entry-level offer lacks a lot of features compared to HostGator's basic plan. But what happens when you want to grow you website and business?
As a short disclaimer: I've never actually tested the dedicated, VPS and cloud hosting solutions from either providers So I'll have to rely on their claimed features to call this round.
VPS Hosting
If you are a high-traffic website or need a custom server setup, you might want to move away from shared hosting plans and look at a VPS (Virtual Private Server). With Bluehost, it starts at $30 per month. The storage is on SSD disks (faster) and you get more dedicated processing power.
HostGator is almost three times more expensive, starting at $80 a month. You can increase storage or RAM in one click, which is good for managing traffic peaks. The bandwidth is unmetered.
Dedicated Servers
If your business is more in the enterprise category, dedicated servers might be more suitable. It starts at $125 a month with Bluehost, and $190 with HostGator.
Reseller plans
Are you a web developer or agency owner who wants to bundle web hosting with your services? You could also make a profit from the hosting by reselling it yourself. It starts at $19.99 per month with both providers. 
Winner: based on prices alone, it looks like Bluehost wins this whole round.
Advanced Features – For Geeks Only
For the techy ones out there, here's what Bluehost and HostGator offer (or don't).
Malware Scans
This is an extra security feature worth running every now and then. With both providers it's done through the SiteLock feature, it runs automatically and notifies you if something looks fishy. This is a paid service, around $2 a month.
Databases
Both providers let you create SQL databases. They're completely unlimited in size and number with HostGator.
Bluehost lets you build 20 of 3GB each with the entry plan, and you get an unlimited amount of 5GB databases after that.
Git Repos
If you want to take control of different website versions, you can use Git, a developer favorite. Integration with Bluehost and HostGator is possible, but it's not exactly a one-click kind of deal.
Dedicated IPs
Having a dedicated IP means you can use it as your website's domain address, install special scripts, and generally gives you more control. HostGator lets you do it on all plans except the entry-level one.
Bluehost, and it comes as no surprise, gives you the privilege of paying for a dedicated IP.
Winner: Neither are particularly impressive in the advanced features department. Glaring omissions in my book are:
Speed optimization: server-side caching is a good way to improve your website speed – but you can't do it with either
Staging areas: hard to believe neither providers let you work on a staging area.
So it's a tie. Providers like SiteGround are much better if you want more control over advanced features.

Support – A Notorious EIG Shortcoming
In their respective reviews, both Bluehost and HostGator got a big red mark in the support section. It's bad. While you have numerous channels to contact them (e.g. phone, live chat), the agents are slow to answer and not particularly useful. My guess is that it's the same support team for all EIG products, and they must be completely overwhelmed.
Both Bluehost and HostGator offer an extensive knowledge base with tutorials and guides that show you how to use their services. However, I'd love it if the support materials were a bit more detailed and had more screenshots and even videos to make it easier for beginners to follow along.
Prices – Who Offers the Better Deal?
Always read the fine print with hosting providers. They usually try to attract you with cheap prices for a year, and before you know it – boom! You're locked into what can be an expensive contract as soon as you renew.
All prices below are per month, and with 1-year contracts, which you need to pay as a lump sum in advance.
| | Entry | Middle | Advanced | Pro |
| --- | --- | --- | --- | --- |
| Bluehost, 1st term | $2.95 | $5.45 | $5.45 | $13.95 |
| Bluehost, renewal price | $9.99 | $14.99 | $18.99 | $28.99 |
| HostGator, 1st term | $5.95 | $8.95 | $8.95 | N/A |
| HostGator, renewal price | $8.95 | $11.95 | $16.95 | N/A |
Bluehost offers hosting plans for 12, 24 and 36 months. Whilst with HostGator you can sign up for 1, 3, 6, 12, 24 and 36 months. Both providers offer better deals the longer your commitment is.
You can pay for your Bluehost subscription using a credit card. BlueHost accepts card and PayPal.
Be aware that there are cheaper web hosts and cheaper WordPress hosts out there that are worth considering too!
Winner: I'd say HostGator because of the flexible contract lengths. But if you would rather pay for at least a year, check this complete Bluehost pricing plan article for more info.
HostGator Vs Bluehost – Conclusion and Alternatives
Look, I'm going to be honest here: it's not exactly a love affair between me and EIG products. But they still have redeeming features.
Choose Bluehost if you:
Want good uptime and generous storage
Need cheap hosting for a limited period (the first term is very cheap)
Want a more affordable option for big, high traffic websites.
HostGator is better if you:
Don't want to worry about any kind of limits, even on lower plans
Need to migrate your website for free
And a few final observations about both competitors:
Reliability can be a concern with both. In my tests, one of the best performances of uptime and speed came from DreamHost and SiteGround
For advanced features, technical-minded users should also probably look at SiteGround or A2 Hosting.
Backups are not great with either providers. It's worth mentioning it again here: please make sure you back your site manually and regularly to avoid catastrophes. GoDaddy (compare it to Bluehost and GoDaddy) and SiteGround are actually very good at automatic backups.
You are still not sure if you should choose Bluehost or HostGator? Then leave a comment and I'll try to help you decide.
THE BEHIND THE SCENES OF THIS BLOG
This article has been written and researched following a precise methodology.
Our methodology