Times have changed. There's no reason why launching your own website should cost an arm and a leg. You could, of course, ask someone to design the website for you, but our suggestions below are some of the cheapest website builders that might be a better option for you.
The best cheap website builders in detail
The following tools will allow you to create low-cost websites. You can use these to create websites for businesses, or even personal projects.
These are the top 5 affordable website builders:
One thing to keep in mind: many of the website builders below also feature free plans. The main limitation of those free plans is that they won't let you use a custom domain name, and the site will also show ads. That's why it often is a good idea to opt for cheap rather than free.
Let's now dive into the full list with all details:
1. Hostinger Website Builder (was Zyro)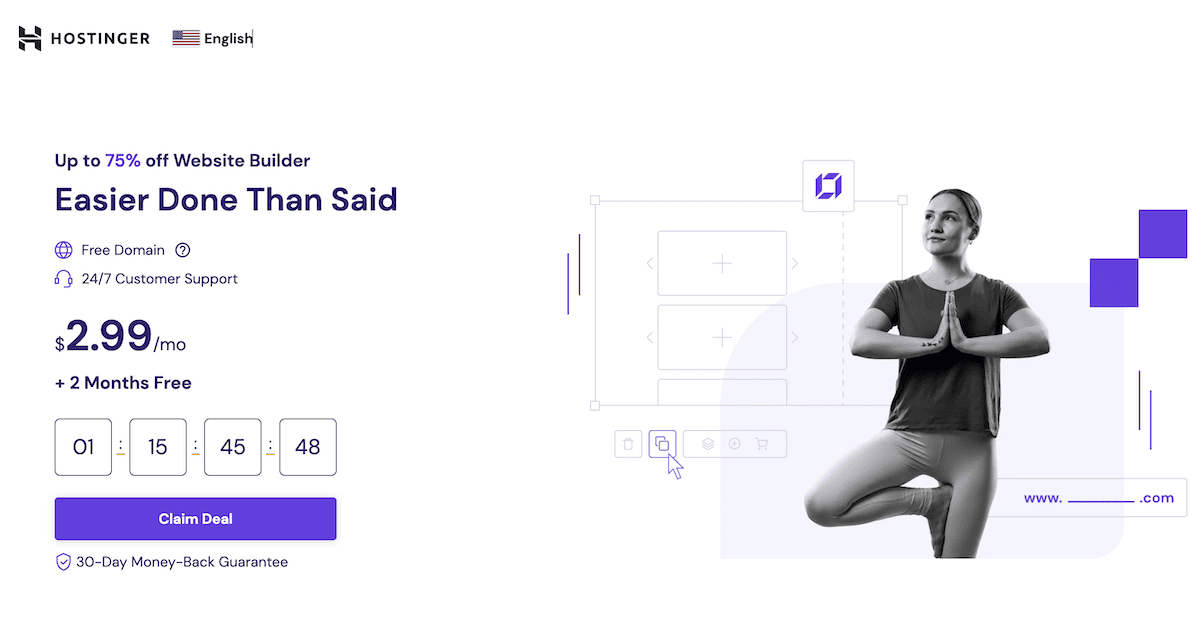 If you like the bright designs and flexible editor offered by Wix, but are put off by the price tag (we talk more about that in the Wix profile below), then Hostinger Website builder (previously called Zyro) is an option you'll want to check out.
It shares many similar, easy-to-use features (including an online store builder), but for a much more accessible price. You'll also get a free domain name (for the first year), free SSL, AI tools to help you build your website, and over 100 customizable templates.
This makes it an ideal choice if you just need a simple website builder. Hostinger Website Builder is also the best cheap website builder with unlimited storage and bandwidth.
There is a drawback though: Hostinger Website Builder doesn't offer a free plan, and it doesn't let you try it for free, either. You'll need to purchase a subscription first, although you get a 30-day money-back guarantee in case it's not right for you.
See Hostinger Website Builder in action here
Hostinger Website Builder Prices:
Website (includes hosting): $2.99 a month
Prices shown are for yearly plans, and only apply during the first year. However, further discounts are available for 2 and 4-year subscriptions – a great way to save even more money if you're willing to commit.
Find more information in our detailed Hostinger Website Builder review. Or, check out our detailed Hostinger Website Builder vs Wix comparison.
> Try Hostinger Website Builder (with 30 day money back guarantee)
2. Webnode
Even though Webnode lacks many of the features that come with other website builders (e.g. advanced ecommerce options), you can easily create a multilingual website. It's an easy-to-use solution with modern website designs that are automatically optimized for mobile devices. For more information, check out our Webnode review.
If you are looking for a low-cost solution, both the Limited and Mini plans are quite attractive. Limited still shows the small Webnode footer ad but lets you connect a domain name. Mini doesn't show ads and includes a free domain name for 1 year. It's a great plan for a small personal or professional website that is now also aided by an AI-powered website editor. Webnode's ecommerce features are relatively basic, though.
Webnode's Prices:
Free plan
Limited: $4.00 a month
Mini: $7.50 a month
Standard: $12.90 a month
Profi: $22.90 a month
Find more details about Webnode's pricing plans here.
3. GoDaddy
Internet giant GoDaddy also offers its own website builder, which happens to be one of the best website builders we've tested. It includes a wide range of features and extras, including an online store, appointment booking tool, marketing integrations, and email marketing – all for an affordable price.
The best news is that a free plan is also available, which lets you test out most features and publish a site on a GoDaddy subdomain. However, paid plans give you an ad-free site and access to more features, with various plans designed to meet a wide range of needs.
While its blogging, SEO, and customization features may not be the strongest, there's more than enough here for small business owners and freelancers to build out a professional-looking online presence.
GoDaddy's Prices:
Free plan
Basic: $11.99 per month
Premium: $21.99 per month
Commerce: $24.99 per month
Commerce Plus: $44.99 per month
Prices shown are for annual subscriptions, which offer savings of between 15-30% compared to month-by-month plans.
4. Carrd
Carrd is fully focused on one-page websites. Keep that in mind, as there is no way to add additional pages to your website.
If that's cool with you, you can create a website for less than what a domain name costs: just $9 / year in the Pro Lite plan. It allows you to connect an existing domain name and build up to 3 one-pager sites. You only have to upgrade to the next tier if you want to use a web form or Google Analytics to track your visitors.
While you can create a small but stylish site, the Carrd website builder is quite limited. There is no blog, no online store and formatting text is slightly more complicated than with easier site builders. But you may not need all these features anyway – so why pay for them? Carrd is a great way to create an efficient little portfolio website or a landing page for your social channels (like one of these "Link in Bio" minisites).
Carrd's Prices:
Pro Lite: $9 / year
Pro Standard: $19 / year
Pro Plus: $49 / year
Domain name is not included.
5. One.com
If you want to create a website on a limited budget, there's hardly any website builder cheaper than One.com. Prices start at $4.99 a month if your website is 5 pages or fewer. However, if you need more than 5 pages, you'll have to pay $7.48 per month, which isn't so cheap. It's good to bear in mind that other solutions offer more comprehensive packages (e.g. Wix or Weebly). The good news is that on top of the website builder, these packages include hosting, so you can integrate WordPress or similar content managers. For more information, see our One.com review.
One.com's Prices:
Standard: $4.99 a month (Beginner plan + Standard website builder)
Premium: $7.48 a month (Beginner plan + Premium website builder)
Online Shop: $16.99 a month
Discounts available for the first year.
6. Weebly
Weebly is also easy to use thanks to its powerful drag and drop editor. It also offers a wide range of high-quality templates that automatically adapt to all devices (e.g. tablets and smartphones). What I love about it is that its blog is very flexible, with super useful features for bloggers like tags, categories, post scheduling, etc. For more information, read our Weebly review.
A bit advantage is that Weebly also offers plans you can pay month by month. For that, they charge a small premium, but at least it's possible – most other website builders don't offer this option.
Weebly's Prices:
Free plan
Personal: $6 a month
Professional: $12 a month
Performance: $26 a month
7. WordPress.com
The most popular website platform worldwide is, without a doubt, WordPress. It's estimated that 43% of all websites run on it. This is mainly thanks to the free open-source version, WordPress.org (which we discussed above). The downside is that it's not exactly free, as you'll need to host your website somewhere.
That extra cost is why here we talk about WordPress.com, which makes all of this much easier: web hosting, and a custom domain name for the first year, are included, and as you'll see, at a very low price.
Starting at $4/month on the Personal plan. It includes a decent 6GB of web storage and unlimited pages!
The only small downside is the footer ad: "Powered by WordPress.com" is displayed. You can customize it, though, so it only says, "WordPress.com" or can also just show the WP logo, which is very small. See an example here (at the very bottom).
You'll also have access to around 100 free templates and personal support. Unfortunately, the plugins and SEO tools that make WordPress so popular are only available on the higher-tier Business and eCommerce plans.
WordPress.com's Prices:
Free plan
Personal: $4 a month
Premium: $8 a month
Business: $25 a month
eCommerce: $45 a month
Prices shown are for subscriptions to annual plans. Month-to-month plans are also available, at a higher cost.
8. Jimdo
After raising their prices with the launch of Jimdo Dolphin, it is not a really cheap option anymore. Their focus is on ease of use as you'll be guided through the website creation process step-by-step. Considering this it may still end up cheaper than other site builders if their guided creation process will remove the need for a programmer or designer. It's a pity Jimdo doesn't offer monthly payments, as all their plans require prepayment for 12 months.
Jimdo's Prices:
Free plan
Start: $9 a month
Grow: $15 a month
9. Ucraft
Their designs are pretty cool, they look very modern and a bit different from most competitors'. However, we'd like to see more templates coming in. On top of creating a website or an online store, Ucraft features a landing page builder, which is a great way to collect email signups. If you are planning to create more complex websites, you'll have to upgrade to the Pro Website plan which starts at $10 per month.
Ucraft's Prices:
Free plan
Pro Website: $10 a month
Pro Shop: $21 a month
10. DreamHost's Website Builder for WordPress
DreamHost is one of my Top 3 favorite hosting providers. They are fast, reliable and their support is friendly – hence why 1.5 million websites are hosted on DreamHost. All of their hosting plans offer a website builder for WordPress (Boldgrid) that makes WordPress.org site creation and management easier.
It comes with over 200 modern-looking templates to choose from. There are several building blocks available, such as text, images, sliders, buttons, videos, maps and forms. Their editor also makes it possible to adapt different styling options (e.g. padding, borders, background images or shadows). It's a solid option to start cheap, if you don't mind using WordPress (a more technical platform).
Dreamhost's Prices:
Shared Starter: $6.99 a month (1 website)
Shared Unlimited: $12.99 a month (unlimited websites)
Note: Be aware that if you sign up for 3 years you get even lower prices. For example, the Shared Starter plan is $2.59 a month and the Unlimited $3.95 a month. No free trial.
11. Wix
No cheap website builder combines design and ease of use like Wix. Its system is so flexible, you can move the elements around however you like. Plus, it has useful tools for freelancers and businesses that can make your day-to-day easier (e.g. Wix Hotels, Wix Restaurants, or Wix Bookings), making it one of the best website builders for small business.
Their ecommerce features are also great and offer great value, as Wix charges no additional transaction fees. One disadvantage, however, is that if you want to switch to a wholly new template, you have to start from scratch. Find out more in our Wix review and learn why we consider it the best website builder overall.
Wix's Prices:
Free plan
Light: $16 a month
Core: $27 a month (includes ecommerce features)
Tip: Use discount code "TOOLTESTER10!" to save 10% on all monthly and yearly plans.
After Wix changed its premium tiers and raised prices a while back, it's not really a cheap website builder anymore. Especially in the US, where prices are even higher than elsewhere. You'll opt for Wix more for its quality and the feature bandwidth rather than its cost. Compared to other providers, Wix has some handy SEO tools included, for example.
12. Shopify
Many of the tools we've mentioned here let you create online stores. But if you are serious about ecommerce and don't want to use complicated platforms like Magento or WooCommerce, Shopify is your best option. It isn't the cheapest online store builder, but it is the sturdiest one. Check out our Shopify review for more info.
Shopify's Prices:
Basic: $29 a month
Shopify: $79 a month
Advanced: $299 a month
13. WordPress.org (the open-source version)
As we saw above, these website builders (like Weebly and Wix) are for creating simple websites. If you're working on something more complicated and want to create your website yourself to save some money, WordPress.org is a great option.
WordPress itself is not a website builder, since it's a bit more complicated and requires technical knowledge. Even though the software is free, you'll have to find a service provider to host your WordPress website. One option is Dreamhost's web hosting:
WordPress Pricing with Dreamhost
Shared Starter plan: $6.99/month (first term is only: $2.59/month)
But Dreamhost is not the only option, there are plenty of other cheap WordPress hosting companies.
You could also create a website directly at WordPress.com (more on that below), where you will find a handful of affordable plans. However, to get the same features as in WordPress.org, you'll need at least the Business plan, which sadly is anything but cheap. See our full comparison of WordPress.org and .com here.

WordPress is ideal for creating directories (e.g. classified ads), your own social networks, marketplaces (like eBay or Amazon) or any other kind of complex website. The easiest and cheapest option would be to build it with a template (e.g. Themeforest or Elegant Themes), which will make things easier for you. Even then, you will still need technical skills at some point.
14. Web.com
This is an interesting one. On the one hand, Web.com provides a straightforward user interface that borrows many elements from Weebly (which is a positive thing). The template designs are not mind-blowing but will do their job.
But here's the catch. Like Bluehost, Hostgator, Constant Contact and many more companies, Web.com now belongs to the web hosting giant EIG. Unfortunately, in this case they kept the dodgy pricing strategy the previous owners had implemented. That means a lot of small print and hidden fees.
Web.com's Prices:
The domain name is free for the first year but then renews at $37.99/year, which is an absurd amount for a .com domain (a normal rate would be around $12). But that's not all as you also get to "enjoy" privacy protection for your domain name, which is only free for the first month and costs $1.95 every month thereafter.
A taste of Web.com's small print (magnified, so it's actually readable)
Making sense of their website builder prices is a similar adventure involving lots of small print. They mainly promote cheap-looking prices like $1.95, $2.95 or $3.95. However, looking a bit closer we learn that this low price only applies to the first 4 weeks (and no, not a full month, their billing uses blocks of 4 weeks for crying out loud!). The renewal price is $10 per month 4 weeks after that.
The website builder itself is not terrible, but the pricing very well is. And I am not even sure if I've uncovered all their surprises. This one is a crystal clear no from us.
Website builders vs. professional website designers
Designing a professional website costs money because the work takes time and skills that not everyone has. It's like getting a tailor-made suit – you can't really expect the tailor to charge you only $200 for that suit, right?
There are some promotions from low-cost (pseudo) web designers, who say they can do your website for $100 or $200. But this kind of cheap website design usually comes with some downsides:
SEO: They don't work for optimizing your rankings. If someone says they can do your SEO and create your website for $200, they are either lying or won't do a good job. Your best bet would be to build an SEO-optimized website yourself.
Duplicate content: Sometimes they will reuse texts for different purposes. This can have disastrous consequences on your site's SEO, and your text will sound artificial.
Poor designs: They usually work with pre-made templates, which sometimes look ugly. What's more, they're not very flexible and won't totally match your needs.
Hard to update: One day you might want to change your website's background color, for example. More often than not, you'll have to understand code to do this (HTML or CSS).
Security: We've heard that sometimes these kinds of offers contain malicious code that could hurt your business. For example, they could add backlinks to other pages.
Have we met before? I don't recall… Once they've created (and charged you for) the website, they will definitely not want to help you if you encounter any issues (unless you pay for it). You need to be able to trust the person that created your website.
Let me give you an example: in my neighborhood, there are 6 or 7 barbershops, with prices for a haircut running from $5 to $25. Between you and me, I would never go to a barber that charges only $5 – I know they wouldn't pay much attention. It's just logic: you'd have to cut 30 people's hair to get $150, while the others only need 6 clients. If I come out of the $5-barber with a botched 'do, he'd say "What did you expect for $5?"
Here's another great example of quality vs. cost:

The other choice is to create your own website. Some of the cheapest website builders will let you build and publish your own website (some of them even offer free website building). The best part is that these solutions aren't hard to use. They have visual layouts where you can add sections, text, images, or even videos, and they sometimes come with templates that you can customize to your needs.
If you aren't sure about how to start creating your own website, you can download our free website creation guide. It'll help you plan, design, and publish your website.
Cost of creating (and maintaining) a website
Create it yourself with a website builder
Low-cost web 'designer'
Professional web developer
Price
$2.45 – $26 a month
$250 – $600 once
$25 – $60 per hour
Domain name
Included – 15/year
$15/year
$15/year
Hosting
Included
$5 – $50/month
$5 – $50/month
Plugins
Includes the basics
$15 – $70/year
$15 – $70/year
New designs
Included
Extra cost
Extra cost
Maintenance and updates
Included
Extra cost
Extra cost
Support
Included
Extra cost
Extra cost
Cost
Between $7 to $25 a month
Between $5 to $150 a month
+
$250 to $600 in development
Between $5 to $150 a month
+
$800 to $1500 in design
All websites cost money, but some cost more than others. If you want a low-cost website, the cheapest option is to make it yourself with a low-cost website builder.
The advantage of using a web builder is that you won't have to pay a professional (or pseudo-professional) to create the website for you. That's where you'll save the most.
What's more, some professionally created pages can require extensions (plugins) that have an annual cost, like a plugin to process online payments or create modern image galleries. These features are usually included for free in website builders like Wix and Weebly.
Your website will have to be hosted on a server for it to be online. It's pretty much how a book is 'hosted' on a library shelf. There are many kinds of web hosting services for a wide range of prices, but even cheap web hosting will cost around $4 or $5 a month. With website builders, hosting is included, so you won't have to pay a penny more.
If you want to make changes to your website, it will be hard for you to do it yourself if you don't have any technical skills. You'll have to call a developer, who will charge you for it. Tools like Wix or One.com are easy to use and intuitive, and you can make the changes quickly, yourself.
The same goes for updates and maintenance, which are unavoidable. You may have to contact the programmer if you use WordPress or something similar. On the other hand, website builders handle these tasks, and you won't have to lift a finger.
You'll find more info about the specific costs in our detailed guide about website costs.
Pros and cons of making your own website with a website builder
Of course, website builders aren't always the right solution. For this reason, I'd like to give a quick overview of the pros and cons so you know whether it will be a good fit for you.
Pros
Cheap web design: There is no cheaper way to create a website.
Easy to update: Since you don't need any technical skills, you can update it yourself, whenever you want.
No technical maintenance: The website builder takes care of maintenance and security, and you don't need to do anything.
You can create the website however you like: You control the content and design of your website.
You're in charge of the content and SEO: Good content and good SEO optimization are crucial for your website's success.
Support: Website builders include personalized support in their packages, so if you have any problem, you can always contact them.
Cons
Takes time: You (or whoever is helping you) will be in charge of the project, so you'll have to invest some time.
Complicated projects: Generally, if you need something complicated (e.g. a directory or social network), website builders fall short.
Big projects: If you're starting a huge project, website builders won't be your best option because they will be hard to manage.
Final thoughts on the cheapest website builders
As we saw, there are many ways to build cheap websites. You can hire a 'professional' who charges peanuts and create a low-cost website, or you can do it yourself with some of the solutions that we mentioned before. Generally Hostinger and Webnode offer the lowest prices, but it does come with certain restrictions compared to premium site builders like Wix.
I think the best way to make sure your website has the best quality and gets a good Google ranking is being involved in the creation yourself. We've created a free guide that will help you launch your own website quickly and cheaply.
> Compare the best website builders
We keep our content up to date
-13 Aug 2023: Gator website builder discontinued (it's now redirecting to Web.com)
-18 Jul 2023: Small price increase for Webnode's Limited and Mini plans
-10 Jul 2023: Wix prices updated
-03 Mar 2023: Hostinger pricing changes
-16 Jan 2023: Carrd added
-27 Dec 2022: Smaller updates and corrections
-11 Nov 2022: Removed Template Toaster, added GoDaddy
-27 Sep 2022: Zyro video review added
-29 Aug 2022: WordPress.com re-added due to reinstatement of previous plans
-22 Jun 2022: Zyro added
-20 Apr 2022: WordPress.com removed due to introduction of new plans
-28 Mar 2022: Smaller updates and corrections
-16 Dec 2021: General updates
-28 May 2021: Web.com added
-10 Apr 2020: One.com price change
-10 Jan 2020: WordPress.com added
-13 Nov 2019: SiteBuilder.com added
-12 Aug 2019: Ucraft pricing change
-12 Mar 2019: Gator website builder added
-25 Feb 2019: Price increase for Jimdo Pro from $7.50 to $9
THE BEHIND THE SCENES OF THIS BLOG
This article has been written and researched following a precise methodology.
Our methodology