Affiliate marketing is a great way to make money online, but in order for it to be successful, you need one thing more than anything else: traffic.
In this article, I'll take a look at some of the most popular website builders on the market. We'll check which one puts you in a position to attract the thousands of visitors you'll need to run a profitable affiliate business.
Tooltester's team of 10 employees is financed 100% by affiliate commissions – we even made in the list of
Europe's 1000 Fastest-Growing Companies
by Financial Times two times in a row. For that reason, I'll share my personal tips in these highlighted boxes.
Affiliate marketing Basics
Affiliate marketing is a revenue-sharing partnership between a merchant and an affiliate. You, the affiliate, promote the merchant's products or services, and earn a commission for each sale or lead you generate. This happens by adding affiliate tracking links to your website's content.
If we assume a typical conversion rate of 1-2%, meaning that 1 or 2 out of 100 website visitors end up buying a product, then you will need a lot of traffic to make any money.
Here's a real example of one of the affiliate programs that we are promoting at Tooltester:
Important website builder features for affiliates
So, what are the most important features for affiliate marketers when it comes to building a website?
SEO: First and foremost, Search Engine Optimization is absolutely crucial, as it's essentially free traffic that can evolve into a constant steam of visitors. You want to make sure your website is optimized for Google and Bing, to ensure you won't be held back by any technical constraints of the website builder. For that reason, you need SEO features like 301 redirects. These are important if you ever change a URL and don't want to lose the Google ranking for it.
Link management: The ability to add custom link attributes, like "nofollow," is a must-have for affiliate marketers. This helps to comply with Google's guidelines. Once your business grows bigger, you'll also need a management tool for your affiliate links (more on that below, see Pretty Links).
Blogging: affiliate marketers often need to publish a lot of content to build their authority around a certain topic. Ideally, as well as standard features like commenting and post scheduling, the site builder platform lets you add multiple authors and also allows you to create author profiles that show their credentials around a certain subject. Many affiliates have even built their business entirely around their blog. Find a detailed review of the best blogging platforms here.
Social media integration is also important, as it allows for easy sharing of your content. This will also enable you to display your social channels (Instagram, Facebook, YouTube and TikTok) on your website, helping you reach new subscribers.
Being able to add videos is essential, as it can increase engagement and conversions. Some website builders even feature their own video players.
Specific content types: affiliate websites often feature comparison tables or pricing calculators, for example. For that reason, you need a website builder that can accommodate that via plugins or external apps.
Amazon-support: if you are going to promote the most popular affiliate program worldwide, you should be looking for specific Amazon-related tools, which some site builders have.
Finding the best website builder for affiliate marketing
Now that we've outlined what you should look for in a website builder, let's check out at some of the most popular options on the market in more detail and compare their features and pricing.
This list isn't super long, as the requirements for affiliate marketers are very particular. For that reason, I directly excluded all website builders that don't match this profile.
Let's get started with the #1 website builder for affiliate marketers:
WordPress
WordPress is the most popular website builder on the market, and for good reason. It's perfect for pro-level affiliates, and also the system we use at Tooltester.
It's a free and open-source content management system (CMS) that is widely used to create all types of websites. Likewise, it's a great choice for affiliate marketers because it offers a lot of flexibility and control over your website.
With WordPress, you have access to a wide range of plugins and themes that can help you optimize your website for SEO, track your affiliate links, and create comparison pages. It also allows you to set up multilingual websites, which can be useful if you're targeting a global audience.
However, WordPress can be technically challenging and is certainly not very beginner-friendly.
WordPress plugin example:
Pretty Links
As your affiliate website grows, you will be using countless affiliate links that can become difficult to manage. Pretty Links helps you set up redirect links that look like this, for example: https://www.tooltester.com/out/wix. Definitely prettier than the regular affiliate link: https://wixstats.com/?a=456&oc=250&c=2366&s1=EN
Also, every once in a while it happens that a company changes their affiliate platform, which means you need to change all the links you use for that company. Pretty Links makes it easy to centrally manage all your affiliate links via their import and export feature.
Another plugin we love to use is "Mammoth .docx converter". Especially if you are producing a lot of content, this will be very helpful since it enables you to upload .docx documents (from Word or Google Docs) directly into WordPress, including images and tables.
WordPress.org vs WordPress.com: an important side-note. WordPress comes in two flavors, .org and .com. My general advice is to stick to the free .org version, as it's cheaper to run and more flexible than .com. Find more details here.
WordPress Pricing
There is a wide variety of affordable hosting companies for WordPress. For starter projects we usually recommend Dreamhost as it's cheap, the support is good and it has all the important features such as automatic backups.
Shared Starter: $6.99 a month for 1 website. Free domain name included for the first year. Email addresses can be purchased separately, starting at $19.95 per year.
Shared Unlimited: $12.99 a month for unlimited sites, storage and email accounts. Free domain name included for the first year.
Pros
Best for SEO thanks to powerful plugins like Yoast and RankMath
Great plugins for affiliate marketers (Pretty Links, Better Search and Replace to change internal links site-wide, Auto Amazon Links for Amazon affiliates)
Multilingual websites using WPML or Multilingual Press, for example
You can create comparison tables as it allows you to work with databases
Best-in-class blogging tool
Allows you to set up short codes (that can be used to add dynamic content to pages that can be centrally updated, such as prices)
Thousands of specialized responsive-themes are available (also themes for affiliate marketing featuring price comparison tables or reviewing systems)
It can be very affordable with the right web hosting.
Cons
Can get very technical and there is no official support
You might get discouraged as compared to easier website builders, it will take longer to get started with content creation
If you work with a web designer or developer, costs can skyrocket
> Learn more about WordPress
> Get started with our WordPress.org-recommendation Dreamhost
At Tooltester we started initially with a website builder (Webnode) and later switched to WordPress. Would I do it again this way? Yes, but probably not with Webnode this time.
Using a simple drag and drop website builder gave me the possibility to publish content quickly and see whether it attracted enough visitors. If I had started directly with WordPress, the setup process would have taken much longer.
So if you want to get started quickly without diving into technical details, it might be an interesting option to pick one of the following website builders.
Wix
Wix is a cloud-based website builder that allows you to create an affiliate website without any coding knowledge. It's easy to use, but offers a lot of pro-level features for affiliates, especially from the SEO department.
With Wix, you can easily set up 301 redirects, mark links as "nofollow" or "sponsored", which Google demands. There are also hundreds of apps from the App Market to help set up features such as comparison tables or sign up forms.
It also has a content manager that lets you use database-connected tables. This is handy if you want to use the same table across multiple pages. Wix also lets you create beautiful landing pages for lead generation. It's not cheap, though (at least $16/month in the Light plan), and it's good for smaller sites only.
Wix Pricing
These are the most important Wix plans. Yearly plans all include a free domain name for 1 year. Email addresses can be purchased separately.
Free plan
Light: $16 a month (recommended for more affiliate websites)
Core: $27 a month
Business $32 a month
Wix Pros
Great for SEO (there is even a SEMrush integration)
You can set up 301 redirects
Easy to mark links as "nofollow" or "sponsored", which Google demands in their guidelines
Many apps that can help with affiliate marketing (e.g. comparison tables)
Features a content manager that lets you use databases
Strong blogging feature
Lets you create landing pages
Wix Cons
Multilingual websites not SEO-friendly
Page load times can be slow
Not fully responsive (mobile website may require some additional tweaking)
Not cheap – at least $16/month in the Light plan
Good for smaller sites only
> Read our complete Wix review
> Compare Wix vs WordPress
> Try Wix for free
Squarespace
Squarespace is a website builder that is known for its clean, modern designs and easy-to-use interface. They clearly seem to take some inspiration from Apple in regard to their branding.
It's a solid choice for affiliate marketers, with a good link redirect features and one of the best blogging features that includes commenting, multiple authors, scheduling posts. Even author profiles can be added, which Google demands as part of the E-E-A-T guidelines.
Squarespace is clearly made with design and UX in mind: their templates are tasteful, it offers great video hosting options, and provides an excellent content editor.
Squarespace Pricing
Annual plans include a free domain name for 1 year. Email addresses can be bought separately.
Personal: $16/month. For portfolios and blogs. Includes unlimited storage.
Business: $23/month. Adds marketing features such as popups and welcome bars.
Learn more about Squarespace's plan in our full analysis.
Squarespace Pros
Good link redirect feature for 301 redirects. This enables you to manage your affiliate links easily
Great blogging tools
Excellent templates
Special features like podcast hosting
Good for adding video
Excellent live chat support
Squarespace Cons
Not that good for large sites (there is only one sub-level in the navigation available)
Missing specific affiliate features (e.g. comparison tables)
No easy way to add the "nofollow" attribute to links
Loading times are relatively poor, especially on mobile
Limited app store
> Read our full Squarespace review
> Compare Squarespace vs WordPress
> Try Squarespace for free
Hostinger Website Builder (formerly Zyro)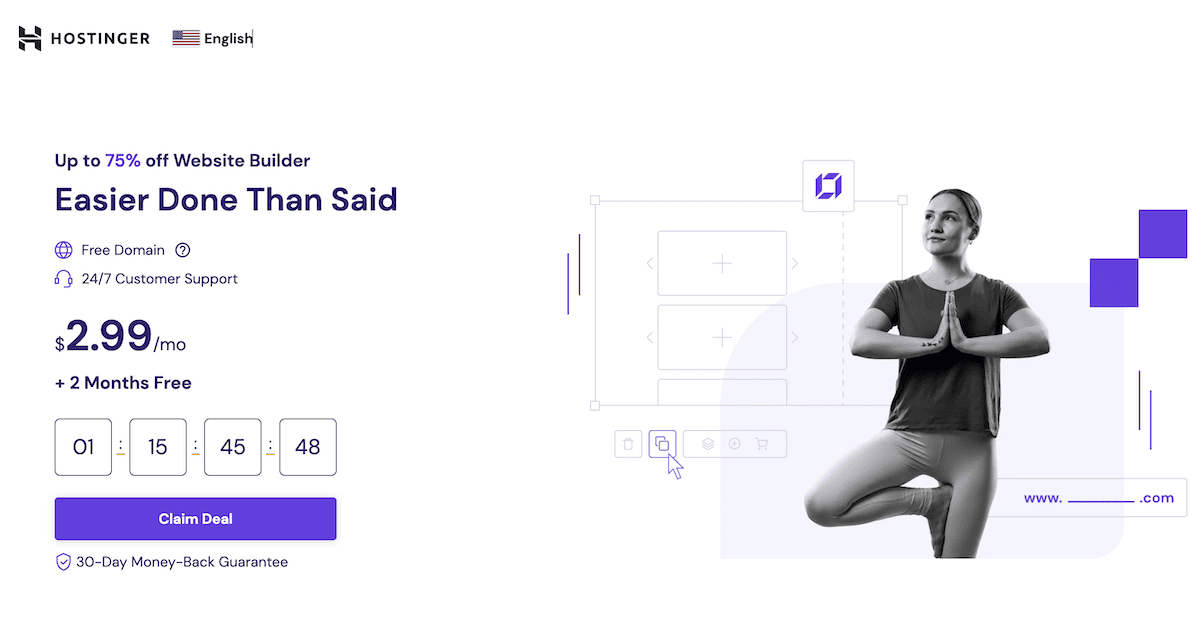 Hostinger's website builder is known for its easy and fast editor, and it's a good choice for those looking to create multilingual affiliate websites. It's cheap, easy and offers basic SEO features. For affiliates in particular, however, it's probably not the best choice. It doesn't have many apps that could help your affiliate marketing, and its blogging feature is also mediocre.
We included it mainly as a budget option for those who want to get started cheaply, generate some income and then switch to something more powerful like WordPress.
Hostinger Website Builder Pricing:
Website: $2.99 a month – affiliates are generally fine with the basic plan.
Business: $4.99 a month – only relevant if you wish to set up ecommerce.
Pros
Multilingual affiliate websites
Easy and fast editor
Cheapest way to get started
Easy way to mark links nofollow
Cons
Limited features for affiliates (not many apps for things like comparison features etc.)
Blogging tools aren't great
SEO features are more limited than with other website builders (e.g. no 301 redirects)
No free plan and not even a free trial (only a 30-days money-back guarantee)
> Read our full Hostinger Website Builder review
> Compare Hostinger vs Wix
> Try Hostinger for free
Weebly
Weebly is good for larger sites as it supports deeper site hierarchies. The easy drag and drop editor make it a great option for beginners. It's relatively cheap and there is the option to host videos as well. The SEO features generally aren't too bad, for example you can set up 301 redirects.
But that's pretty much all that's positive about Weebly. The main issue is that its new owner Square hasn't properly updated it in years, aside from its ecommerce features. The templates are starting to look really old and more and more users seem to complain about technical bugs.
Pros
Good for larger sites (supports deeper site hierarchies)
Includes video hosting
Very affordable (also features a free plan)
Cons
Outdated templates
No development
Not easily possible to mark links as "nofollow" or "sponsored"
> Read the full Weebly review
> Compare Weebly vs WordPress
> Try Weebly for free
Recommended website builder for affiliate marketing
There you have it. Rather than making an endlessly long list of website builders, I thought just discussing the most relevant ones will save you time.
The top choice, without a doubt, is
WordPress
. Affiliates need access to cutting-edge features, as most niches are very competitive. That's why you don't bring a knife to a gunfight!
WordPress with its full array of themes and plugins will enable you to not only set up a decent basic website, but also to scale it massively. Our Tooltester website receives around 200k visitors per month and accommodates 7 languages. None of that would be possible with one of the other website builders.
However, if you are really just trying out an idea and don't want to lose too much time with the setup of your website, it might be a good idea to get started with Wix or Squarespace.
Once your website hits the limits of these platforms, you can still move it over to WordPress. Or, if the project doesn't get any traction, shut it down instead. At least you didn't waste too much time setting it up.
Step-by-step guide for setting up a website using WordPress
Choose a domain name and web hosting provider.
Install WordPress on your web host using the 1-click installation.
Choose a theme that is optimized for affiliate marketing and SEO.
Install essential plugins such as Yoast SEO or RankMath. I would also recommend Pretty Links, Shortcoder and Better Search Replace.
Set up your home page and other essential pages (e.g. About). ChatGPT can help with content ideas and copywriting.
Create pages and posts for the products you want to promote and optimize them for SEO.
Use comparison tables and other elements to enhance user engagement and conversions.
> Make sure you also check out our full WordPress guide
Final thoughts
Affiliate marketing can be a compelling way to make a living. If you find the right niche, you can make hundreds or even thousands of Dollars per month as your full-time job or even just as a side hustle.
Working online also enables you to avoid the daily commute to an office, or even live completely location independent on another continent. With the right amount of elbow grease, the best tools and healthy motivation, nothing should stop you from achieving a thriving affiliate business.
I would be delighted to help you out and share more of my firsthand experience as an affiliate. So, just leave a comment if you have any questions!
We keep our content up to date
28 Aug 2023 - A couple of smaller updates related to Wix
THE BEHIND THE SCENES OF THIS BLOG
This article has been written and researched following a precise methodology.
Our methodology