The website builder industry is a fiercely competitive arena, where established players and newcomers alike are vying for a share of the market.
Leading the pack are the likes of Wix, Squarespace, and Shopify, who have cemented themselves as household names with their user-friendly interfaces and vast array of templates and design options.
How did they get to where they are? And how do their competitors fare against them?
Find out as we explore what the website builder market share looks like today.
What is a website builder?
First things first – what do we mean when we say 'website builder'?
A website builder is a tool that allows users to create and publish websites without coding. It provides a user-friendly interface, templates, and features such as e-commerce, analytics, and SEO tools. The more technical aspects of running a website – such as hosting and security – are also taken care of. It's generally aimed at small businesses, individuals, and non-technical people.
By that definition, Wix, Squarespace, Shopify, GoDaddy, and Weebly are all considered website builders, and these are the kinds of tools we'll be focusing on in this analysis.
By contrast, a Content Management System (CMS) is software that's typically used by more technical users such as developers and designers to create websites. While these tools give you more flexibility, hosting, security, and software updates need to be managed independently. And the most popular open-source CMS is, you guessed it, WordPress.
Because of their more technical nature, CMSs are usually considered to be distinct to a website builder – so we won't be analyzing them in too much depth in this article. However, you can check out our article on CMS market share if you'd like a bigger view of the combined website builder and CMS market.
What does the website builder market share look like?
First, let's answer this question in the simplest way possible. If we were to take a look at the top 1 million sites on the internet (in terms of traffic volumes), and consider all types of website builders (that is, both standard and ecommerce website builders), we'd have a clear winner – and that would be Shopify.
According to Builtwith, Shopify is the biggest hosted solution (which we can use as a proxy for website builder), accounting for 31% of the sites built by a hosted solution. This slice of the pie grows even bigger when you add in stores built with the Shopify Plus enterprise-level solution, which account for an additional 5%.
The fact that the world's most popular website builder is actually an ecommerce platform, rather than a general website builder, is interesting. We explore that in more detail below.
Wix comes in second, holding 23% of the market share (13% of which is held by their standard website builder, and 10% by their ecommerce solution, Wix Stores).
Squarespace comes in third, although they trail behind with just 9% of the website builder market share.
How many of the top 1 million sites are built by website builders (and how many by CMSs)?
However, if we zoom out further to look at all the top 1 million sites (including those that weren't built with a website builder), we'll see that sites built with website builders account for just a small fraction of these:
Looking through this lens, Shopify's market share shrinks down to just 2.29%. Wix and Wix Stores account for 1.72%, and Squarespace takes a mere 0.65%.
What does this mean? Quite simply, website builders aren't nearly as popular as CMSs like WordPress. And if we analyze W3Tech's data, which looks at a much bigger pool of websites that have been built with either a CMS or website builder, we'll see that this has long been the case:
| CMS | 2017 | 2018 | 2019 | 2020 | 2021 | 2022 | 2023 |
| --- | --- | --- | --- | --- | --- | --- | --- |
| WordPress | 58.5% | 60.0% | 59.7% | 62.1% | 64.1% | 65.2% | 63.7% |
| Shopify | 1.3% | 1.8% | 2.6% | 3.4% | 5.2% | 6.6% | 5.7% |
| Wix | 0.6% | 0.9% | 1.8% | 2.3% | 2.4% | 2.9% | 3.6% |
| Squarespace | 1.5% | 2.6% | 2.7% | 2.7% | 2.3% | 2.7% | 3.0% |
Although Shopify, Wix and Squarespace's market shares have all grown over the past few years, so has WordPress's. In fact, its market share is over 11 times that of Shopify, its closest competitor. However, this growth has been at the expense of other CMSs, such as Joomla and Drupal (not shown), whose market shares have either slowed or declined over time, and are currently at 2.7% and 1.8% respectively.
It's no surprise that the majority of users would opt for WordPress for building their website – it offers a level of customization and scalability that website builders still can't compete with. You can compare WordPress vs Wix's features in more detail here, and WordPress vs Squarespace here.
How much market share do the smaller website builders hold?
As it turns out, not a lot. Let's take a look once again at W3Techs' historical data – this time to include more niche website builders such as Webflow, GoDaddy, Weebly, and Jimdo:
| CMS | 2017 | 2018 | 2019 | 2020 | 2021 | 2022 | 2023 |
| --- | --- | --- | --- | --- | --- | --- | --- |
| Webflow | – | – | 0.2% | 0.2% | 0.4% | 0.7% | 0.9% |
| Godaddy Website Builder | 0.4% | 0.4% | 0.7% | 0.5% | 0.5% | 0.5% | 0.5% |
| Weebly | 0.4% | 0.4% | 0.7% | 0.5% | 0.5% | 0.5% | 0.7% |
| Jimdo | 0.2% | 0.2% | 0.3% | 0.2% | 0.1% | 0.1% | 0.2% |
GoDaddy, Weebly and Jimdo's market share haven't grown significantly in the past few years – if at all. While they are all competitively priced, their features are much more limited compared to Wix, Squarespace and Shopify, who are constantly adding to their offerings. This could account for the declining popularity of these smaller players.
The one exception is Webflow, which has seen steady growth since its launch in 2013. As a no-code builder aimed at more technical users, it's seemingly filled a gap in the market for those looking for a happy medium between an easy-to-use website builder, and a more flexible CMS. (Read more about how Webflow compares to a CMS like WordPress here.)
How did the #1 website builder, Shopify, get so popular?
Shopify's meteoric rise to being the world's most popular website builder is legendary. Launched in 2006 after founder Tobi Lütke struggled to find suitable software to build his online snowboard store, Shopify's cloud-hosted solution quickly became a hit thanks to its ease of use, customizable templates, and affordable pricing.
Today, it serves 2.06 million customers in 175 countries, helping them to generate a collective revenue of $590 billion to date. With an ever-growing feature set, Shopify is able to comfortably serve businesses of all sizes, including popular brands such as Kylie Cosmetics, Fitbit, and WholeFoods.
The fact that Shopify's market share sits comfortably ahead of Wix and Squarespace's is indicative of a few things. Firstly: that the competition between ecommerce solutions isn't as fierce compared to non-ecommerce builders. And, looking at W3Techs data for usage rates of ecommerce website builders, we can certainly see that's the case – none of Shopify's main competitors (Prestashop, Magento, Opencart, BigCommerce) even come close to it:
Another thing to consider is that users who are building non-ecommerce sites (business sites, blogs, portfolios etc) are much more likely to use a CMS like WordPress, rather than a website builder like Wix or Squarespace.
However, it's worth noting that Shopify is not the biggest software in the ecommerce category, at least if we look at the top 1 million sites. That honor goes to WooCommerce, which is an ecommerce plugin for WordPress (and is therefore not categorized as its own CMS or website builder), and just pips ahead of Shopify with 23% of the market share:
For a deeper dive into Shopify's success, check out our article on Shopify's market share.
How did Wix become the second most-popular website builder?
Wix is a popular website builder that has grown significantly in recent years. The company was founded in 2006 by Avishai Abrahami, Nadav Abrahami, and Giora Kaplan, who were looking to make it easier for people to create a website without needing to know how to code.
One of the key factors that contributed to Wix's popularity is its user-friendly drag-and-drop interface, which makes it easy for anyone to create a website without needing any technical skills. Additionally, Wix has a wide range of templates and design options that allow users to create a professional-looking website without needing to hire a designer.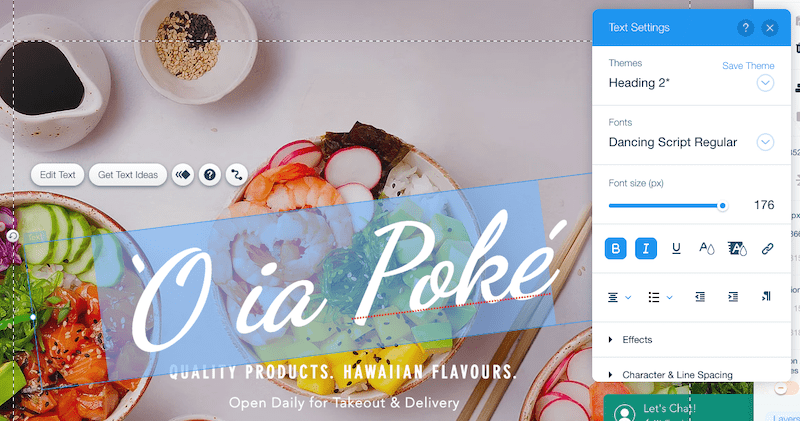 Another important factor that helped Wix gain popularity is its focus on small businesses and individuals. The company offers an extensive range of features and tools that are tailored to the needs of these users, such as e-commerce functionality and analytics.
One interesting thing to note is that it wasn't always the #2 website builder. Up until 2020, Squarespace, which was typically more popular with designers and creative agencies, actually had a larger market share (2.7% vs Wix's 2.3%). The following year, however, Wix overtook it, and it's been on that trajectory ever since.
You can compare Wix vs Squarespace in more detail here. We also take a closer look at Wix's market share here (and also at Squarespace's market share here).
Website builder market share: Conclusion
As we can see, the website builder market isn't short of players. However, a closer look reveals that the market is dominated by three heavy hitters: Shopify, Wix, and Squarespace. These companies have established themselves as the go-to options for businesses looking to build their online presence.
But the market is constantly changing, with new players entering the space and established companies continually updating their offerings. Once-popular solutions such as Weebly are losing their hold, while specialized newcomers like Webflow are starting to give more established players a run for their money. It will be fascinating to see how the competition evolves in the coming months and years, and which players will come out on top.
One thing is certain, however: with the ever-growing importance of having a strong online presence, the website builder market will continue to be a vital one to keep an eye on.
What are your thoughts on how the market share for website builders is evolving? Let us know in the comments below!
THE BEHIND THE SCENES OF THIS BLOG
This article has been written and researched following a precise methodology.
Our methodology