Let's get one thing out of the way: we really used to like Weebly. They regularly took the 1st or 2nd spot on our list of the best website builders, and 40M users sounds impressive. However, all that changed when Square acquired the company. Since then, we hardly saw any improvements of the platform.
So there are good reasons to move away from them. Maybe you want more design flexibility. Maybe you need a multilingual website. Or maybe you are simply interested in checking out newer, flashier providers like Squarespace, Shopify, and the main Weebly competitor, Wix.
Weebly Pros & Cons
As we've noted in our review, Weebly is excellent, but does have its shortcomings. Here are the main pros and cons.
One the plus side:
It's super easy to use
The themes are all responsive
You can enhance the site with their App Center
Multiple users can manage the site
You can enable a members-only section of the site
One the minus side:
Designs are a bit more rigid than with some competitors (e.g. Wix) and are starting to look outdated.
You need a workaround to create multilingual websites.
They rarely add new features
So what would be some good alternatives? Let's find out below.
The 10 Best Weebly Alternatives
These website builders are your best bet if you are looking for an alternative to Weebly:
Weebly Alternatives (for regular sites)
If you are looking for a website builder to create a website with regular content (text, images, videos, blog etc.), you'll find these companies interesting:
Wix
Yes, Wix is better known than Weebly thanks to their massive ad campaigns, but we're also big fans of the platform. The templates are some of the best you'll find, and the design flexibility is equally impressive. To us it's really no surprise that more than 150 Million websites have been created with this Tel Aviv-based provider, and we predict many more users will flock to their website builder in the coming years too.
To try Wix for free, click here: http://www.websitetooltester.com/out/wix-youtube Find a more detailed Wix review here: ...
Wix Review: A good choice for creating a website in 2019?
2018-08-21T13:47:34.000Z
https://i.ytimg.com/vi/wDHJWTc5LIA/default.jpg
Wix Prices:
Free: $0 a month
Connect Domain: $5 a month (not available in all countries)
Combo: $16 a month
Unlimited: $22 a month
Business Basic: $23 a month
VIP: $45 a month
Screenshots:
Wix Pros
Wix Cons

Outstanding templates: probably some of the best in the industry.

Complete flexibility: they call it "pixel perfect" and it means moving items wherever you want on the page.

Add animations: make your site livelier with carousels, fades and other animations.

Excellent App Market: hard not to find what you need in there with hundreds of third-party plugins to enhance your site.

Wix ADI for a quicker start: it builds a basic website tailored for you based on a few questions. Works surprisingly well.

Pricier than others: you get what you pay for, and Wix's entry plan is not the cheapest.

Choose your template carefully: once you publish your site, you can move elements on it, but not select another template.
Why Wix can be a good alternative to Weebly:
If you want more flexibility with your template, Wix is pretty much unbeatable.
The Wix Apps include tons of industry-specific add-ons that work really well for Events, Bookings, Restaurants, Hotels and more.
Want to create your site even faster? Wix has an AI solution called ADI that gives you a personalised site in a few clicks.
The automatic site backup can give you peace of mind if you change you update your website often.
Webnode
People are sometimes surprised to hear that Webnode has 30M registered users as it's not exactly a household name. But clearly their approach to focus on multiple languages is working for them – they let you build your site in more than 20 languages and offer multilingual websites too (with their advanced plans). Let's see if it's enough of a selling point to beat Weebly.
Webnode Prices:      
Free: $0 a month
Limited: $3.90 a month
Mini: $7.50 a month
Standard: $12.90 a month
Profi: $22.90 a month
Screenshots:
Webnode Pros
Webnode Cons

Good for multilingual websites

Decent, responsive templates

Cheap entry level plans that include email addresses

Very basic blogging functionalities

Harder to use than Weebly
Why Webnode can be a good Weebly alternative:
Multilingual websites; this is a feature that Weebly just doesn't have out of the box yet.
With Weebly you need to pay extra for a professional email address with your domain name. Webnode offers it with their Mini plan and higher.
Squarespace
Very few website builders have been as aggressive with their marketing as Squarespace in recent years. This is probably how so many people now consider it one of the "must try" for creating their first site. Their core focus? Stylish templates that should speak to modern and hip brands, startups and small ecommerce. But what about the substance? Let's read more below.
Squarespace Prices:        
Personal: $14 a month
Business: $23 a month
Online Store (Basic): $27 a month
Online Store (Advanced): a $49
Screenshots:
Squarespace Pros
Squarespace Cons

Stunning templates and designs

Ecommerce features – we like the customer logins for example.

Excellent blog feature – everything you need to post regularly.

Pricey – Style comes at a price, it seems.

No free plan

Relies on big professional images – if yours aren't as stylish, your website immediately looks cheap.
Why Squarespace can be a good Weebly alternative:
The templates can probably sell you if you fall in love with Squarespace's sleek aesthetic.
The blog feature is very nice to use – but not necessarily more powerful than Weebly's (in terms of SEO and features).
Jimdo
Every time we mention Jimdo, we have to reiterate quite an amazing fact: it probably is the easiest website builder we've tried. Not that others are terribly complicated, but Jimdo thanks to their AI website builder you'll create your website answering a few simple questions. The downside is that it's more restrictive than Weebly. You won't be able to create exactly the design you want (in case that's what you're after).
Jimdo Prices:        
Free: $0 a month. Ad-supported.
Jimdo Start: $9 a month. No ads, and free custom domain for the first year. Limited to 10 pages.
Jimdo Grow: $15 a month. Create up to 50 pages.
Jimdo Unlimited: $39 a month. Unlimited storage space, pages and faster support.
Jimdo Pros
Jimdo Cons

Ease of use – easier than Weebly (but not as flexible).

Fast loading speeds – Jimdo websites are optimized for speedy loading times

Mobile editing – the website editor works on tablets and smartphones, too.

Rigid templates – sometimes things can't be placed where you want them.

No blogging tools – if you are planning to do content marketing, Jimdo is not for you

Extremely Basic ecommerce – not enough functions to really sell your stuff online.
Why Jimdo can be a good alternative to Weebly:
For complete beginners it's great Weebly alternative
You want a no-frills fast loading website
Duda
Duda's vision dates back to 2008 when its founders foresaw the advent of mobile web browsing. Their idea was to offer website building through drag and drop tools, but more importantly responsive themes that would look good on all screens. That's small smartphone screens and tablets but of course they also work on desktops and laptops. So is this offer enough to make it a good competitor to Weebly? Let's find out more below.
Test Duda here for free: https://www.websitetooltester.com/out/duda-youtube Check out our detailed DudaOne review here: ...
Duda Website Builder Review: We tested their responsive website builder.
2016-11-29T16:02:19.000Z
https://i.ytimg.com/vi/R808sujQQmg/default.jpg
Duda Prices:       
Free: $0 a month
Business +: $14 a month
Business + Ecommerce: $22 a month
Screenshots:
Duda Pros
Duda Cons

Good drag and drop editor: it's easy to use and intuitive.

Excellent for multilingual websites: possibly one of the best website builder for multiple markets.

Good marketing tools – their system is unique and excellent. It lets you segment users to increase sales and offer tailored offers.

Very limited app store: very few apps available.

Pricier than others: aside from their free offer, the price is quite steep.
Why Duda can be a good Weebly alternative:
Building multilingual websites? Duda is one of the best for that.
Their tailored marketing system is unique and very good for converting sales. Basically, it lets you send personalised offers (coupons, reductions etc…) based on your visitors' behavior.
You want to pay a one-off fee for life instead of subscribing monthly.
Strikingly
Strikingly is only a few years old (it launched in 2012), but it has gained quite a bit of traction thanks to their main angle: they focus on single page layouts. Neat, modern and minimalist designs, basically. For people who like scrolling more than clicking, it's a great way to display information elegantly on screen. Not that Weebly templates aren't elegant, but it could be a good enough reason to check them out.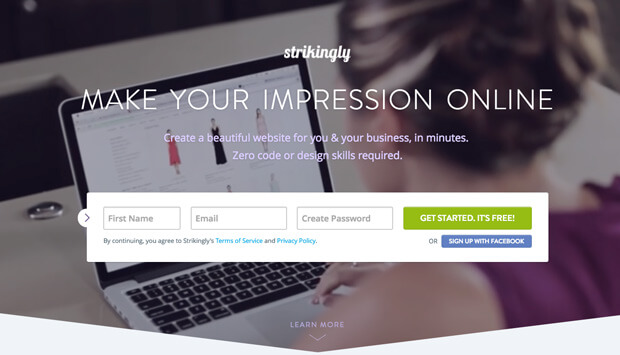 Strikingly Prices:        
Free: $0 a month
Limited: $8 a month
Pro: $16 a month
Screenshots:
Strikingly Pros
Strikingly Cons

Great single page layouts – it's their speciality

Easy to use

Prices come with your custom domain name (for 1 or 2 years).

Missing some SEO features – so not great for ranking.

Free version lacks basic features (such as adding your own code).

Pricey – Strikingly isn't the cheapest provider around.
Why Strikingly can be a good alternative to Weebly:
If you're set on using a single layout design, then Strikingly is probably a good option.
The Pro plan lets you create x3 websites, which can be a really good deal you won't get with Weebly.
> Try Strikingly for free

Detailed Strikingly review
WordPress.org
WordPress doesn't need as much of an introduction as some of the other providers mentioned above, but that's because it's in a class of its own. Firstly, it's so complex and technical compared to Weebly that it feels like a very different beast altogether. Secondly,  the model is also completely different as you can use their tool for free. But costs add up elsewhere, as you can see below:
WordPress Prices (these are estimates and optional)        
Hosting: $6 a month (read our guide on cheap WordPress hosting here)
Template: from $50 one-off
Plugins: from $0 to $200 per year
Programmer: Minimum of $30 an hour
WordPress Pros
WordPress Cons

Highly customisable

Cost effective: since the platform is free, you only pay for the extras you need.

Everything is possible with the thousands of plugins

Choose your own hosting plan: great if you know what you're after.

Quite technical: from the installation to updating plugins, you need to learn how to do a lot.

Security and maintenance: like the above, this is your responsibility, and not exactly intuitive.

No direct support: you need to look on forums and scour the Internet for answers.
Why WordPress can be a good alternative to Weebly:
You want complete control over your design, expenses and updates.
You don't mind getting your hands dirty with code (or can afford to hire a developer).
You want to learn a tool that can be useful for creating more websites in the future.
Please note that there is also WordPress.com, which is the hosted version of WordPress. It's easier to set up and maintain but also more limited in features.
Gator
Besides their highly popular hosting services, HostGator also offers a surprisingly modern website builder. It's true that it still has some improvements to make, but it can be compared to bigger names (in the industry) like Webnode, Jimdo or even Weebly.
You'll be amazed by their wide-range of templates, they are modern-looking and organized by categories (e.g. yoga, small business, lawyers, etc.). They also offer a beginner-friendly system that's intuitive but at the same time flexible.
Their editor and backend are very similar to Wix – minus some of the insane features that the latter offers (e.g. Wix Code).
Gator Prices:
Starter: $9.22 a month
Premium: $12.29 a month
eCommerce: $19.98 a month
Screenshots:
Gator Pros
Gator Cons

Intuitive: It's a beginner-friendly tool that should let you create your own website in no time.

Templates and designs: With over 200 templates and dozens of pre-design sections, you'll be able to design anything you want.

Automatic backups: Their version control system will let you restore your site to any previous version. You'll be really glad to have this feature when you delete content accidentally.

Heading structure: Sadly, their HTML doesn't seem to implement heading tags (e.g. <h1>, <h2>, etc.). This is terrible for SEO – hopefully, they fix this soon.

Simple ecommerce store: If you are planning to launch an online store, Gator should not be your #1 choice. Their ecommerce module is too simple if you mean business (e.g. no digital products).

Limited blog: Similarly, their blogging system is missing important features serious bloggers will need – e.g. post scheduling.

Missing features: Since it's a young product, some of the features are missing or they are too simple. For example, the password protection options aren't very flexible.
Why Gator can be a good Weebly alternative:
Gator comes with dozens of templates more than Weebly and their approach to website design is as flexible as it gets.
Other than that, Weebly is a better choice overall – especially for blogging and ecommerce.
One.com
Your one-stop-shop for buying domains, storage and email addresses, One.com also offers website building. They pride themselves on being fairly cheap, which can sometimes spell disaster for the quality of the products. So based on our complete review, is it nevertheless a worthy competitor for Weebly? Let's have a look.
Find our complete One.com Web Editor review here: http://www.websitetooltester.com/en/reviews/one-com/ Try One.com here: ...
One.com Review: Pros and Cons of the Web Editor
2015-06-10T10:25:32.000Z
https://i.ytimg.com/vi/iyU7h4Gh8VU/default.jpg
One.com Prices:        
Standard: $2.49 a month
Premium: $7.48 a month (includes Beginner Hosting plan + Premium Website Builder)
Webshop: $16.99 a month
Screenshots:
One.com Pros
One.com Cons

Relatively cheap

Templates are responsive

Good support

No integrated blogging option

Basic features

Cheap plan limited to 5 pages
Why One.com can be a good alternative to Weebly:
If you want to build a tiny site (less than 5 pages) on a shoestring budget, then go for One.com.
Their website builder is flexible, and you can even use WordPress.
> Try One.com for free 14 days
Mozello
A small Latvian company, Mozello is nevertheless offering something few other website builders do: a complete multilingual website. And for free, to boot! Of course, you won't get the same product quality as with the big players, but read our pros and cons below to see there's a dealbreaker for you in there.
Mozello Prices:        
Free: $0 a month
Premium: $7 a month
Premium Plus: $14 a month
Screenshots:
Mozello Pros
Mozello Cons

Multilingual features

Offers free plan and cheap plans too.

Shopping cart option in the free plan.

Rigid editor

Lacking in features
Why Mozello can be a good alternative to Weebly:
Obviously, the multilingual website option is a good reason to choose Mozello.
Mozello is one of the rare providers to let you add an ecommerce page on a free plan.
Webstarts
We're always wary of heavy handed marketing, so whent Webstart calls itself the #1 Rated Free Website Builder, they don't exactly inspire much confidence. Maybe their 4M users all had to automatically vote for them in a private poll, we don't know. What we do know is that they actually have some cool things to offer, as you can read below.
Webstarts Prices:        
Free: $0 a month
Pro: $9.78 a month
Pro Plus: $14.32 a month
Business: $39.98 a month
Screenshots:
Webstarts Pros
Webstarts Cons

Sell up to 10 products for free

Generous free plan


Solid SEO features


Very flexible editor

SSL encryption is sold as extra – it's also expensive.

Dated backend

Heavy handed marketing – be prepared to receive tons of emails from them.
Why Webstarts can be a good alternative to Weebly:
Close to no budget? Webstarts can take you quite far with their free plan.
Bookmark
You might not be aware of it, but AI (artificial intelligence) is also a thing in the website building world. Wix has their ADI option, and Bookmark's entire angle is to use algorithms to create a website for you. How does it work? It simply asks you a few questions and boom! You get a personalised color scheme and site. Is it really all that though? Let's see below.
Bookmark Prices:        
Free: $0 a month
Professional: $11.99 a  month
Business: $24.99 a month
Bookmark Pros
Bookmark Cons

Innovative concept

Responsive designs

SEO settings are editable

AI designs are hit and miss

Stock images-heavy – can make your site look a bit tacky.
Why Bookmarks can be a good alternative to Weebly:
If you love the idea of an AI-created website, it's an option. Maybe also try Wix ADI, though.
Webflow
And now for something a bit different! Webflow isn't exactly beginner-friendly, and for a good reason: it's been created with developers and designers in mind. This is why their interface looks more like Photoshop than anything else. There's tons of features, gadgets and gizmos and it's frankly a bit overwhelming. But it does work well – so is it better than Weebly at all?
Webflow Prices:        
Basic: $12 a month
CMS: $16 a month
Business: $36 a month
Screenshots:
Webflow Pros
Webflow Cons
Good looking designs

Unlimited flexibility

Nice video tutorials

Complicated interface

Choice of free templates is limited
Why Webflow can be a good alternative to Weebly:
You want complete control and you are confident with advanced tools.
You don't mind watching video tutorials to get started.
You want to build multiple websites in the future based on a template of your creation (maybe for an agency of some kind).
Mobirise
Another quirky number in the world of website building. Mobirise differentiates itself from the competition by being an actual software that you install on Mac or PC. Aside from this core difference, it's not all that crazy: you get some good templates, decent features and a drag and drop editor. Of course it means you'll also need to be handy with an FTP program…
Mobirise Pros
Mobirise Cons

Create your site offline, no need for an internet connection (while you build it).

Has a free plan

Create your site offline. Also a con because you need to login to make any changes.

Need to set up a FTP connection
Why Mobirise can be a good alternative to Weebly:
You want to install your website builder on your computer.
You don't mind using FTP software.
The Best Weebly Alternatives for Ecommerce
While we were pleasantly surprised by Weebly's online store option, it's probably not good enough to build the next Amazon. I'm not saying that the solutions below are either, but they certainly offer Weebly a run for its money in terms of features, options and ecommerce templates.
If you're looking for more information on this topic, you could also check out a more detailed guide to the best ecommerce website builder, based on our extensive testing.
Shopify
Shopify is much more established in the ecommerce world than Weebly, but that's because it's the main thing they do. With more than 600,000 online stores under their belt and counting, they certainly seem to do it well. However its popularity shouldn't blind you. Maybe it's overkill in terms of functions and price? Read on below to find out:
Shopify Prices:        
Basic: $26 a month
Shopify: $71 a month
Advanced: $235 a month
Screenshots:
Shopify Pros
Shopify Cons

Easy to use

Ecommerce-specific templates

Great for stores of all sizes

Some advanced SEO features are missing

Need to purchase domain and email as extra

No multilinguale store option
Why Shopify can be a good alternative to a Weebly online store:
You want your ecommerce to grow in the future
You want the most robust features for selling items online such as customer logins
BigCommerce
BigCommerce makes big claims, including how they provide "every single feature your online store will need". We'd like to say they're overblowing it, but in all honesty, it's hard to fault their statement. Except from a free plan, there's not much missing. But is it good and big enough to outshine a no-frills Weebly online store? Let's find out.
You can try Bigcommerce here: http://www.websitetooltester.com/out/bigcommerce-youtube Read our detailed review about Bigcommerce here: ...
Bigcommerce Review: Let's explore this online store builder
2015-09-29T11:17:53.000Z
https://i.ytimg.com/vi/NIl6CQwAf6g/default.jpg
BigCommerce Prices:        
Standard: $29.95 a month
Plus: $71.95 a month
Pro: $269.96 a month
Enterprise: Quote a month
Screenshots:
BigCommerce Pros
BigCommerce Cons

Tons of variants for your products

Scaleable – want to build an ecommerce empire? This is a good option for you.

No transaction fees

Yearly sales threshold – sell above a certain number and you'll need to upgrade your plan

Poor "regular" content management – blog posts, landing pages and about us pages aren't easy to create at all.

No multilingual store
Why BigCommerce can be a good alternative to a Weebly online store:
You expect your business to grow in the future.
You have a good idea of your sales projections (to stay under their threshold).
WooCommerce
Not exactly an ecommerce solution per se, WooCommerce is actually a plugin for WordPress. But as you guess it, it helps you turn your site into a fully-fledged online store in a few clicks only (okay, maybe a dozen clicks or so). If you're already using WordPress, you don't have much to lose here. But is it a worthy competitor to Weebly? Let's see:
Find our fully detailed review here: http://www.websitetooltester.com/en/reviews/woocommerce/ To try WooCommerce, click here: ...
WooCommerce Review: Best eCommerce plugin for WordPress?
2015-12-14T15:59:58.000Z
https://i.ytimg.com/vi/2E9XkkNXd-s/default.jpg
WooCommerce Prices (these are estimates and optional)        
Hosting: $15 a month
Template: from $60 one-off
Plugins: from $0 to $300 per year
Programmer: Minimum of $30 an hour
Screenshots:
WooCommerce Pros
WooCommerce Cons

Excellent features

100% control over SEO options (sometimes with the use of plugins).

Customer accounts and store credit

Site-wide SSL encryption

No multilingual store option

Quite technical

Limited range of templates – some WordPress templates don't play nice with WooCommerce.
Why WooCommerce can be a good alternative to a Weebly online store:
You already know and love WordPress
You want 100% customization over your online store
You work with a developer or know how to code
> Read our WooCommerce review for more information
> Best sites to start a blog for free
Weebly alternatives: So which one should you use?
As you can read above, there is no shortage of options on the market. While it's impossible to give a one-size-fits-all answer to the question, there are a few cases where it's clear cut who the best Weebly competitor is. For example:
Do you want to focus on a small business website? Wix might be slightly advantageous for your needs.
Will you build a huge store? Go big with BigCommerce instead of Weebly (or Shopify will do fine too).
And there you have it! Hopefully this will answer all the questions you have about Weebly alternatives. But if you have more, feel free to comment and write below.
> Compare all these solutions here
Updates:
24 Feb 2022 – Complete update
20 Jan 2020 – Smaller updates